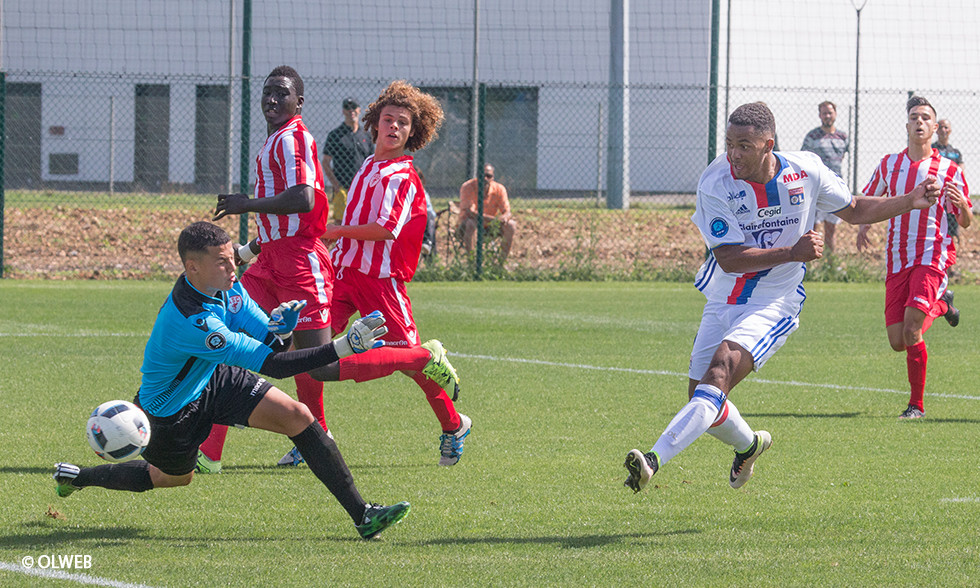 Zacharie Brault-Guillard and his teammates christened the main pitch at the new training centre with a deserved 3-0 win over AS Cannes on Sunday.
Cris and Joël Fréchet's kicked off their campaign in the National (D3) in the best possible way, easily besting AS Cannes on Matchday 1. For this big premiere in the brand-new complex in Meyzieu, OL quickly made the break as a youth academy graduate, Thomas Oualembo, put his mark on this historical clash by opening the scoring in the 16th minute (1-0). It was one-way traffic in the first half, and Myziane Maoldia was next to strike, pouncing on Maxence Caqueret's assist and beat the Cannes 'keeper to make it 2-0.
In the second half, as Greg Coupet and Claudio Caçapa watched on, OL continued to create plenty of chances. Amine Gouiri and Paul Devarrewaere went close but it was substitute Ryan Ouazine who got OL's third (3-0).
Cris (OL coach): "I'm very happy with the result and the way we got it. We started the season well with some great football. It was also important to get our story here at our new home in Meyzieu off to a winning start. Personally, it's a huge pleasure to be the coach, with the staff and players I have. We have some great things in front of us in three competitions and I hope we can achieve some great things."
...

. TEAMSHEET .

Groupama OL Academy in Meyzieu:

U19 (Group C, Matchday 1): OL 3-0 AS Cannes (2-0)

Referee: Corentin Paya. Attendance: 100

Goals: Oualembo (16'), Maolida (26') and Ouazine (84') for OL.

Yellow cards: Caqueret (75') for Lyon

OL: Racioppi – Brault-Guillard (cap.) , Viera, Salte, Nouvel – Caqueret, Devarrewaere, Rafia (Bouchentouf, 70')– Maolida (Ouazine, 80'), Gouiri, Oulaembo (Ndicka, 60'). Coaches: Cris and Fréchet.


...