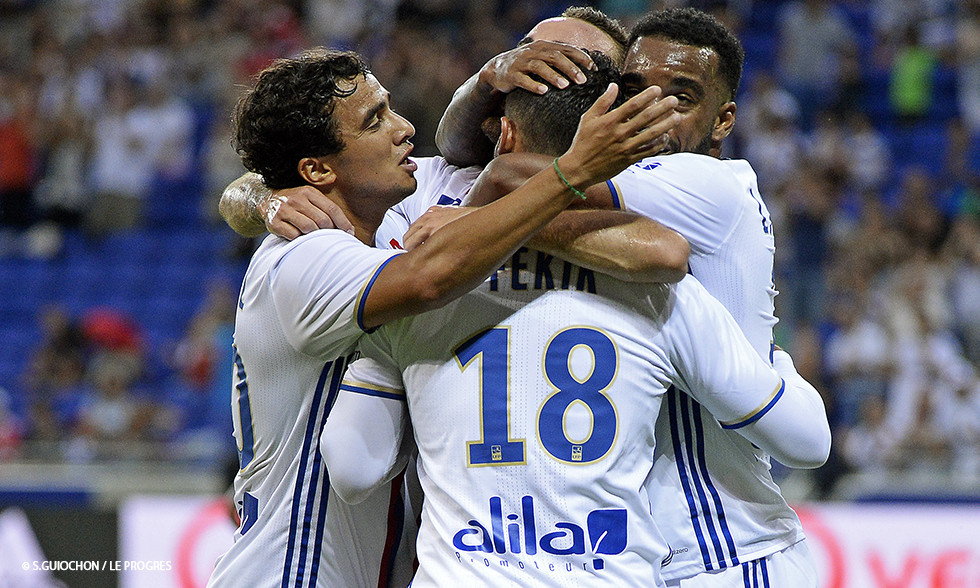 In their last pre-season friendly before the Trophée des Champions against PSG, Olympique Lyonnais beat Benfica 3-2 thanks mainly to a very promising first-half performance.
. HIGHLIGHTS .
12'. Cornet's shot is deflected and flies narrowly wide.
18'. Fekir scores with a classy side-footed finish 1-0.
22'. Grimaldo scores with a sweet free-kick 1-1.
26'. Cornet  gets his goal after Morel cuts the ball back 2-1.
29'. Goal for Lacazette from the spot after Rafael was fouled in the area 3-1.
47'. Gorgelin makes a superb double save.
54'. Almeida beats Gorgelin to a high ball and nods home 3-2.
---
. SUMMARY .
It was what OL has been wishing for: a life-size, all-action test. Less than a week out from the Trophée des Champions clash with the PSG juggernaut, the Lyon lads had a chance to measure themselves one last time, against Benfica - a Champions League-level team coming off a full pre-season. And Bruno Genesio's men came up roses, sharp in attack and solid at the back and clearly the better side in the first half. To convert their dominance, Fekir - in excellent form - Cornet and Lacazette all scored, which should certainly give the OL forward plenty of confidence,
The second half, especially in the early stages, was a bit less accomplished from OL, who conceded a goal and several clear-cut chances. Lyon also had some chance to widen their lead, but no-one converted. The match marks the end of a very successful pre-season for OL, with no defeats and no injuries sustained. A great way to prepare for the serious business of the impending season, which kicks off on Saturday.
---
MATCH FACT .
Nkoulou and Mammana debut
Two of OL's three summer signings made their debut in an OL shirt. Nicolas Nkoulou, who started his Ol pre-season on June 30, was a starter. He played the first 57 minutes of the match, showing his trademark grace under pressure with clean challenges and a high success rate in playing the ball out of defence. Emmanuel Mammana had slightly less time in which to showcase his skills. The Argentine came on ten minutes from the end to replace Yanga-Mbiwa.
---
. THE STAT .
3 goals.
OL's good habits did not disappear during the off-season. Prolific in front of goal since making the move to their new home in January, Lyon had no trouble picking where they left off at the Parc OL, easily finding their feet - and the back of the net. All three of OL's forward line - Fekir, Cornet and Lacazette - scored in the first half. In 11 matches at the brand-new stadium in Décines, Bruno Genesio's side have scored no fewer than 33 times - that's an average of three goals a game!
---
. EXPERT EYE: JEREMY BERTHOD .
"The objective was to win this last outing before taking on Paris. It was a game of two halves, with a very promising first term and a second half in which fatigue began to show. But overall, it was very positive. We scored three goals. It's a great win that should ramp us up perfectly towards the Trophée des Champions. It's a bit early to say whether the team is ready but we're certainly on the right track, as the pre-season friendlies showed."
---
...

. TEAMSHEET .

At the Parc OL, OL 3-2Benfica (3-1)

Referee: T. Chapron. Spectators: 20,000.

Goals: Fekir (18'), Cornet (22') and Lacazette (29', pen.) for OL; Grimaldo (22') and Almeida (54') for Benfica.

Yellow cards: Lacazette (37'), Gonalons (50') and Gorgelin (54') for OL

OL: Lopes (Gorgelin, 46') - Rafael (Jallet, 79'), Yanga-Mbiwa (Mammana, 79'), Nkoulou (Diakhaby, 57'), Morel - Gonalons, Darder, Tolisso (Grenier, 73') - Fekir, Cornet (Valbuena, 73'), Lacazette (Aouar, 79'). Coach: B. Genesio.

Benfica: César - Grimaldo, Lindelöf, Luisão (Lisandro, 72'), A. Almeida (Semedo, 55') - Celis (Rui Fonte, 78'), Samaris (Danilo, 72') - Pizzi (Junior, 78'), Carrillo, Guedes - Mitroglou. Coach: R. Vitoria.


...