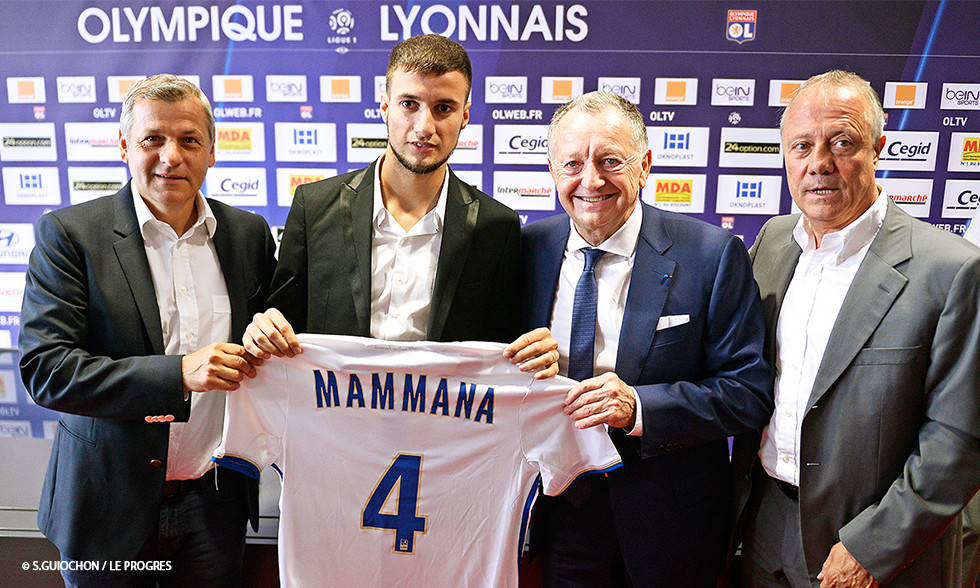 The Argentine central defender's arrival was made official on Thursday morning in the first-ever press conference in Décines, with Jean-Michel Aulas, Bruno Genesio and Bernard Lacombe in attendance.
Emanuel Mammana
"I'd like to thank the whole club, the president and the coach for the warm welcome I received here. I'm very happy to join this great club and I will give my very best. I grew up with River Plate, winning trophies and having some great experiences. There were also some more complicated moments but I really wanted to come here to start a new chapter in my story. In Argentina, we watch a lot of European football. Watching OL in the Champions League made me want to sign. I love beautiful football and I don't want to be launching long balls forward. I want to learn French quickly and settle into the squad. I have a lot to learn but I cant' wait to start playing."
Jean-Michel Aulas
"The pleasure is two-fold today as we welcome Emmanuel here with the first-ever press conference in this new facility. He joins OL with a lot of ambition. He will wear the number four. He's a very young Argentine international, continuing the tradition at this club started by the likes of Rambert, Lisandro, Delgado… We hope Emmanuel will have a place in the hearts of OL fans like Licha did. He has had the good fortune of winning everything - or just about - with River Plate in Argentina."
Bruno Genesio
"Florian Maurice had been watching him for some time. I saw his qualities while watching videos of a few of his performances. He fits the bill, with strong defensive capacities in the challenge but also the on-ball skills to play it out of defence. It's important to have players like him, who can get the ball out of defence quickly and create overlaps. He's a very talented young player and he has massive potential. Everyone at the club believes in him."
Numéro 4, Emanuel Mammana !! #teamOL pic.twitter.com/btWX81kGaq

— Olympique Lyonnais (@OL) 7 juillet 2016
...

. Jean-Michel Aulas on OL's transfer activity.

Progress concerning Roger Martinez

"It's one transfer we're looking at, and there are others, but I would like to sign Martinez. There are some issues to iron out. We're in the process of fine-tuning our ideas and of course we need to maintain the team's balance. We imagined that a certain number of departures that haven't materialised. But this particular arrival would not need to be preceded by a departure."

Interest in Mathieu Valbuena?

"We have been in discussions with several clubs in two different countries, notably Turkey. We are yet to discuss the offers with Valbuena. But there are offers."


...