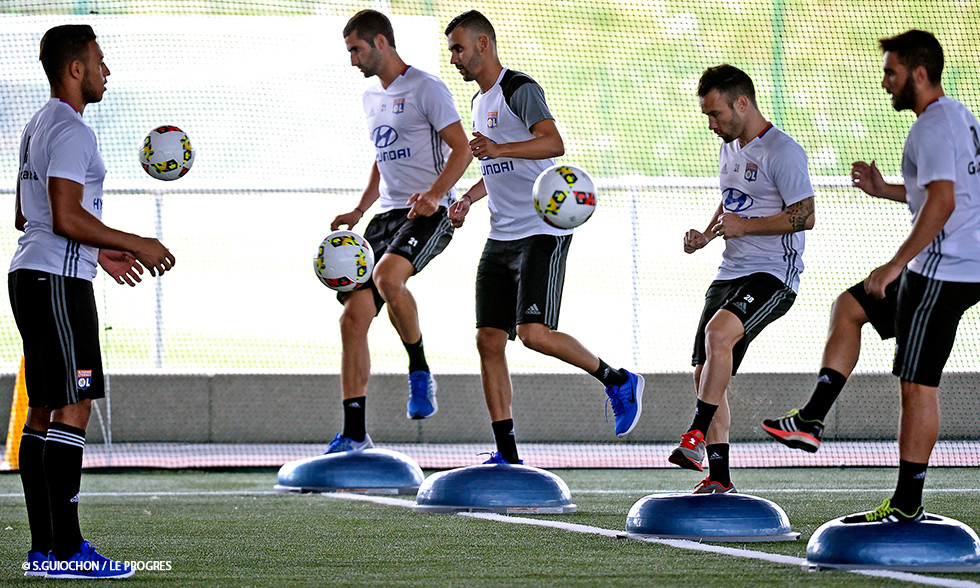 The OL squad has had its first-ever training session at their brand-new training centre.
"I'm happy to see you all here at the Décines training centre in such wonderful conditions." Jean-Michel Aulas didn't want to miss this important and symbolic moment in the club's history: the senior team's first steps at the Groupama OL Training Center. After attending the training session, the OL president took the opportunity to address coach Bruno Genesio's squad.
Earlier on Tuesday morning, the Olympians had had their first session in the brand-new facility in the Lyon suburb of Décines, a stone's throw from the Parc OL. After a half-hour of heavy physical work including core stability and balance exercises on the magnificent covered synthetic pitch, Maxime Gonalons and his teammates headed to a natural grass pitch, but the lads didn't have a chance to work with the ball; that was reserved for the afternoon session, with purely athletic work scheduled for the morning.
After the workout, Maxime Gonalons - the club's home-grown captain - spoke about the experience. "We have seen this training centre come together. It's a pleasure to be here. It's our new home. We need to spend some time getting used to it. Everything has gone well so far. We have some great facilities. There is more space than at Tola Vologe. The club has given itself the means to keep on growing." Jean-Michel Aulas, responsible for the conception of the project, certainly wasn't about to disagree. "I wanted to be here because today is a symbolic day. It's great to be here for moments like these; it helps to put everything we have done into context. Our project is unique given the means we had at our disposal. We have entered into the new life of OL."
---
Rachid Ghezzal and Alexandre Lacazette, who returned to Décines yesterday, put on the sneakers this morning. The two internationals took part in the first training session. Nicolas Nkoulou and Maciej Rybus, the club's two new recruits, were also in attendance.
Premier entraînement au Groupama OL Training Center et retour de @LacazetteAlex et R. Ghezzal !!#teamOL pic.twitter.com/vj7JCxerm8

— Olympique Lyonnais (@OL) 5 juillet 2016