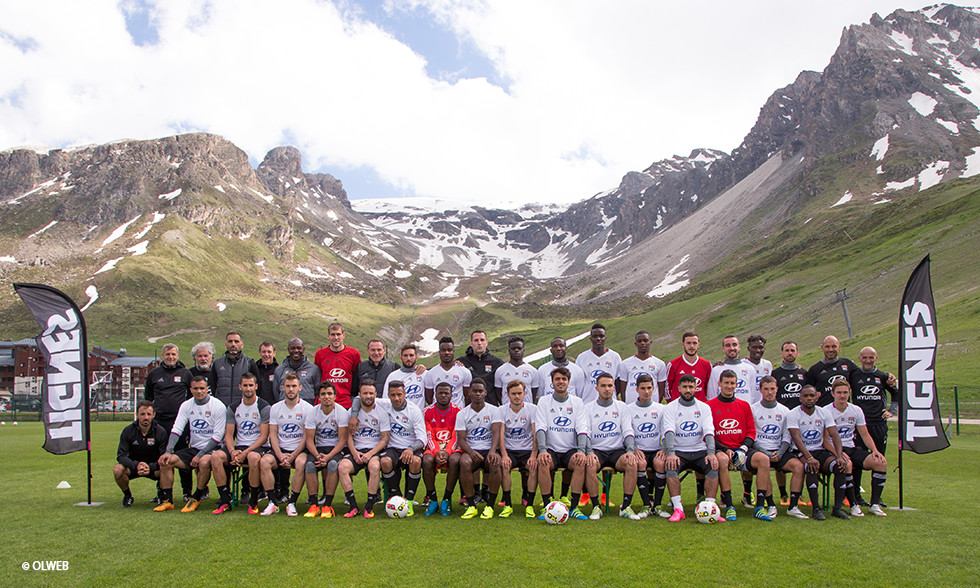 The OL players wrapped up Tuesday's training with a session on the Eric Cantona field.
17h. A few minutes before the afternoon training session, the players and the staff posed for the traditional photo with the Tignes workers who open up their facilities to OL each summer. After that, the players took the field for the last session of the day, working on ball possession but also off-ball movement. The 'keepers stepped up their training, with coach Joël Bats running a session of endurance exercises as well as work on and off the goal line. The next appointment for Bruno Genesio's men: Wednesday morning, -07:30 for another acclimatising run.
10:30. "These exercises test the legs but also your mind." Maxime Gonalons visibly appreciated the moment that the club physios had just put him through. After the previous day's acclimatising exercises, the OL players moved on to a big athletic session on the Eric Cantona field. Under a bright sun and a balmy temperature, the lads worked through prevention, core muscle and strengthening exercises for 90 minutes. A long session of leg work followed, featuring a bounding-stride competition that saw the players ribbing each other mercilessly.
After putting in the hard work, several players opted for a dip in the freezing water of the small river that runs alongside the training pitch. "It's six or seven degrees, no more than that," said Doc Emmanuel Ohrant, who also availed himself of the icy water's muscle recovery-aiding properties… because of a bet with Gaëtan Perrin, who didn't hesitate to leap into the stream. Let's hope for their sake it's an effective treatment! The OL lads' next appointment was in the late afternoon for the day's third and final session.
---
07:30. When the sun shines so brightly in the sky, Tignes takes on an even greater natural beauty. While the OL contingent had enjoyed clear skies the day before, the players and staff were treated to a wonderful spectacle early on Tuesday morning: a breath-taking view of pure blue sky, with the sun rising over peaks still capped with snow.  Although the post-card scenes invited long gazes, no-one forgot the objective of this morning session: another acclimatising run. The holidays are over!
Just like on Monday, Maxime Gonalons and his teammates gathered at 07:30 at the front of the Ecrin du Val Claret hotel for the first of the day's three training sessions. Up at 07:00, have a quick shave and put on the running gear for a trot along the lake to kick off the second day of the training camp - a day set to follow suit from the first, with sessions planned for 10:30 and 17:00.