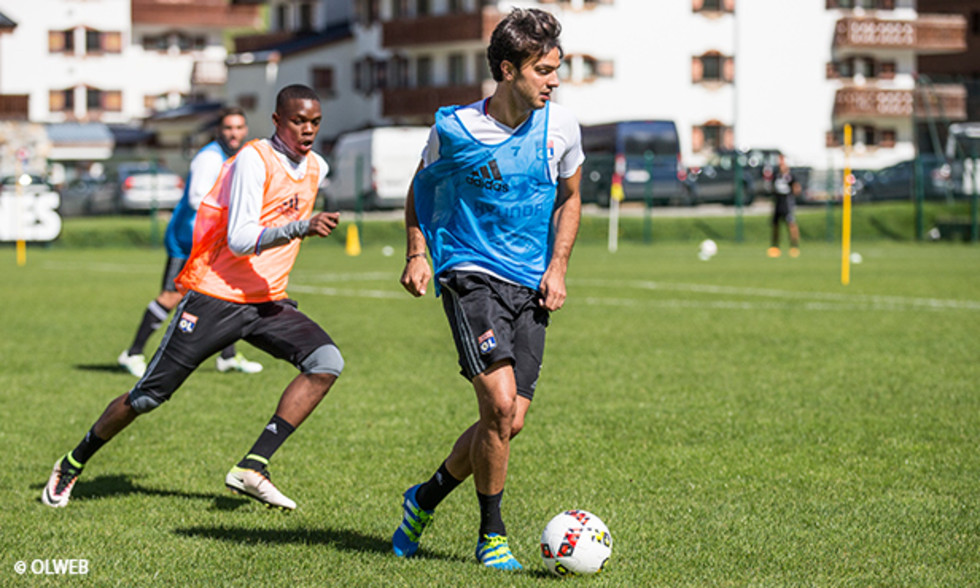 After a warm-up session, the OL players powered on with more gym-based work.
10:30. Hurdles, floor work, medicine ball, elastics, balance boards… there is no shortage of equipment at Tignespace. The OL players had a 10:30 appointment in this huge gymnasium at the heart of the alpine town for a long session of injury prevention work cooked up by the club physios. Exercises for the groin, the ankles, the knees and the core muscles had the lads sweating it out for almost 45 minutes.
Corentin Tolisso: Everything is going well so far. We went for a run this morning and we just finished a big gym session. It's promising and very important.
In a very focused atmosphere, the players then moved on to a lower-body muscle programme. Antonio Pintus, the new physio, demanded dynamism from the players for each stage of the interval workout. He hammered home the concept of recovering and hydrating well between each exercise. Some players couldn't help but kick a ball around as they waited for their teammates to finish the circuit, but anyway there will be a training session with the ball on the Eric Cantona field later in the afternoon. Something Jordan Ferri has been looking forward to: "As a footballer, you always want to work with the ball. It's the best part of the day."
---
07:30. "It's an acclimatising run. We're not here to go hard right away. It's just the beginning of the training camp. We'll ramp up the intensity later on." It's 07:30 in front of the hotel Ecrin du Val Claret and Antonin Da Fonseca is giving instructions. The physical trainer warns the 27 players: it's not time to push oneself to the limit. Not yet. The principle of this warm-up session is simple and involves getting the body used to moving again before doing some tougher work later in the day.
So it was with empty stomachs and collars turned up against the cold (ten degrees) that the OL players left their rooms early in the morning for the first session of their training camp in Tignes. On the menu: a jog and two 15-minute sessions around the lake and up the mountain as the sun rose. The coaching staff, minus the physios and Antonin Da Fonseca, opted instead for a high-intensity bike ride. Four kilometres and half an hour later, the 27 players returned to the hotel for a well deserved breakfast that would fuel them for the second of the day's three programmed training sessions, at 10:30.
---
More images tonight at 20:00 on Journal de Tignes on OLTV.