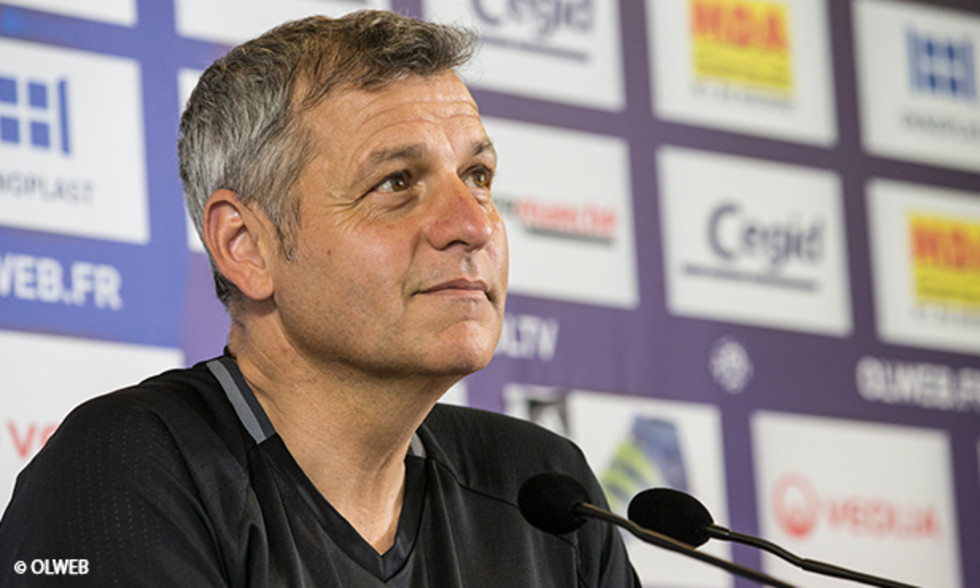 The OL coach held his first press conference of the season and the last one at Tola Vologe. He spoke about the clubs pre-season preparations and the current news concerning the transfer market.
The resumption of training at Tola Vologe and the beginning of pre-season preparations
"Everyone was there and in good form. Maciej Rybus arrives tomorrow morning. I let him have two days to take care of a few things… We have one last match to organise, for 9 July, against a foreign club of international level. We're in discussions. On Sunday we leave for Tignes. Just about everything is in place."
New season, objectives defined
"Our objectives are the same as last season. We'll be playing in Europe. Our objectives will be to do better in the Champions League, which won't be too hard. We want to make it to the last 16."
Dealing with the transfer market
"We're working with the president and Flo Maurice to put the squad together. I won't give the names of who is coming and who is going. We'll have a competitive team for the league and Europe. I asked to hang onto the majority of the players who constituted the backbone of the team last season, and to have reinforcement in positions where players are leaving the club. We're chasing down a few leads… I don't want Tolisso or Lacazette to leave, not to mention others. The club doesn't need to sell. The transfer window is long and sometimes we have to deal with some crazy rumours. At OL, we're in the habit of learning from the past, so I have no fears of finding myself in the same situation as last summer."
Specific cases…
"Mathieu Valbuena has not asked to leave. He took care of his injury problems during the holidays. He is in form… For Lindsay Rose, Lorient and Lyon have reached an agreement for a transfer. Now the player is in discussions with the club. It's possible that it will lead to something with Lorient or another club. .. Clément Grenier is fully integrated in our pre-season preparations. He expressed his desire to leave and I accept that. But I need talented players and he is a talented player."
Samuel Umtiti
"We have been very clear with the president. There are our wishes and then there are the wishes of the players… Could he start a match for France? In sporting terms, he is ready, and he will have to handle the psychological aspect but he is more than capable of doing so. I have never been one to question the national team coach's choices. I have always said that I respect him and that I know it's tough to make choices."
Rachid Ghezzal
"I'm awaiting his return on 4 July so we can have a talk. He is intelligent. He is a club man. I have faith in him and his entourage in terms of making the right decision. His sporting situation must remain the most important element."
Bid for Emanuel Mammana
"The centre of defence is an area where we need to recruit because Rose and Koné are leaving. Mammana is one of the players we have targeted but there are others. He has a lot of potential. But nothing has been agreed yet."
Nabil Fekir much-anticipated return
"He is in top form, very sharp. He did three weeks' worth of individual work during the holidays. That shows his desire to get back to top physical form - he has lost none of the rest of his qualities. Having him back is like having signed a new player. I'm convinced he'll put in an excellent pre-season and that he's determined to have a huge season. I was frustrated with how his season ended but that's understandable. Perhaps we didn't communicate well enough during his absence. The expectations were too high. But I have massive confidence in him. He shouldn't be leaving."
On confirme, Nabil Fekir est affuté ! #teamOL pic.twitter.com/R4SjacCD0D

— Olympique Lyonnais (@OL) 24 juin 2016