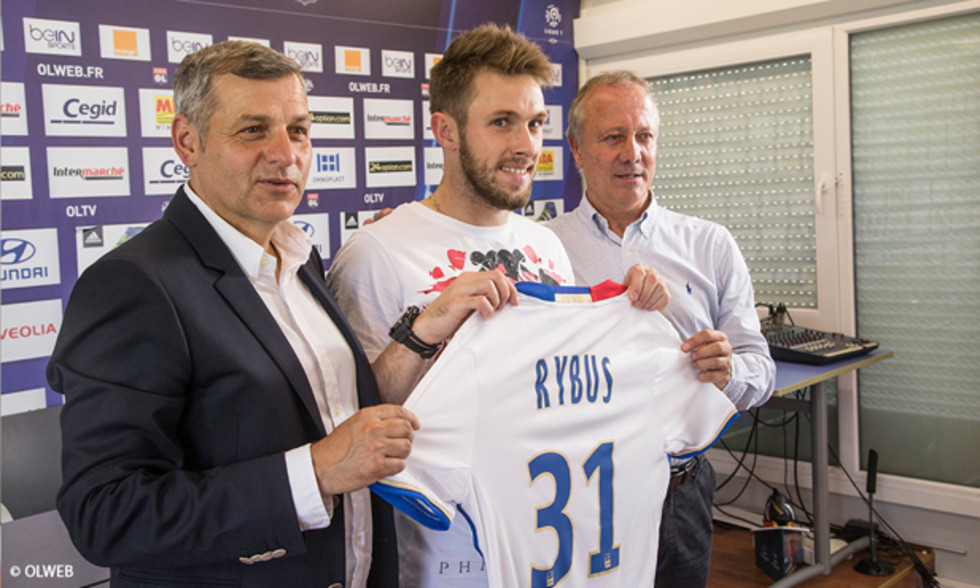 Jean-Michel Aulas and Bruno Genesio accompanied Maciej Rybus at the press conference to announce the first new signing of OL's summer. The 26-year-old defender singed a three-year deal and expressed his joy as well as his determination.
Maciej Rybus
"I'm very happy to be able to join this great team today. I can assure you that I will be doing my best as of the very first training session in order to make a place for myself in the team. I'm here to develop my qualities and improve myself. I know this team. I know how they played last season… I'm a left-back. I haven't been playing in this position for long but I feel fine there. Earlier in my career I was more of a midfielder."
Jean-Michel Aulas
"He is a Poland international. He injured his shoulder but he should have been at the Euros with his country. He has recovered well; he passed the medical exams conclusively. He was the priority for Florian Maurice, who has been following him for a long time. We're very happy to welcome him here. He is a one-to-one replacement for Henri Bedimo and we'll do everything to make sure his transition into the squad is a smooth one. The negotiations took a couple of months to conclude but we wanted to wait a little bit after his injury."
Bruno Genesio
We were looking for a player to replace Henri. We need cover for every position. We'll see whether we need to get another full-back. Florian Maurice and the coaching staff have seen him play several times for his former club and his country and everyone was in agreement; he corresponds to the profile we have been looking for and fits into our philosophy. He's a technical player, fast and durable. He likes to get forward. With 41 caps, he also has a fair bit of experience. He ticked all the boxes. I'm delighted to have him among us.
Bernard Lacombe
"Finding a left-back was our priority. He's a very fast lad. He also has quite a left foot and he sets up a lot of goals. He will be a great reinforcement for our defence."
---
During the presentation of Maciej Rybus, Olympique Lyonnais's first recruit for season 2016-2017, Jean-Michel Aulas touched on some of OL's other hot topics.
...

. Transfer dealings .

Barça's interest in Samuel Umtiti

"We'll act according to how Samuel feels. There is no financial need to do the deal and nothing has been agreed to as yet."

Hatem Ben Arfa

"Hatem is very much in demand. There have been very big offers from Seville and Paris. I hope that PSG won't disturb the transfer market too much. We're in a kind of crazy situation that raises some questions about the ethics of French football. We need to apply rules that are best for everyone. It's becoming unbearable. Everything is possible, including his arrival in Lyon. If it were just a question of his feelings, Hatem would come to Lyon."

Napoli's bid for Corentin Tolisso

"I don't know about this matter. He will be here next season, as will Alexandre Lacazette. In my heart, there isn't even a shadow of a doubt. But it's the players who decide."

Rachid Ghezzal's contract extension

"I asked to see him on his return from holidays. He still hasn't signed the extension we offered him. He will be put on the transfer list if we haven't reached an agreement by the end of the week."

Interest in Roger Martinez and Emmanuel Mammana

"Roger Martinez and Emmanuel Mammana are two players we are interested in."

Bruno Genesio: "They're two very promising players. We have targeted them. We need to take our time. There is every chance they could come here. It's important to also look around in other countries. They're two experienced players."


...