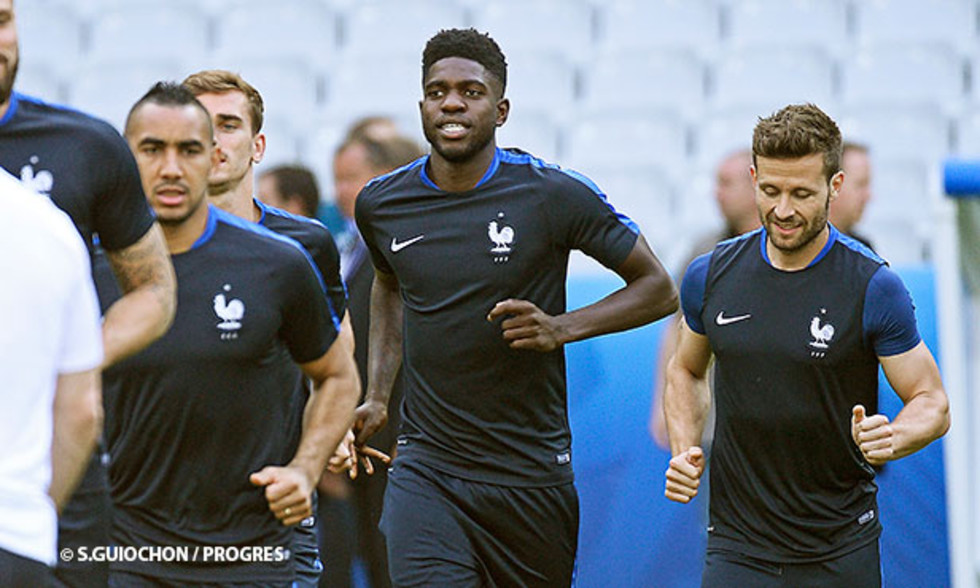 Euro 2016 kicks off on Friday night with an opening clash between France and Romania.
Finally! An entire country, even an entire continent, has been waiting impatiently for 10 June. Tonight (21:00), Les Bleus will get the Euro 2016 party started against Romania at the Stade de France in Group A's first fixture.
All eyes will be glued to Les Bleus, who are among the favourites to win the competition, and on Olympique Lyonnais players Christophe Jallet and Samuel Umtiti, selected by national team coach Didier Deschamps for the 23-man squad. The OL defenders will experience their first major international tournament side by side.
France's Group A also comprises Albania and Switzerland, who will face off against each other on Saturday, 11 June in Lens. Les Bleus will then take on Albania on 15 June at the Stade Vélodrome in Marseille, and Switzerland on 19 June at the Grand Stade in Lille.
Meanwhile the Parc OL - voted as the most beautiful stadium in the competition - will host its first match of the tournament on Monday, 13 June as Belgium and Italy face off in a potentially decisive encounter. On 17 June, Ukraine and Northern Ireland will do battle on Olympique Lyonnais' home turf, as will Romania and Albania on 19 June and Hungary and Portugal on 22 June - a match in which OL's Anthony Lopes will, either on the pitch or form the bench, be taking part in his first international tournament.
...

. Les Bleus' fixtures .

Euro 2016 (Group A)

France-Romania in Saint-Denis, Friday 10 June at 21:00
France-Albania in Marseille, Wednesday 15 June at 21:00
Switzerland-France in Lille, Sunday 19 June ay 21:00

...
...

. Matches at the Parc OL .

Monday 13 June: Belgium-Italy at 21:00
Thursday 16 June: Ukraine-Irlande du Nord at 18:00
Sunday 19 June: Roumania-Albania at 21:00
Wednesday 22 June: Hungary-Portugal at 18:h00
Sunday 26 June: Round of 16 at 15:00
Wednesday 6 July: Semi-final at 21:00

...