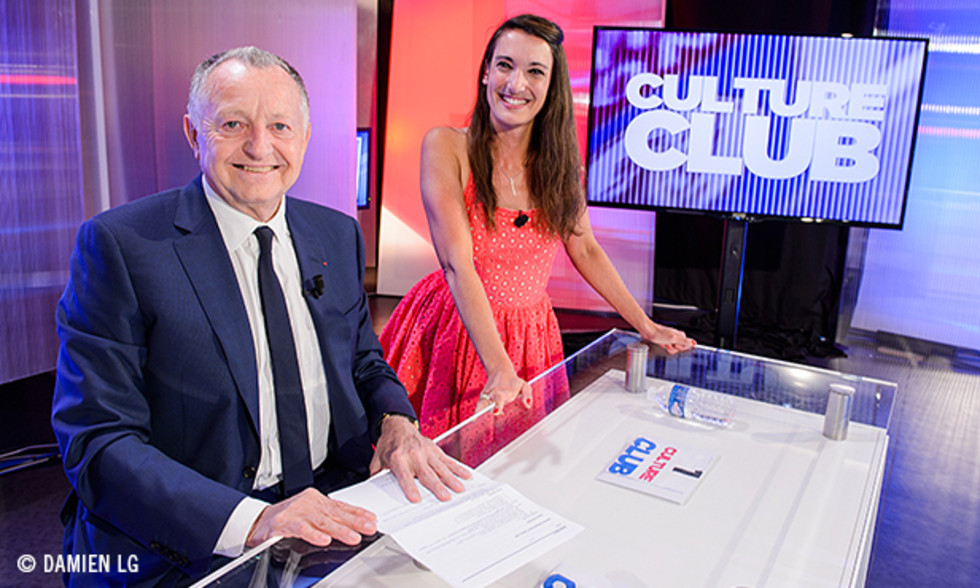 The OL president was Héloïse Basson and Serge Colonge's guest on OLTV show Culture Club.
What are your priorities for the transfer window?
"You need to take things calmly. Our players are in demand. We will do everything to keep Lacazette because the coach wants us to. We refused an offer of €40m. That shows that we want to keep him. But I can't guarantee anything. Rachid Ghezzal? We have a warm relationship with him. He's a lad who didn't really get his chance. But he turned in six months of quality performances and he has a year left on his contract. We have made him a generous offer and the talks will be conducted intelligently. There won't be tension, as there was last year. It's very much in our best interests to keep our best players."
Where are you at with your bid to sign Ben Arfa?
"There are certain economic realities. Hatem is in demand with the biggest European clubs. I'd love it if he came here. He would have his place in the formation but also in the hearts of Lyon. I know he likes us and that he would enjoy coming back here. We have to convince his agents."
Fofana, Grenier, Koné…
"Gueïda Fofana hasn't played for a long time. I will have a discussion with him. We will ask some tough questions about his career. I would gladly have him sign on as an educator. He's an extraordinary lad. Clément Grenier will be allowed to leave if he wants. He realizes that, with his salary, it will be tough to find better elsewhere. He's part of the family. Bako Koné needs to find a club. It's tough to find the right place for him to go. He's a great soldier. We admire him a lot."

Do you have any news in terms of a general manager?
"We can't know for certain. But we have agreed terms. There is just one point left to sort out. Gérard Houllier has had some health problems. He will be the boss of the sporting structures for the men's team, he will oversee the women's team and he will be in charge of recruitment and the youth academy. Flo Maurice and Stéphane Roche will work with him. I have high hopes."

And the senior-team coaching staff?
"There will be the arrival of a new head of physical preparation. He is world renowned. I can't announce it officially as the deal has not yet been concluded. It should happen some time this week. We'll also make some other change to our organigramme. Michel Audrain signed with Rennes. He will be replaced. Grégory Coupet and Cris will join the coaching staff after their training is complete."

What do you make of Didier Deschamps' choices?
"I shouldn't talk about it too much as Didier is a Basque. He has his plans. He recalled Rami to make up the numbers after Varane got injured. He's a right-footer. That could be what he's thinking. We have to remain optimistic concerning Umtiti. I have faith. The OL players are preparing well. It's going very well."
What's the frame of mind ahead of the Women's Champions League final on Thursday?
"There are quite a few small physical problems. I'm thinking of Aurélie Kaci. I saw her on Saturday and I thought she was very strong mentally. That's the mark of a great champion. Everything may not be optimal as we prepare for the final, but we'll do all we canto win this trophy. It would be magnificent. No-one has ever played in as many European finals as we have. It will be an open match. We know we lost against Wolfsburg. We remember. We have extra motivation as this is a strong team with two players who used to be with us. I'm confident because this squad is fantastic, with a lot of moral and mental strength. We have three key players who are leaving. We need to win it for them. Louisa Necib doesn't want to play anywhere else. She is leaving for personal reasons. I'm trying to convince her to stay for another season. She is getting married. I really hope that Jessica Houara comes to our club."
Has the Parc OL lived up to your hopes and expectations?
"We have the stadium we deserve. The atmosphere is magnificent, incredible. It helps the players and destabilises our opponents. I was very moved in the match against Monaco. There were attendance and viewership records. We have turned over €150m in nine months. We doubled our turnover. We're slightly ahead of projections but slightly behind with the charges. We're extremely satisfied. And things will slowly but surely keep improving. Already, 610,000 people have come to the stadium, which is above initial projections. People talk to us about the stadium everywhere we go. It's a total success. The Gerland affair annoys me. It was planned that the LOU would play in that stadium, but no-one counted on the LOU having troubles with construction and refurbishments. I'm doing my best to find interim solutions. I made an offer."