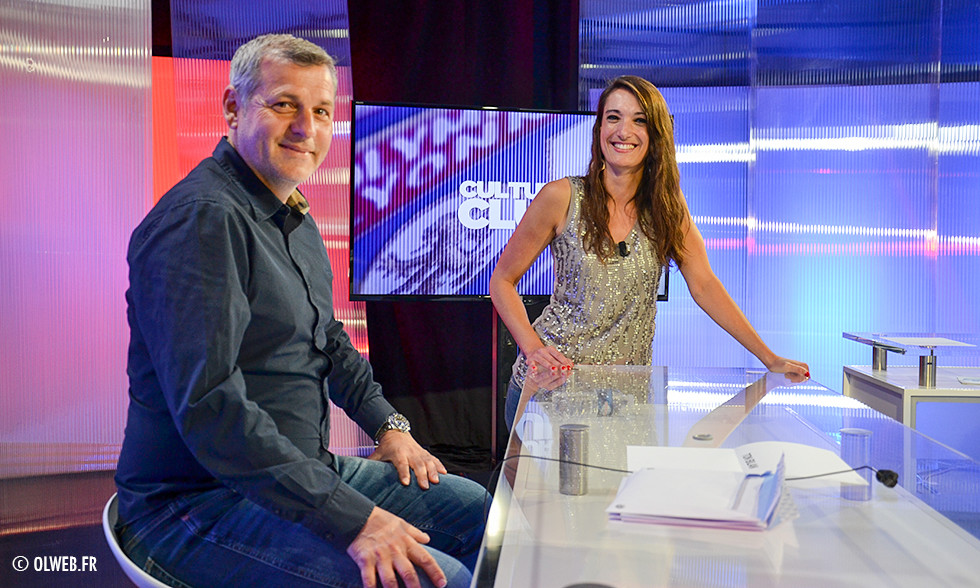 The OL coach took the opportunity of being a guest on OLTV's Culture Club to look back at his side's amazing comeback in the season just past, also talking about the special relationship with his players and looking ahead to next season.
So what do you make of season 2015-16?
"There were three phases in the season. The first featured an agitated pre-season with a bit of tension. The second saw us go through a really rough patch, especially heading into the winter break. That cost us dearly. Our play and our morale evaporated. It was a real worry. The third part came after the new year, with a first month of mixed results that didn't live up to the quality of our play. The turning point was the match against Paris, which blasted the team back onto the right track. We finished the season like a cannonball. Clawing back ten points in seven matches is pretty damn impressive."
What did you do to turn the team around half-way through the season?
"Starting with the training campo in Marbella, we organised meetings to establish a group of senior players, rules to live by and to communicate exactly what we expected from the players on and off the pitch. Things needed to be said and clearly defined. We made a strong point about respect, and we were very satisfied with the results."
What importance do you give your close relationship with the players in your success?
"The image of us all celebrating together against Toulouse is a very nice one. I need to have this relationship with the players. I think it's indispensable. Rigour and application don't exclude good humour and joviality. I have said many times that I love my players. That doesn't mean I'll let them do whatever. To love the players is to support them and help them accept that sometimes things are tougher. I want always to be there by their side. That's the way I do it. I had the advantage of knowing the players well. They stuck with me. That's why I accepted the mission. The atmosphere is also linked to results. Trust is indispensable between the staff and players. Even in difficulty, we didn't show signs of weakness - like in the match against Nice. We doubled down on our convictions even though we had our backs to the wall."
What was the feeling like in the dressing room ahead of the big match against Monaco?
"I was very confident before that match. Before Ajaccio, I was more relaxed. In training during that week, I felt that the players were in such a strong frame of mind that nothing could happen to us. A force was let loose. I told them to enjoy themselves in what was an exceptional match to play. I wanted them to make the most of most of a moment like that, with enjoyment and enthusiasm. This kind of talk allowed the p[layers to be freed up, I think. The stadium pushed us as well. We feel extremely strong in matches like that."
How did you react to the loss to Reims?
"I was disappointed, because I'm a competitor. I wanted us to end the season well and break the points record for the second half of the season. I could understand that the players let go a bit though. There were also a few changes I made to the team, so I have to accept my part of it. I can't hold anything against my players."

Will you be keeping an eye on Saturday's Coupe de France final?
"Yes, I'll be watching to find out whether we will play in the Trophée des Champions or not. But I will not be supporting PSG. We would like to play in the Trophée des Champions. It's a competitive match that helps you to prepare for the league season. And there' a trophy up for grabs. That gives you an important pre-season objective."
So where do things stand a week after the end of the season?
"We're already looking ahead to next season. We're preparing to put our squad together and organise the resumption of training. Certain players will be back as of June 23, others later. You have to plan everything. It's not the best time, but it's not the toughest either."
Are you wary of the transfer window?
"Always. Transfer windows are delicate moments. We want to know who will be in the squad we're working with, but there are a lot of uncertainties. But you need to live with it and do your best to anticipate things. Alexandre Lacazette? I don't want to lose him. The best recruitment for us would involve keeping our best players - like him, Umtiti, Lopes, Gonalons, Darder, Ferri, Jallet… There are many names. We need to keep them if we want to be ambitious."
Are you planning on any changes to your staff?
"No. Michel Audrain will not be replaced. I'll keep Gérald Baticle and Claudio Caçapa on, giving each of them more duties with forwards and defenders. Joël Bats will kep his role as full-time assistant. Antonin Da Fonseca and Dimitri Farbos, our two physios, are doing a very good job."
What do you make of Rachid Ghezzal's great season?
"I'm not surprised. I had the idea of putting him on the right because, on the left, I thought he lacked a bit of pace and power. He brings more to the table with his left foot when he plays on the right. He continued to work hard and stick at it. He found a way to become very effective. His stats are sky-high. He managed to reproduce in matches what he was doing in training. He is the first one responsible for his success."
How do you explain the fact that Alexandre Lacazette didn't make it into the 23-man France squad for the Euros? ?
"I don't know. You have to be playing overseas, if you listen to the France coach. I don't think he should have said that. It's out of line to say that you have a better chance of playing for France if you're playing overseas.
Can Anthony Lopes hope for a starting spot with Portugal ?
"I don't know what the coach will do, but it doesn't seem likely. But really it's just great that he's in the squad. It will be a superb experience for him, with a match at the Parc OL, which will be an extraordinary moment."