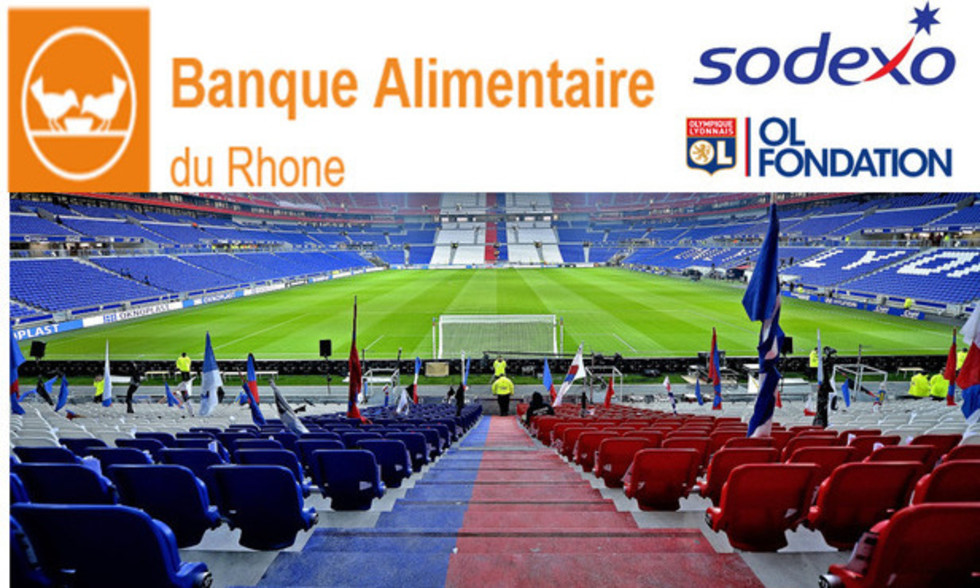 Since March 6th 2016, the Rhône Food Bank, in partnership with Sodexo and the Olympique Lyonnais, comes after every match to collect unsold sandwiches and food stuffs of the snack bars and VIP lounges, with a redistribution the same day to local associations.
After 5 L1 matches and the fixture OL Feminine / PSG, it's almost 1 500 kg of food that have been collected by the Food Bank. This week-end, at the occasion of the 2 rugby matches, the collect allowed not to waste 990 kg of sandwiches, which beneficiated to associations.
A part of the volunteers and employees of the Rhône Food Bank
The Rhône Food Bank is located in Décines and collects more than 5 000 tons of food thanks to industrials, malls, farmers, all the year and thanks to particulars during the annual national big collect at the end of November. It also benefits of the European food aid. The volunteers are in charge of the daily collect with the 6 frigorific trucks of the association and of the products sorting in the stowage cold rooms. Every product is redistributed to the 125 associations and CCAS partners.
Cette opération sera poursuivie avec l'UEFA pendant l'EURO 2016 et reconduite la saison prochaine pour tous les évènements majeurs du Parc OL.
<< More information on the Rhône Food Bank >>
Find them on Facebook
Redistribution to the association "La Case Africaine"