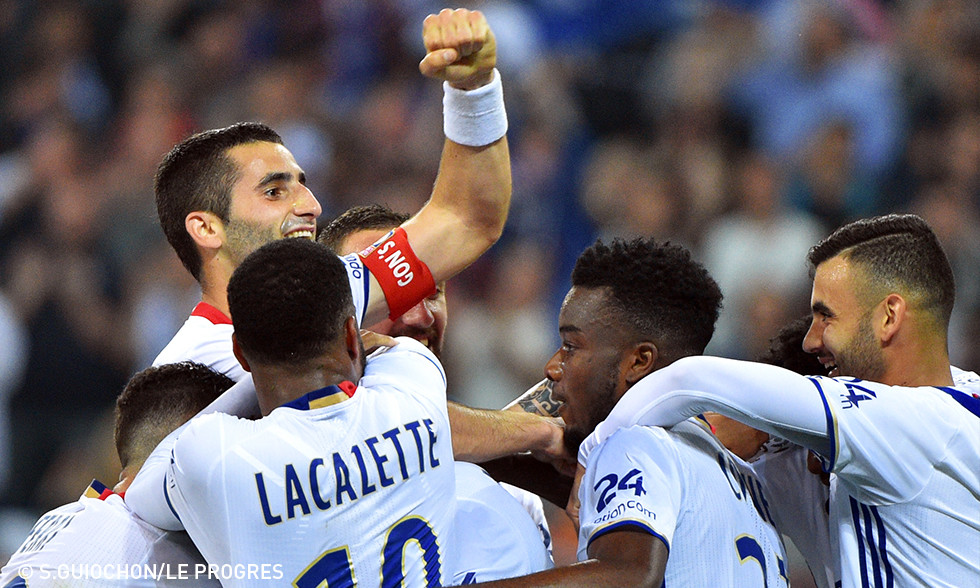 4,230. Anthony Lopes only missed three matches in all competitions this season: two in the Coupe de la Ligue (against Tours and in Paris) to give Mathieu Gorgelin a run and one Ligue 1 match (in Nantes) due to injury. Maxime Gonalons, with 3,772 minutes, and Alexandre Lacazette, with 3,740 minutes, complete the game-time Top 3 for this season.
---
;;;

84. The number of goals scored by OL in all competitions.

The 16 scorers

1- Lacazette   23
2- Cornet       12
3- Ghezzal      10
4- Beauvue    8
5-Tolisso        7
6- Fekir          4
7- Ferri, Darder 3
9- Jallet, Mapou, Valbuena, Grenier, Aldo 2
14- Umtiti, Rafael, Perrin 1
+ 1 o.g. Lemaitre (OL - EAG)

...
50. The OL players played five more official matches than they did last season, but 11 fewer than in 2013-14 (the club record). How did they fare int heir 50 matches? 23 wins, nine draws and 18 defeats.
---
32. Hubert Fournier and then Bruno Genesio used a total of 32 players this season. Only Gueïda Fofana and Lucas Mocio were called up this season without playing a single minute.
---
30. The Parc OL effect. OL played ten matches in their brand-new stadium in Décines, and remain unbeaten with just two draws conceded (against Marseille and Nice). The rest? Eight wins… and some big scorelines. 4-1 against Troyes, 3-0 against Bordeaux, 4-1 against Caen, 5-1 against Guingamp and 6-1 against Monaco… in total, Bruno Genesio's men scored 30 goals on the Parc OL pitch - that's three goals per game!
---
28. Taking into account goals scored and assists provided, Alexandre Lacazette was OL's most decisive player this season in all competitions. The OL number ten scored 23 goals and laid on five for his teammates in his 44 appearances. Rachid Ghezzal, with ten goals and seven assists in 38 appearances, Maxwel Cornet with 12 goals and three assists in 39 appearances and Corentin Tolisso with seven goals and six assists in 45 appearances complete the rankings.
---
20. Thanks to their finishing in second place in Ligue 12, OL qualified for Europe for the 20th season in a row and directly for a European group stage for the 19th time. In fact, OL have missed out on the group stage of European competition just once since 1997. That was in seasons 2014-15 when they were eliminated in the Europa League play-offs by Giurgiu.
---
18. OL continued their habit of finishing among the top places. By finishing second, OL made it 18 seasons in a row in Ligue 1's top five - an unparalleled - and still running - achievement.
---
13. Booster pack. Lyon collected only 26 points from a possible 57 in the first half of the season (ninth in Ligue 1). But then they snaffled up 39 in the second half of the season (second in Ligue 1) - a full 13 more points! The contrast is best explained by OL's impressive attacking performances: while they conceded just three goals fewer (23 in the first half of the season, 20 in the second), they scored 21 more (23 for the first half of the season, 44 for the second)!

---
6.
Spotlight. Six youngsters took their first steps with the senior team this season. Zakarie Labidi (three appearances), Gaëtan Perrin (three appearances, one goal), Romain Del Castillo (2 appearances), Lucas Tousart (1 appearance), Olivier Kemen (2 appearances) and Aldo Kalulu (14 appearances, 2 goals) were all introduced to the big time.