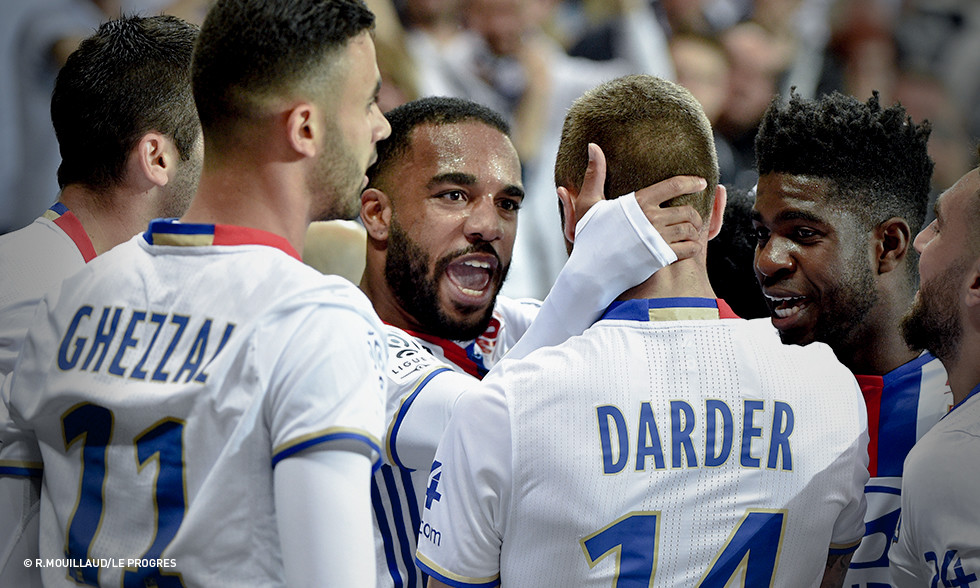 His hat-trick against Monaco got him another match ball and took him to the 20-goal mark in Ligue 1 for the second season in a row. The OL striker has proven once again that he is a must-have for the big occasions…
It's around about 23:00 when King Alex walks around his stomping ground. With a big smile in the direction of his teammates and the supporters. The match ball tucked under his arm or under his shirt. The match ball is the traditional reward for the man who just banged out another excellent performance at the Parc OL. With three goals, including one magnificent shot lifted over Subasic's giant frame, Alexandre Lacazette gutted Monaco's defence as OL ran out big winners in the race for second place.
It is often said that big matches belong to big players. By rising to the occasion of this summit clash with Monaco, Lacazette proved that he is one of those players, also succeeding in sending a message to France boss Didier Deschamps ahead of the announcement of the squad for Euro 2016. It was a another three-goal haul for the man who also got a hat-trick in the last-ever derby at Gerland, who scored the first-ever goal in the Parc OL and who got a crucial goal against Nice a month ago. With a small chip, a shot into the inside of the side netting and a mazing dribble, Alexandre Lacazette swept aside all doubts about his skill and his form, finally living up to the exceptional campaign he had in 2014-15.
After a first half of the season that was lass forthright than most has been hoping for, with six goals and no assists, the OL number ten returned to the heights he had scaled in 2014-15, when he scored 27 Ligue 1 goals. In 2016, Lacazette has bagged 15 goals and three assists in 18 matches! He now has 21 goals, making him the first Frenchman to score at least 20 goals in successive league campaigns since Guivarc'h (1996-98). That's impressive, but just look at his numbers at the Parc OL - 11 goals and two assists in ten matches! The native of Lyon's eighth arrondissement feels right at home at the Parc OL. And his coach will be doing all he can to keep him in Lyon's eastern district.
"He's a player who scores over 20 goals a season in Ligue 1, who has an extraordinary mental game, who came up through the OL youth system and who loves the club," noted Bruno Genesio in Sunday's edition of sports daily L'Equipe. "I necessarily want to work with the great players, and he's a great player. I can understand that the club might want to sell a player who is worth €35m, but if we can sell three for the same price, that could also be a good thing."
Alex Lacazette among the best in the club's history
He is the third Lyon player to score at least 20 goals in successive Ligue 1 seasons. Bernard Lacombe and Sonny Anderson were the first two players to do so.
By adding three goals to his tally in the MOnaco win, Lacazette pushed his way into the top five of all-time scorers in club history, edging past Anderson. The other Brazilian maestro, Juninho, is only three goals way...
...

OL's all-time top scorers (D1 / L1)


1. Di Nallo: 182 goals
2. Lacombe: 123 goals
3. Chiesa:120  goals
4. Juninho: 75 goals
5. Lacazette: 72 goals
6. Anderson: 71 goals

...
But he doesn't just score in Ligue 1; Lacazette is now ranked eighth among the club' all-time top scorers in all competitions, level with Ernest Schultz on 92. But he's tearing up the table!
...

OL's all-time top scorers (all competitions)


1. Di Nallo: 222 goals
2. Lacombe: 149 goals
3. Chiesa:  134 goals
4. Juninho: 100 goals
5. Gomis: 95 goals
6. Anderson: 94 goals
-  Combin: 94 goals
8. Schultz: 92 goals
-  Lacazette : 92 goals

...