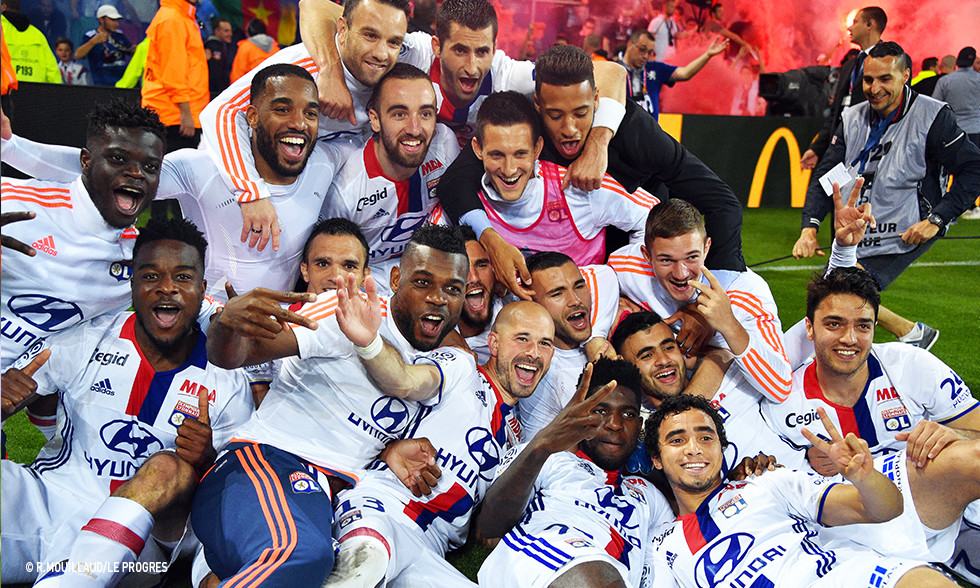 Lyon delivered a huge performance to outclass Monaco in a fantastic evening at a Parc OL bubbling over with excitement. They are now untouchable: OL are assured of second place - and the direct Champions League group stage qualification that goes with it!
Ahou !!#teamOL #OLASM pic.twitter.com/BuVbSisUuc

— Olympique Lyonnais (@OL) 7 May 2016
The referee blows the final whistle. OL's victory is total. What a show and what a performance from Lyon against a Ligue 1 heavyweight. They're assured of second place and so will play Champions League football next year thanks to their superior goal difference! The players ran a lap of honour in a stadium chanting the names of their heroes.
Liiiiiiiive #TeamOL pic.twitter.com/zyWEHstUMp

— corentin (@CorentinTolisso) 7 May 2016
This is the second hat-trick for the OL striker this season, after the one he bagged against Saint-Etienne at Gerland.
GOOOOAAAAAALLLLLLL!!! He's too good!!! @LacazetteAlex makes it 6-1 after a couple of lucky rebounds (80')!! :-)#OLASM #teamOL

— Olympique Lyonnais (@OL) 7 May 2016
81'. Magnificently played in by Darder, Lacazette once again gets the better of Subasic, with a touch over the Monaco 'keeper before tapping into the empty net.
75'. Carvalho holds Lacazette back as he was clean through on goal. The referee shows a yellow card...
New #ParcOL record with 56,696 people here tonight!!#OLASM

— Parc OL (@Parc_OL) 7 May 2016
There have been nothing but great shows at the Parc OL since January… Lyon have already scored 29 goals since the arena's inauguration at the beginning of the year - in just ten league matches… that's almost three goals a game!
71'. Grenier and Fekir replace Ferri and Cornet.
Mapou Yanga-Mbiwa LA LA LA LA !! #OLASM #teamOL

— Olympique Lyonnais (@OL) 7 May 2016
66'. Ghezzal's free-kick hit's the cross-bar.
63'. Jallet is replaced by Rafael.
59'. Yanga-Mbiwa at the double. After a goal-mouth scramble and a shot hitting the post, the central defender, who had followed up well, dives to slam the ball in to the back of the net.
58'. Lacazette volleys. Subasic is beaten but his defender clears off the line.
54'. Lemar volleys. His effort flies just past Lopes's post.
51'. After Ghezzal's break, Cornet shoots from the left but the ball goes across the face of goal with no-one there to hit it home.
46'. And we're off again. The Parc OL resumes its raucous chanting. Lemar replaces Costa.
Mi-temps: Lyon smothered their opponents in a magnificent first-half performance. Gonalons and his teammates have put on a show against a Monaco side overwhelmed by the context and reduced to ten men after Traoré's red card.
4-1 at the break!! We weren't far from a fifth OL goal, with Ghezzal pulling off a sweet flip flap... #OLASM #teamOL pic.twitter.com/DdkkLwSgCD

— Olympique Lyonnais (@OL) 7 May 2016
45+1'. But OL continue to prove dangerous. After a mazing run in the area and a flip flap, Ghezzal fires straight at Subasic.
44'. Monaco are doing better as the half draws to a close.
41'. Carvalho pulls one back after Lopes got a fist to a free-kick - but the clearance flew straight to the Portuguese, who headed into the empty net.
For the second season in a row, Lacazette has passed the 20-goal mark… 27 last season and now 20 this season… He's just the second French player to achieve such a feat since Stéphane Guivarch between 1996 and 1998.
GOOOOAAAAAALLLLLLLLLL!!! What a crazy match!!!@LacazetteAlex makes it 4-0 !!#OLASM #teamOL

— Olympique Lyonnais (@OL) 7 May 2016
35'. Alexandre LA-CA-ZETTE! The OL number ten beats Subasic with a delightful chip. What a match from Lyon!
That's the first Lyon goal for Mapou, who arrived at the beginning of the season, in his 33rd official appearance for the club.
34'. And the inevitable comes to pass! Yanga-Mbiwa, strangely unmarked at the far post, heads a corner into the back of the net.
33'. Lyon go close to a third goal… Monaco look like they're about to crack and are committing a lot of fouls.
26'. OL's forwards once again get the better of their opponents. Cornet gets the ball across the line but it's ruled out for off-side.
A second yellow for Lacina Traoré, who fouled Antho Lopes (23')!! Red card! #OLASM #teamOL

— Olympique Lyonnais (@OL) 7 May 2016
23'. And again a few seconds later, this time for a bad tackle on Lopes… Traoré is sent off!
22'. Yellow card for Traoré for a dangerous tackle.
---
A big tribute from the Virage Nord for Steed Malbranque, whose calf injury has ended his season...
20'. Monaco start to get their heads above water after a catastrophic start to the match, but they have yet to really threaten OL so far tonight.
14'. Jallet is close to scoring a third but the 'keeper saves in extremis.
11'. Monaco are nowhere in this encounter… Subasic clears into the stands.
That's Lacazette's 19th Ligue 1 goal of the season. His statistics have been going crazy since the turn of the year - that's his 13th in 2016.
8'. The OL steamroller is in gear! Lacazette slaps Darder's squared ball first time into the back of the net, leaving the Monaco 'keeper, who has to pick the ball out of the net for the second time tonight, no chance!
That's Ghezzal's eighth Ligue 1 goal of the season, and his third at the Parc OL - which is a stone's throw from his boyhood neighbourhood in Décines.
3'. First attack, first goal for OL! Lacazette plays Ghezzal into space and the OL leftie beats Subasic with a side-footed finish. The stadium goes wild!
1'. OL kick off in a stadium that's white hot with excitement!!
---
OL on fire!!! ????????????#OLASM pic.twitter.com/oNqtkrnouC

— Olympique Lyonnais (@OL) 7 May 2016
...

. TEAMSHEET .

Parc OL. Olympique Lyonnais 6-1 AS Monaco (4-1)

Referee: Ruddy Buquet. Spectators: 56,696.

Goals: Ghezzal (3'), Lacazette (8', 35', 81'), Yanga-Mbiwa (34', 59') for OL. Carvalho (41') for ASM

Yellow cards: Traoré (22', 23'), Toulalan (65'), Jemerson (70'), Carvalho (75') for ASM. Gonalons (63') for l'OL.

OL: Lopes - Jallet (Rafael, 63'), Yanga-Mbiwa, Umtiti, Morel - Gonalons (cap.), Ferri (Grenier, 71'), Darder - Ghezzal, Lacazette, Cornet (Fekir, 74'). Coach: B. Genesio.

ASM: Subasic - Jemerson, Carvalho, Wallace, Raggi - Toulalan (cap.), Bakayoko - Dirar (Bahlouli, 81'), Silva (Vagner Love, 62'), H. Costa (Lemar, 46') - L.Traoré. Coach: L. Jardim.

...