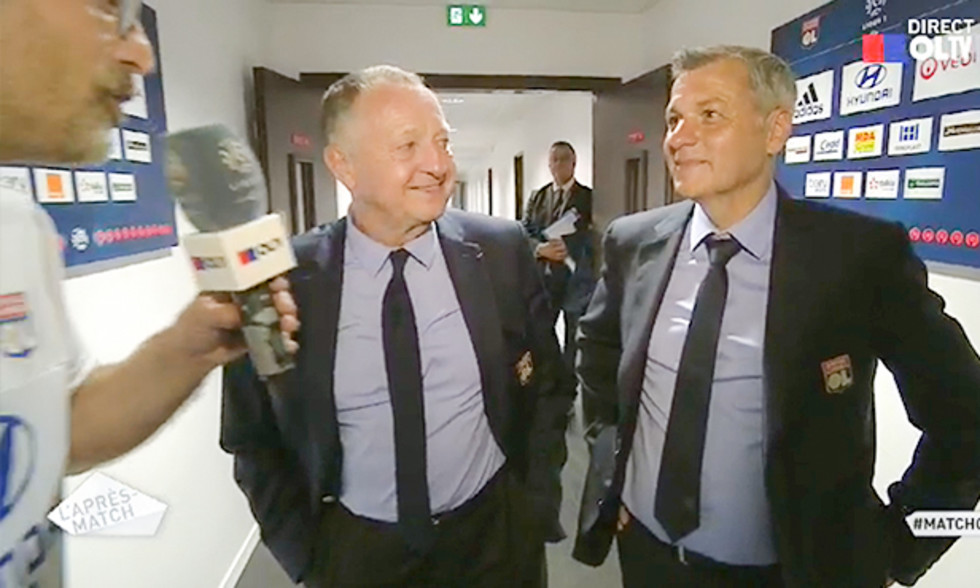 In the corridors of the Parc OL, the Lyon president took the occasion of the club's qualifying for the Champions League to confirm that his coach will be staying on next season. Extracts from the interview with Arnaud Rivenet for OLTV's Après-Match.
We can imagine that you're relieved and thrilled by this show put on against AS Monaco?
You know, when this stadium was inaugurated, we were in a bad place and wondering whether we hadn't been too ambitious. But with Bruno Genesio's arrival, the players realized their potential and took charge of this stadium while also changing their mentality. As the matches ticked over, the story began to write itself and the fanciful idea of finishing second became a real objective.
How was the match for you?
It was very emotional. It was also a highlight reel, with goals and some very attractive football. There's a lot going through my head - and my heart - as there is an entire project in place here, not to mention European football coming to the Parc OL.
There was also a tribute form the fans, who were chanting your name during the match…
That was also very moving. It's a bout a feeling of joy being shared by all these people who love OL, and who are incredibly happy right now… and there's also my friend Bruno (Aulas calls Genesio to the microphone). What he has achieved since 28 December is considerable. There was a pact between the directors and the players and the result has been a wonderful story. Bruno hasn't just taken over as head coach, but he has brought his personal touch to the job. So when you see the result, and the joy of the players, there is no other choice than to have Bruno here for European football in this stadium."
What are your objectives for the coming weeks?
We're in the middle of a number of successful projects, with a high-quality youth academy, a state-of-the-art stadium and a coach who embodies the club's DNA. We all want to take the club as high as it can go. That's why I hope that our players will be rewarded by the French Football Federation, which will announce the squad for EURO 2016 next week.
We might not be the FFF's French champions but we're the champions of beautiful football and the most beautiful stadium
In any case, OL richly deserve second place…
We proved tonight that, despite Paris Saint-Germain's ultra-domination, we can also put on a show. We might not be the FFF's French champions but we're the champions of beautiful football and the most beautiful stadium.