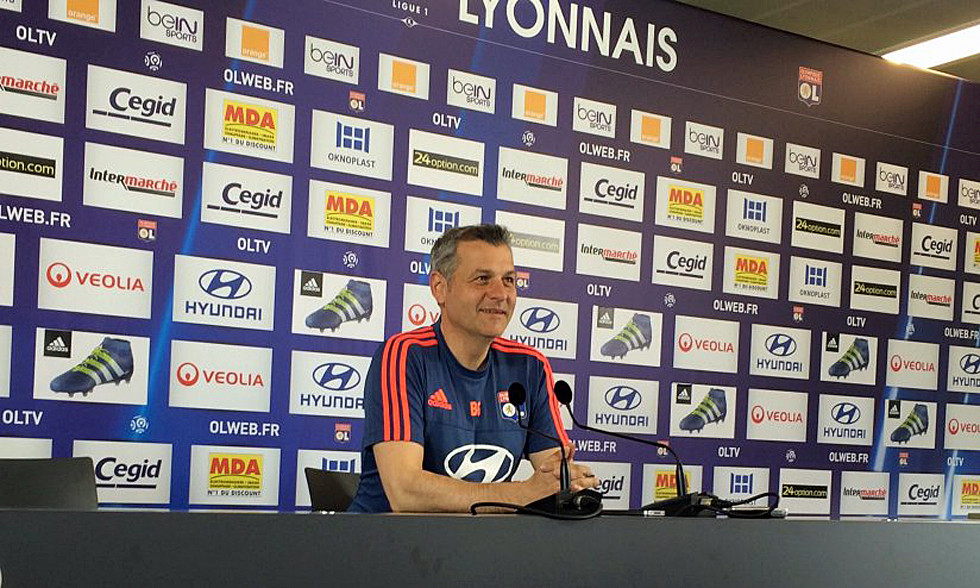 The OL coach appeared before the media 48 hours out from Gazélec Ajaccio's Ligue 1 visit on Saturday evening.
Injuries
"Steed Malbranque is unavailable. He's the only player missing this weekend Aldo Kalulu should return to action with the reserves."
The match against Ajaccio
"If we say that, on paper, it won't be a contest, then we could end up very disappointed. We lost in the first match against them this season. We need to prepare well and respect our opponents, who have a lot of fight in them and who have turned things around after a tough start to the season. But it's not about revenge for us; we have a greater objective that goes beyond this one match. We need the win. It's another hurdle to get over… We expect to have more of the ball and to be faced with a packed defence looking to hit us on the counter. We've been working on destabilising opponents but also on transitions."
Something of a final against Monaco?
"Monaco will come here with more determination than when they went ot Rennes. They have the means to pose us problems. They will be a completely different team from the one we have see n in recent weeks. There will still be one match left to play after Monaco. Reims could well be playing to save their Ligue 1 skins. We know that with seven points, we have a 90% chance of finishing second. So our thinking is that we just have to take the matches one at a time. We need to continue our upward trajectory. We'll talk about the Monaco match after this weekend's match has been played."
Nabil Fekir
"He's doing better. Technically, he's on point. He's making progress with his athleticism. He's not yet up to a starting place but he has made progress since the match against Toulouse. His head is in a good place. He knows that it's normal to take some time to get back to his best form. But he has lost none of his talent, and that's important."
Mathieu Valbuena
"I didn't see what happened in Toulouse. We mustn't accord things like that more importance than they deserve. Mathieu was provoked. He reacted in a way that he shouldn't have done. But you have to understand that one can be frustrated by certain kinds of behavior. I didn't get he feeling that he had been affected by this incident. I would have preferred it go have gone down differently, but at the same time it's not the scandal of the century."
Alexandre Lacazette
"It's always great when big clubs are interested in your players. There will be a lot of rumours and whispers and disinformation… The right choice? That he stay at OL, especially if we finish second. I'm not surprised by what is coming out in the press. But we have to stay focused on our common aim."
Sergi Darder
"He has a quality to his passing game that could be really important faced with a packed defence. He can bring a lot to the table. I have a lot of choices to make. He is a chance to be in the starting line-up."
Jérémy Morel
"You have to remember that he is coming back from injury. Perhaps it's linked to a lack of game time.  Henri and Jérémy have different profiles. So it's up to me to choose which man can bring more positives against this opponent."
Jordan Ferri
"Every team needs a player with a profile like that - a player who knows how to be decisive. It's areal plus. I think the criticisms and discussions about him are unfair."