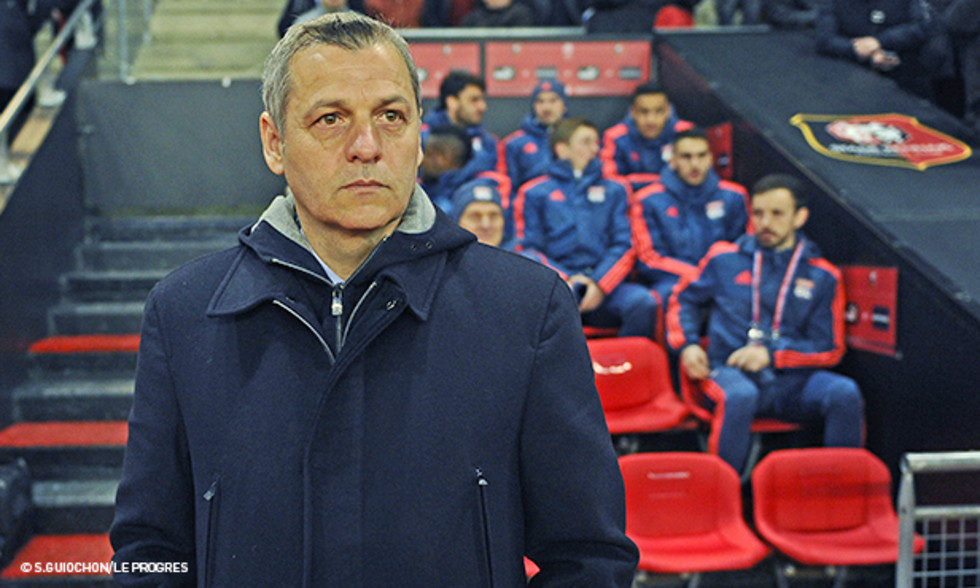 OL coach Bruno Genesio appeared before the media on Thursday, discussing the trip to Montpellier, the home stretch of the season and the return of Nabil Fekir.
Injuries
"Morel has been ruled out after spraining his ankle. Rafael and Gonalons are back from suspension. Fekir is back. He is in the squad."
Fekir's return
"I let him play in the reserves last weekend because he really wanted to do it.  There's nothing to say about it really other than noting the fact that he had no pain in his knee afterwards. There's no point in analyzing his performance with the reserves. If he comes on, he should bring his qualities as a scorer and assist provider to bear. There is also an impact on the opponents; he scares defenders. There's no definitive plan in terms of how long he will play. I want to be responsive to how he feels out there so we'll just play it by ear. I think he has already gotten past the stage of being apprehensive in training, and it's up to him to do the same thing in a match. I'm not worried about him. I've spoke to him and we're very much in sync about what we need to do. In terms of his technique, he's not far off 100%. Physically, he is around about 60% of peak fitness. There is no point in putting further pressure on him; people are expecting a lot of a player who has been out of action for seven months. It's too early to be talking about the Euros. First of all he needs to get back in the rhythm of playing."
The match in Montpellier
"It's always tough to win these matches. We're up against a team who also want to win and who have the means to do so. Montpellier certainly aren't where they belong on the table. We'll need to show all the same qualities that we have shown in recent matches. The difference has been made off the bench."
This season's terrible first meeting with Montpellier
"It's a really bad memory. In terms of playing good football, we were barely even there. That should provide us with an extra source of motivation, but it certainly won't be the most important one."
In their own hands
"If we win every remaining match, we're sure to finish in second place. It's not just a theory. It's tough to win all your matches; consistency and our capacity to handle pressure will be the most important things. We need to stay calm. We mustn't forget that Rennes and Nice are breathing down our necks. They're two great teams with individual players capable of making the difference. The race for the podium isn't all about Lyon and Monaco. We need to be vigilant."
The turning point
"It was the match against PSG, for sure. We gained a better understanding of our qualities. I couldn't have imagined that we would have cut Monaco's lead ahead of us to just three points so quickly. But I was convinced that we could battle it out for second. The quality and the attitude of my squad gave me every indication."
Rachid Ghezzal
"He astonishes me with the consistency of his effectiveness. It wasn't one of his qualities in the past. He has developed it on his own. He has had some tough times so I'm happy for him. It's a just reward. He just need to persevere and continue doing what he is doing. He has always done great things in training but for a long time couldn't transfer that into matches. He's doing that now. He has more confidence in himself."
Mathieu Valbuena
"The team can win and he can be decisive, which is contrary to what I've seen written. He played a part in our win. He has always been in the running for a starting spot. I don't have preconceptions."
Clément Grenier
"He returned after a long injury lay-off. You need time to get back to your best. He had a small physical set-back. It's not easy for him, and it's tough for us too, because we like him. He is making every effort."