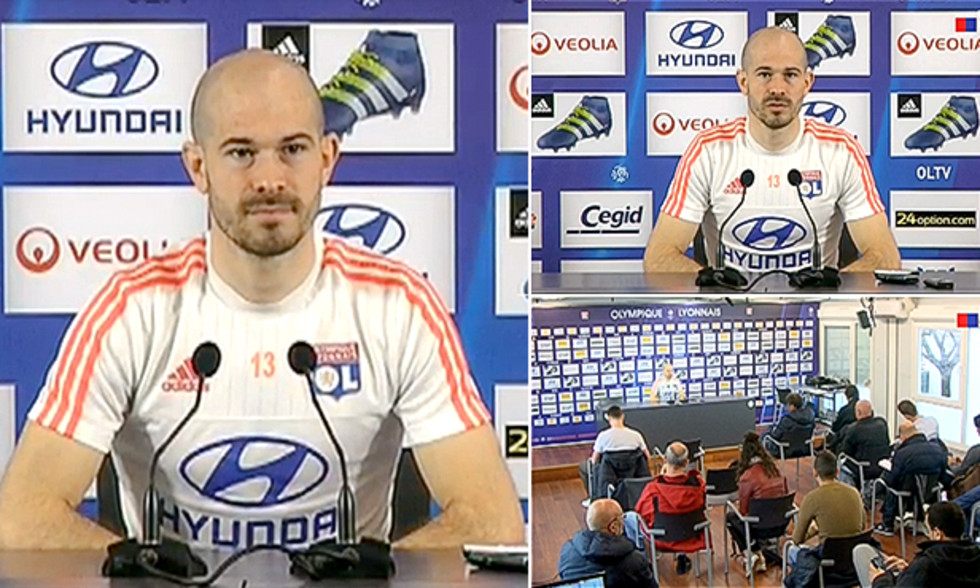 Christophe Jallet was in attendance at the customary pre-match press conference to talk about the international break, spent with Les Bleus, his current form and, of course, this weekend's trip to Lorient.
The international break with Les Bleus
"I have the feeling of mission accomplished. I gave all I had, as I do every time I'm called up. Defensively, I did my job. We got the wins, which was great for us both collectively and individually. I don't really know what my chances of playing in the Euros are. Nothing is certain one way or the other. There are a till a few weeks left for me to show my worth with my club. The break did me good. Things are looking good and I continue to make progress. I was happy to be there. The door isn't shut for the players who missed this most recent call. The squad is in great shape; something is in the process of coming together… Mathieu Valbuena is an integral part of the squad and he would have loved to be with us. If he can get back to his best form with OL, he will be with Les Bleus. I hope that's the case."
Competition in the squad
"That's the way it is when you play for a big club. Especially when the results are coming in. It motivates you to work even harder to prove that you deserve your place in a great team… I understand why I haven't had so much game time of late; I'm clear about that. Why change a team that was good enough to beat Paris? A dynamic was started in that match. I haven't taken it badly. I've been asking myself some tough questions, but I have faith in myself and in the healthy competition that exists in this squad. I work hard every day. There is no extra pressure. I'm a part of the collective here."
Monaco's win in Paris
"Monaco took their chance. It would have been great for us had PSG won. We would have gone to within three points of Monaco. There are seven matches left, and we're into it tooth and nail. We've come a long way already but we still have six points to make up. We really want to get back into the Champions League. We have a lot more experience now than we did last season."
Third place
"I'd prefer to finish third than fourth, even if it curtails your pre-season, which can be tough. But it's the Champions League and it would bespeak a lack of ambition on our part if we thought it was too hard. Our objective remains to finish in second place."
Two away games in a row
"The coach warned us. He asked us to play the same way, with the same attitude. We played some great football in Rennes. Now we just need to prove that we're in it for the long haul and that we won't give up… Perhaps we have been allowing our opponents to make too much of the running when we play away from home. We need to pressure Lorient and look to win the ball back high up the pitch. We need to back ourselves."
The synthetic pitch
"We're used to laying on surfaces like that. It changes things a bit but it's not mission impossible."
Nabil Fekir
"He's not holding back. He's going for it, taking defenders on and making an impact. It's the Nabil we know and love. He's a fantastic player who can turn a match on its head. We can't wait for him to get back to his best."
Maxime Gonalons
"The whole side went through a from slump at the end of 2015. Max is an incredibly important element in this squad. He cleans up and directs our game. He's in good form now, so that's great. Our captain is a leader both on the pitch and off it."