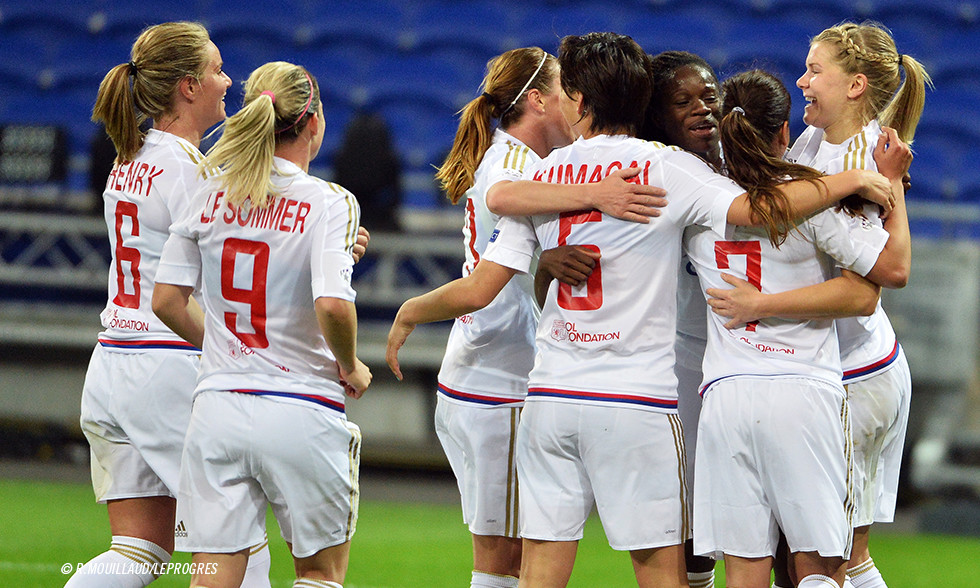 OL Women put on a real show for their first time playing at the Parc OL, winning 9-1. They hardly blinked as they brushed past Slavia Prague in the first leg of their Champions League quarter-final tie.
86'. Hegerberg hammers a powerful half-volley past the Czech goalkeeper! 9-1 for OL.
80'. Superb acrobatic overhead shot from Abily after Thomis had set her up! 8-1 for OL.
78'. Perisset replaces Henry.
72'. Lavogez replaces Le Sommer.
64'. Magnificent free-kick from Abily, who curls the ball into inside of the side netting! 7-1 for OL.
56'. Majri, at the far post, uses her head to put the ball into the back of the net! 6-1 for OL.
53'. Henry's header crashes onto the cross-bar. M'Bock follows well and dive to head home the rebound and complete her brace! 5-1 for OL.
---
42'. A slight lapse in concentration for OL… Svitkova reduces the home side's lead. 4-1 pour l'OL.
39'. Lucky goal for M'Bock, who blocks the Czech 'keeper's clearance over the goal line. 4-0 for OL.
35'. Hegerberg has the simplest of headers into the back of the net after an inch-perfect cross from Abily. 3-0 for OL.
24'. After bringing down a long pass from Abily with a perfect touch, Le Sommer fired home from point-blank range, doubling OL's lead... 2-0 for OL.
23'. Le Sommer fires wide with a header despite finding herself in the ideal position.
19'. Necib opens the scoring with a superb shot across the Czech 'keeper. What a goal! 1-0 for OL.
17'. Le Sommer tries her luck from 20 metres. The opposition 'keeper drops well to turn it wide for a corner.
10'. OL are dominating possession but for the moment are struggling to threaten the Czech goal.
1'. After a minute's silence as a tribute to the victims of the Brussels terror attacks, Prague kick this quarter-final off.
---
A first since the 2013 campaign… it had been two seasons since OL Women had made it to the Champions League quarter-finals, the Lyonnaises falling victim to Potsdam and, last season, Paris in the last 16. It was also their first time playing at the Parc OL, Gérard Prêcheur's players celebrating a return to the quarter-finals by christening their new home in the Décines district of Lyon. No doubt Camille Abily and her team-mates had their hearts set on putting on a show for their fans, but the most important thing was to stake a strong claim on a place in the semi-finals ahead of the return leg in the Czech Republic next week…
OL Women warming up at the @Parc_OL ! #TeamOL #OLSlavia pic.twitter.com/tyw57haJo4

— Olympique Lyonnais (@OL) March 23 2016
Teamsheet:
Olympique Lyonnais 9 - 1 Slavia Prague
Parc OL. ca. 11,732 spectators. Referee: Larsson (Sweden).
OL: Bouhaddi - Kaci (Tarrieu 64'), Kumagai, Mbock, Majri - Henry (Perisset 79'), Abily (cap), Necib - Thomis, Hegerberg, Le Sommer (Lavogez 72'). Coach: G. Prêcheur.
Slavia: Sladka - Tomaskova, Necidova, Budosova, Jurackova - Cahynova (Matejkova 85'), Malinova (Benyrova 29'), Penickova (cap), Svitkova, Chlastakova - Divisova (Dlouha 76'). Coach: A. Mišove.
Goals: for OL, Necib (19'), Le Sommer (24'), Hegerberg (35', 86'), Mbock (39', 53'), Majri (56'), Abily (64', 80'). For Slavia, Svitkova (42').