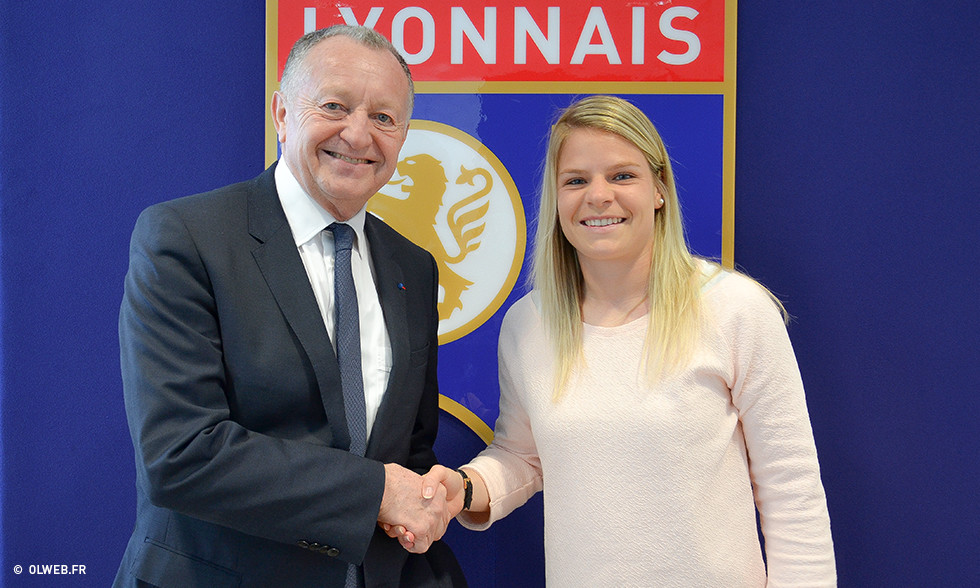 The France international has extended her contract with Olympique Lyonnais by three years, on the eve of the Champions League quarter-final first leg against Slavia Prague at the Parc OL.
Arriving at OL Women in 2010, Eugénie Le Sommer had a contract running through to the end of June this year. On Tuesday morning, the France international, in the company of Jean-Michel Aulas, signed a three-year contract extension at the Parc OL. She is now linked to the club until June 2019. Since her arrival at OL, Le SOmmer has played 183 matches and scored 164 goals in all competitions.
Eugénie Le Sommer:
"I'm very happy, it's great to have situation sorted out. We're off for another three-year adventure full of ambition and hunger for success. I really want to clinch the triple this season and win as many titles as possible in the coming years. This club suits me well. The new stadium and the new training centre are big motivators to stay. When you love football and you're living your passion, being a professional at OL something extraordinary."
Jean-Michel Aulas :
"It's great news for the club and the fans. Eugénie is one of our best players; she has grown up with the club as the women's section underwent massive development. Amandine Henry chose to leave for the US and we have to accept that. That said, we'll do our best - with the extension of our players and the signing of some new names - to have the best team we've ever had for next seasons' campaign. With this new stadium, which can also be used by the women, we're obliged to construct a superlative team."