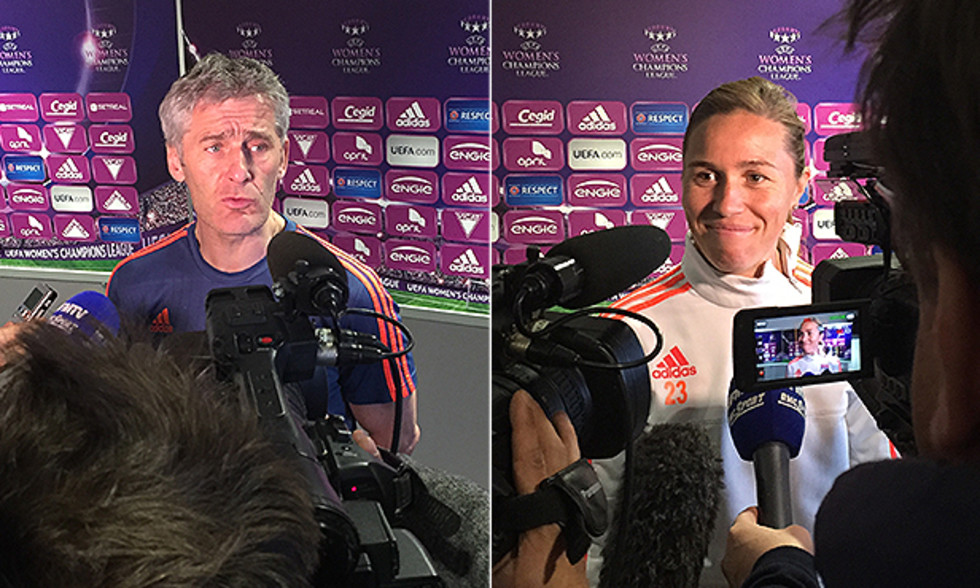 Gérard Prêcheur and Camille Abily were in attendance at the Parc OL press conference on the eve of the visit of Slavia Prague for the first leg of their UEFA Women's Champions League quarter-final.
PARC OL

Camille Abily:
"The fact that we're playing at the Parc OL will give us even more motivation. It's already a fortress for the men's team, and we hope that it will the same thing for us. From the stands, it's hard to imagine that we'll be able to play in this stadium. Training and playing here is a real joy."
Gérard Prêcheur:
"It's an extraordinary acknowledgement. Now the women use the same excellent facilities as the men. All the necessary efforts were made to have the women's team play here at the Parc OL in front of big crowds and with a concert after the match. It shows how interested the club is in the women's section."
SLAVIA PRAGUE
Camille Abily:
"We played against the Czech Republic with the France team, and we won 2-0. They're a country making progress. No doubt they will be very hungry and play rigorously. It's an exciting match for us to play."

Gérard Prêcheur:
"Slavia Prague are not in the quarters by accident. This team has had a great run in the competition and are on a string of good results. For us, the win is indispensable. Getting one foot in the semis as of the first leg would make it much easier to handle series of matches we have coming up."
For this match, Gérard Prêcheur will be without Wendie Renard and Lotta Schelin, both of whom are still injured. Pauline Bremer, who has returned to full training, will be rested.

The OL squad:
'Keepers: Bouhaddi, Gerard, Perrault
Defenders: Kumagai, Mbock, Majri, Kaci, Petit
Midfielders: Henry, Abily, Necib, Lavogez, Perisset, Pingeon
Attackers: Hegerberg, Le Sommer, Thomis, D. Cascarino, Tarrieu