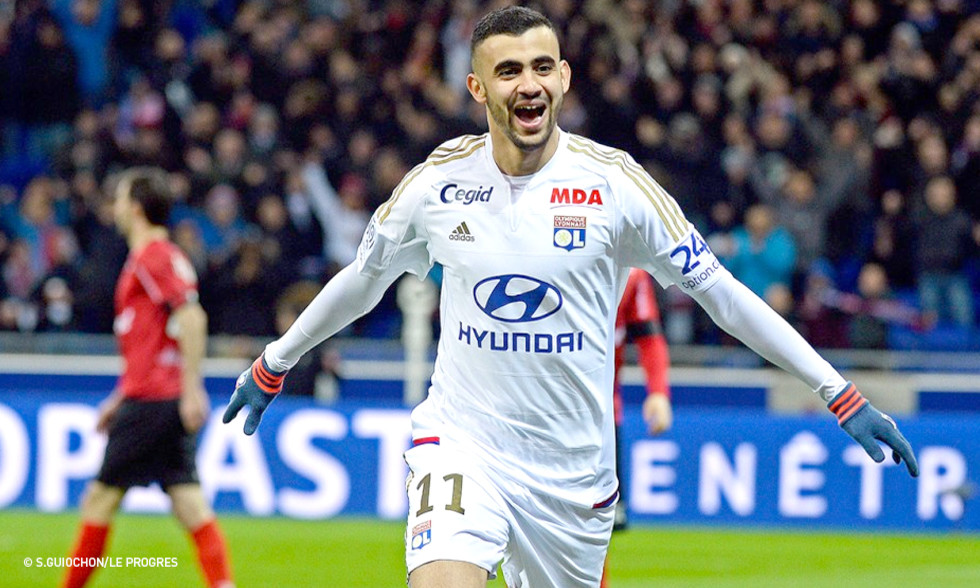 Rachid Ghezzal has become a first-team regular in Bruno Genesio's 4-3-3, proving decisive on several occasions… the Lyon left-footer talks about confidence… game time… positioning… ambition…
In the two and a half months since the season resumed in January, and since OL's new coach took over, Rachid has started 12 of 15 matches, scored six goals, provided six assists and turned in excellent performances in 1,059 minutes played (444 in the first half of the season). On the left of a 4-3-3 in 2012-13, where he played 1,265 minutes for one goal and one assist, absent in 2013-14 thanks to an operation and the coach's choices, at the apex of a diamond midfield in a 4-4-2 for 869 minutes (no goals, two assists) in season 2014-15, the elegant Franco-Algerian is now thriving on the right-hand side of Genesio's 4-3-3. Ghezzal has been a revelation, exploding onto the scene with superb passing and tactical nous, not to mention prowess with the dead ball and a willingness to shoot at goal (24 on-target shots from a total of 48 shots). In a word, he has talent in everything he does in service of the team, but without letting it adversely affect his spectacular qualities, notably an excellent first touch that makes him tough to predict even when he uses the same feints. The native of Decines-Charpieu (74 matches, 8 goals and 9 assists) will turn 24 on May 9. An Olympian since 2004, he has played for the club at every age level. Will he spend his whole career with the club? "I don't really imagine it that way… we'll see… I have ambitions…" And he has ambition with the Algerian national team too, a side he decided to join recently after playing for France at the U20 level in 2013.

Confidence
"Every player needs his coach and his teammates. Before, I didn't have the confidence of the coach. You could see it through the amount of game time he gave me and my performances out on the pitch. The new coach has put his faith in me and I'm doing my best to repay that faith. Yes, I've played in the past, even playing several matches in a row, but that was really happening when others, like 'Yo' (Gourcuff) were injured. In fact, I was emergency cover and when I was no longer needed, I hardly played at all. I played in the reserves in 2012-13 (the season in which he had back surgery). It was a tough time. But you need to go through stuff like that to be better able to express yourself later on."
I knew what Rachid's potential was and what his technical qualities were, but still he is managing to surprise me. He has become very clinical. The fact that he's playing on the right now is undeniably helping him to shine. (Bruno Genesio)
Statistics
"I've been a professional for a while now. I needed to be able to bring this clinical aspect of my game to bear for the team. I've made a lot of progress in this domain and I want to keep going (smiles). Playing a lot of matches with the senior squad has helped me, as has finding my rhythm. It was a question of adaptation. I've never been a great goal-scorer; I'm much better at providing the final ball."
Position
"On the right-hand side of this formation, that's he position that suits me best right now. It's easier for me to cut inside and shoot or to link up with my team-mates."
The visit of Nantes
"We're playing at home. It's an important match in terms of our staying on our current positive dynamic."
The Algerian national team
"It's an objective to carve out a place for myself in what is a very young squad. There are a lot of big matches coming up."
He has talent and at the moment, he's really impressive. He gets around his man, he scores, he sets them up and he works hard. He reads the game instinctively. You can see that he played in the street. On the right, his contributions make the difference. The other day, I was watching him at training. He had an extraordinary session - it reminded me of the Brazilian Rivaldo. Everything that is happening to him now is a just reward for the work he has done and the patience he has shown. He really has been messed around by injuries in recent seasons. I'm happy for him after all he has been through." (Bernard Lacombe).