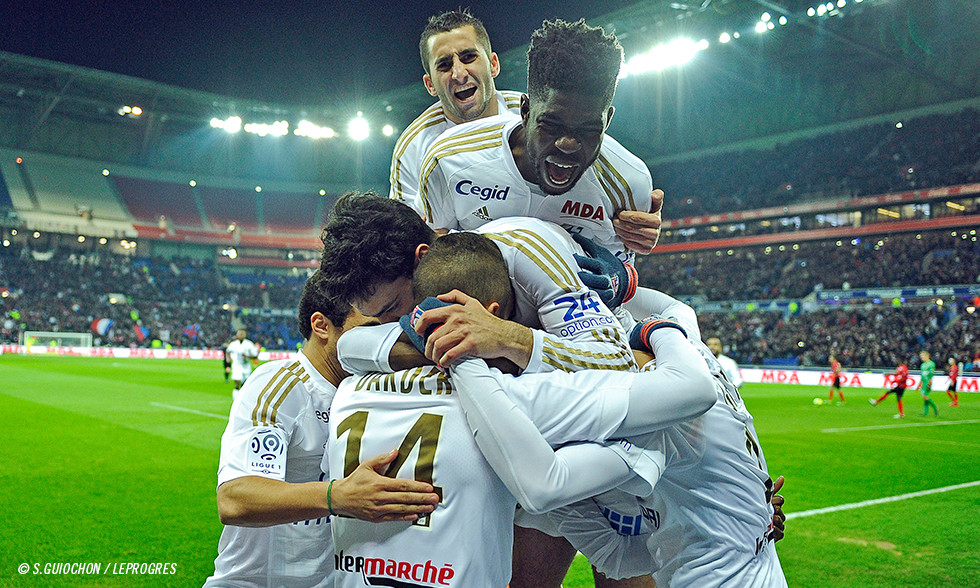 OL outclassed an uninspired Guingamp side with a serious, focused performance. OL confirmed their return to form, their scporing prowess at home and their ambitions for the end of the season… an excellent evening…
FIRST HALF
A minute's silence before kick-off to commemorate Kevin, an OL supporter who died after the match against PSG. Then things got off to a brisk start, with Gonalons winning possession, Lacazette touching it to Cornet, whose shot hit the post before Ghezzal turned it in... with his knee! OL dominated the early stages. But Erding equalised after OL had lost possession… and then Lacazette surged forward, deftly finishing after Darder's back-heel for Ghezzal. It was a lively, committed performance from OL, who were on top and who found solutions everywhere, notably through the excellent Darder and the omnipresent Gonalons. EAG suffered… and Cornet widened the gap from a Ghezzal assist, even though the young Maxwell was off-side. OL continued to have the upper hand and played high up the pitch as the whole side put their efforts at the team's disposal.
SECOND HALF
Lacazette missed OL's fourth directly after the break. EAG could find no solutions… and OL weren't letting up, except for the few occasions when they lost possession, one of which saw Lopes produce a superb save (54'). Lössl just beat out Lacazette from converting Ghezzal's free-kick. EAG's defence was porous and their attack was at a loss as to how to proceed when they did have the ball. OL was too strong, alternating possession play and counter-attacks at will. Labidi came on for Cornet. OL cruised to the final whistle with no worries save for a chance that Guingamp's Briand spurned. Jallet replaced Rafaël and Malbranque came on for Darder just before Ghezzal's free-kick was turned into OL's fifth by a hapless EAG defender's own-goal. Guingamp were outclassed. And Lopes finished the job with two decisive saves at the death.
SUMMARY
OL carried on from their win over PSG and confirmed their ease and facility in their new stadium. The team was precise and focused against a Guingamp outfit having a bad day. OL maintained third place on the Ligue 1 table, but also whittled two points off the gap between them and second-placed Monaco, who are now only six points ahead while Saint-Etienne are two length behind. And the scoreline certainly didn't do OL's goal difference any harm! Now OL need to take their form on the road, starting this Sunday as they travel to in-form Rennes.
...

Teamsheet

Lyon, Parc OL, referee, M. Fautrel. ca. 33,000 spectators. OL 5-1 EAG (mi-temps: OL 3-1 EAG)

OL: Lopes – Rafaël (Jallet 80'), Yanga-Mbiwa, Umtiti, Morel – Gonalons (cap), Grenier, Darder (Malbranque 85') – Ghezzal, Lacazette, Cornet (Labidi 75') Coach: Genesio.

EAG: Lössl -  Martins-Pereira,  Kerbrat, Angoua, Jacobsen (Lemaitre 46') – Mathis (cap) (Diallo 56'), Sankharé – Salibur, Briand, Erding, Giresse (Blas 62'). Coach: Gourvennec.

Goals: for OL, Ghezzal (3'), Lacazette (17', 61'), Cornet (35'), CSC (86'); for EAG, Erding (12')

Yellow cards: for OL, Lacazette (12'), Grenier (81'); for EAG, Mathis (13'), Angoua (14'), Diallo (59').


...