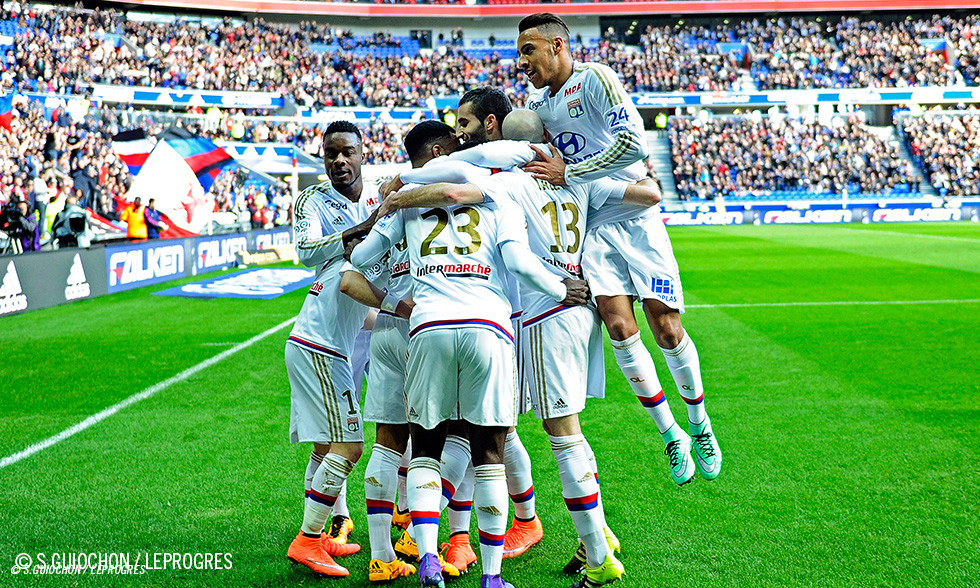 Olympique Lyonnais made it three Ligue 1 wins in a row for the first time this season, getting the better of Caen 4-1. Despite controlling matters less after the break, it was an excellent performance. OL took provisional third place.
First half
Lyon started extremely well… and converted their first chance. From a free-kick, Valbuena found Tolisso, who headed down for Umtiti to force home (8'). After a fine passage of play, Lacazette latched onto Ferri's through-ball and finished (16'). Clinical finishing against a Caen side who were overwhelmed in the early stages… but who created their first chance on the counter, with Lopes putting paid to the effort of Ntibazonkiza. The second goal woke Caen up somewhat even though OL maintained the upper hand. Cornet fired directly at Vercoutre after a magnificent team move. Caen finished the half much better than they started it, but the OL 'keeper was vigilant. He fisted away strongly from Delort's outrageously powerful free-kick before denying Rodelin's shot from the edge of the area. However, Lyon weatherd the brief storm and punished Caen just as they were at their strongest, Tolisso finding the killer pass and Cornet finishing it off (45').
Second half
Delort lit up the early stages of the second term. Lopes was once again in the right place to block. Lacazette responded, but could only find the outside of the side-netting. The same went for Cornet, released by Ferri, who minutes later had a chance to make it 4-0 but fired at Vercoutre. Immediately afterwards, Delort reduced the scoreline as he met Rodelin's cross with a fine finish (58'). On an ultra-fast counter, Lacazette also missed a golden opportunity. Lyon had plenty of chances to kill the match off… but the final nail wouldn't come, and the home side had to stay on their toes against an opponent with plenty left to say. Lopes dropped smartly to deny Ntibazonkiza. Vercoutre used his feet to put a stop to Cornet's effort, but shortly afterwards there was nothing he could do, Tolisso's deflected shot sailing into the back of the net (83'). Lyon calmly saw the match through to its conclusion.
Résumé et enseignements
Les Lyonnais ont d'abord fait preuve de beaucoup d'efficacité dans les deux surfaces avec notamment trois buts en première période. Ils ont montré un peu plus de difficulté après la pause mais ont su rester solides défensivement. L'OL s'installe sur le podium en attendant les résultats de Nice – OM et de ASSE-Monaco.
...

Teamsheet

Olympique Lyonnais 4 – 1 Stade Malherbe de Caen (Half time: 3 – 0)

Parc OL in Décines. Ca. 38,624 spectators.

Referee: Ruddy Buquet.

OL: Lopes - Jallet, Yanga-Mbiwa, Umtiti, Bedimo - Gonalons (cap.), Ferri (Darder 80'), Tolisso – Cornet (Ghezzal 80'), Lacazette (Perrin 88'), Valbuena. Coach: B. Genesio.

SMC: Vercoutre - Appiah, Yahia, Da Silva, Bessat – Seube (Adeoti 80'), Rodelin, Makengo (Nkololo 46'), Ntibazonkiza, Feret (cap.) - Delort. Coach: P. Garande.

Goals: OL, Umtiti (8'), Lacazette (16'), Cornet (45'), Tolisso (83'). For Caen, Delort (58').

Yellow cards: For OL, Cornet (46'), Gonalons (56'), Ferri (72'). For Caen, Da Silva (7'), Bessat (28'), Yahia (64'), Seube (69').


...