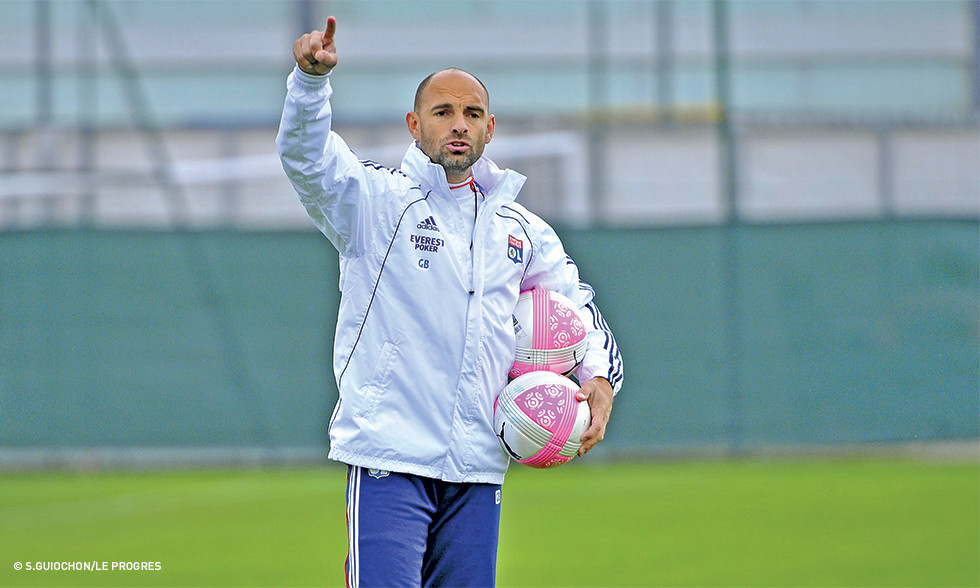 With the reorganisation of the OL staff during the winter break, Gérald Baticle became the number one assistant coach for Bruno Genesio, the new coach… he talks about his change of role… his enjoyment… Lyon's forwards…the offers he received… and about SM Caen.
Before signing for OL in 2011, in his career as a player and then as a coach, he never went lower than Auxerre. From 1990 to 2004, he played 470 professional matches, scoring 115 goals and passing from Amiens to Le Havre via Strasbourg, AJA, FC Metz and ESTAC. He returned to AJA, but as a coach, directing the youth team before moving to Stade Brestois as the number one assistant coach. Gérald talks about the egotism of the true striker that he was: "some seasons, I would get myself into shape mentally… a true striker is obsessed by scoring. Some even prefer to score and lose than not score and win." He was a forward/striker but also played as a midfielder and knew the pleasure of a fine pass or assist. He discovered the position when called in to do so in an emergency by Guy Roux, who was also the one who called him back to Auxerre to discover a new career: "At Auxerre, I was first of all an observer with the youth team - our youngsters and those of other clubs… recruiting… and then coaching the U19s. The diversity was really enriching… as was the wide variety of coaches I had the pleasure of working with." He also learnt from his time with Stade Brestois (L2 in 2008-09), where he was the number one. Like many coaches, he is a very passionate person. While in some people, you can't necessarily tell from the way they talk or carry themselves, with Gérald, it strikes you right away. On the pitch, he has a presence, an energy, and a voice but also patience and complicity… "Passion is the motor. I don't have the feeling that I'm at work. Do I ever switch off? Not for long and anyway it doesn't matter. I do it when I'm skiing or looking at the sea. Pressure? It exists, but that's why you do this job." Gérald is a social animal: "I like being at the center of the squad; I like the relationships." It leads him to some indulgence towards the players… but he is also demanding, looking to have his players in a constant state of progress. "if you don't work hard, if you don't seek to make progress, you go backwards." He has clear thoughts on his transition from player to coach: "Your career can hold you in good stead… but there's a time limit and pretty quickly the lads judge you on the work you do, on your competence. It means you have to always be asking yourself the tough questions."

On his new role
"There are more responsibilities. I clear the way for Bruno. I anticipate potential problems. I manage the organisation so that everything runs smoothly - that way, Bruno has more time to do his stuff. I've taken the role that he had with Hubert (Fournier). I also have a lot of suggestions for what to do in the sessions and during matches. I offer him a palette of solutions or pose him some problems to solve. Bruno decides. I wanted to hang onto my work with the forwards. We've become used to each other, we get along well… the day of a match, I'm in charge of warming up for set pieces, warm-ups and instructions when we make substitutions. What has changed is that I'm now on the bench instead of in the stands. You're more in the thick of it there, while in the stands you can observe more objectively. On the bench you can give your opinion, make suggestions… but it's Bruno who decides and once has done so, we get right behind him. In my former role, I spoke up at training only to add something when I thought it was necessary, but now, I'm like that throughout the week. It means I need to be much more concentrated. I'm an organiser, always on the alert to avoid or limit the imponderables. But I'm in a comfortable position, as I don't make the final decision."
Number one
"I can't say that I never thought about it since I've been at OL, because I've twice had offers to do it in L2 (AJA and FC Metz). But sincerely, I'm not even asking myself the question at the moment because I'm evolving and widening my palette. I'm really growing here and OL is really the top - one of the best clubs in France and a club of substance on the European scene. With time, we'll see. But, honestly, right now it's not a problem. Contact with Aston Villa? Yes, Rémi (Garde) got in touch… I spoke to the president to know what his wishes were. But everything was very clear, especially as the organisation of the coaching staff was under way."
The season
"The atmosphere has really changed: that of the work and also the one among the players. And it's starting to pay off in terms of results and the way we play. There was a fair bit of individual complacency after last season and that took its toll on the team as a whole. In human terms, you can understand how that could happen. But it hurt us and the situation became complicated. We ended up with our backs to the wall. But then everyone took a long hard look at themselves; decisions were made, changes were made and there was some movement in the team. We got back to work and we've put everything into place to start making progress again. We learnt from our mistakes. It was indispensable that we regain our cohesion and stop making things difficult for each other."
Stade Malherbe de Caen
"I really like Patrice Garande, whom I met at Auxerre. He's doing a good job. And there's another former striker there, Alain Caveglia. I know president Fortin, a really great guy… Stade Malherbe is a good side and after 25 matches, you can longer say it's a surprise to see them where they are on the table. You need to be on song to beat them. They're a side who can play good football but who are also good on the counter. Delort? He's a true striker. He never gives up. He can hold the ball up or he can get in behind… he's a complete striker. Feret? An artist. He makes his team play even better. He finds the pass that puts the opponent off balance. He invents these crazy moves… I can tell that he has worked really hard these past few seasons, because he has improved a lot."