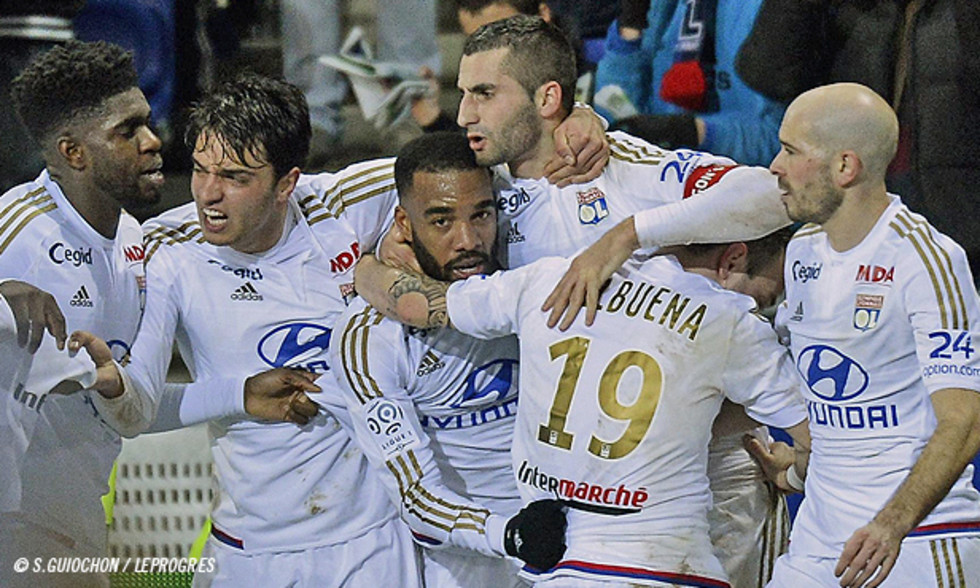 OL got back to winning ways and collected a precious three points… it was no cakewalk for Maxime Gonalons and his teammates, who are still 'recovering'… but Alex Lacazette made the difference… as did Lopes…
FIRST HALF
The Girondins started solidly, allowing OL no chances early on, but slowly the home side took the upper hand. Lacazette sent panic through the Bordeaux defence before seeing his shot blocked (15'). Then Cornet, Lacazette, Gonalons and Jallet tried their luck… OL dominated. Diabaté was within inches of putting his shot on the turn into the back of the net. An exciting match. Grenier looked to pass the ball through the gaps and between the lines… and Lacazette latched on brilliantly I a tight space but couldn't get his shot on target. OL alternated between good choices and imprecision as they maintained the upper hand. Bordeaux took advantage of some apathetic defending, Rolan giving Lopes a scare. Plasil and co. showed their skill, with youngster Ounas standing out. Fortunately, after Bordeaux lost possession, OL managed to open the scoring: Tolisso's fantastic pass handed Lacazette the chance to break the deadlock. Despite dominating with Lacazette a menace up front, OL had struggled at times on this first half.
SECOND HALF
Grenier wasted a golden opportunity to make it 2-0 on the counter! Morel's block denied Bordeaux an equaliser after a corner… Lacazette missed a chance to kill off the match. OL pushed forward. Ghezzal replaced Valbuena (63'). Sagnol added some attacking weight to his line-up. Lopes blocked Rolan's header… Ferri replaced Grenier. Kalulu came on for Cornet. And then, just as the match was set to end, Bernardoni's error saw Lacazette complete his double from Ghezzal's cross, with Kalulu following up shortly afterwards from a fine Jallet pass.
SUMMARY
Although they suffered at times and were not always convincing, OL collected a precious three points… mission accomplished. OL remain nine points short of second-placed Monaco, as do OM, and pulled within four points of Angers SCO and three of SM Caen. A job well done.
...

Teamsheet

Lyon, Parc OL, ca. 30,000 spectators. Referee, M. Fautrel. OL 3 - 0 Girondins (half-time: OL 1 - 0 Girondins)

OL: Lopes – Jallet, Yanga-Mbiwa, Umtiti, Morel – Gonalons (cap), Tolisso, Grenier (Ferri 73') – Cornet (Kalulu 82'), Lacazette, Valbuena (Ghezzal 63'). Coach: Genesio.

Girondins : Bernardoni – Debuchy (Touré 79'), Guilbert, Yambéré, Contento – Chantôme, Plasil (cap) (Crivelli 66'), Vada (Arambarri 65') – Ounas, Diabaté, Rolan. Coach: Sagnol.

Goals: for OL, Lacazette (42' and 87'), Kalulu (92');

Yellow cards: for Girondins, Vada (6'), Chantôme (23'), Crivelli (75'), Rolan (75'); for OL, Lacazette (39'), Ferri (80').


...