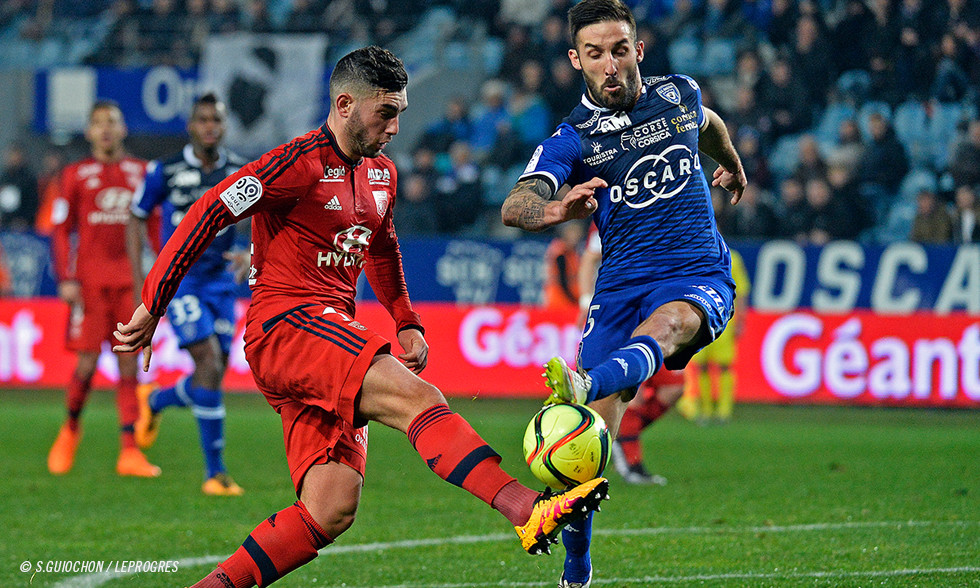 Less inspired than in their recent outings, OL had nothing to show for their trip to Corsica. Defeated 1-0, they nonetheless dominated possession but were too imprecise in attack and were caught out by Bastia's only on-target shot of the second half. A fresh disappointment…
First half
It was no surprise that the opening stages were pretty intense. Lyon clearly took the upper hand, combining well on the edge of the Bastia penalty area, but the match's first on-target shot fell to Bastia as Danic hit a long-range free-kick. Lacazette was just centimetres wide when he looked to poke Gonalons' nod-down into the back of the net. The Corsicans started to threaten more, and Lyon grew less precise as they looked to keep imposing their game. Tempers flared after a dangerous tackle from Tolisso. Kamano volleyed from the edge of the area only to find the gloves of Lopes. Yanga-Mbiwa blocked Brandao's goal-bound volley, Lopes having collapsed after landing awkwardly. The OL 'keeper was able to continue as a choppy final few minutes of the first half - in which OL hadn't got a shot on target and lost the upper hand after a good start - played out.

Second half
Grenier came on for Ferri. Lyon started the second half as they started the first: in possession. A huge chance for Lacazette, with Ghezzal and Tolisso also trying their luck in quick succession but to no avail, Squillaci producing a last-ditch block from the last of the three shots. Lyon dominated possession but their chances on goal were all too rare. And it was Brandao who opened the scoring, heading home Ngando's cut-back cross (69'). Lacazette fired straight at Leca from the six-yard line… OL's first shot on target. Cornet and then Kalulu entered into the battle. The fouls began to pile up and tempers began to fray… as the minutes ticked down. OL pushed against a ten-man Bastia side, who lost Cioni to a red card… and did their best to break the rhythm of the match to preserve their one-goal advantage until the death.
Summary
Once again Lyon lacked punch at each end of the pitch. In attack, they were too sloppy to create more chances, and in defence they were caught out on the opposition's only chance of the second half. OL haven't won on the road in three matches and have now lost seven of their last ten Ligue 1 outings.
...

Teamsheet

Sporting Club de Bastia 1 – 0 Olympique Lyonnais (Half-time: 0 – 0)

Bastia, Stade Armand-Cesari.

Referee: Benoît Millot.

SCB: Leca - Cioni, Squillaci, Peybernes, Palmieri - Coulibaly, Mostefa, Ngando (Diallo 73') - Kamano (Maboulou 66'), Danic (Keita 90'), Brandao. Coach: F. Ciccolini.

OL: Lopes - Jallet, Yanga-Mbiwa, Umtiti, Morel - Gonalons (cap.), Ferri (Grenier 46'), Tolisso - Ghezzal (Cornet 70'), Valbuena (Kalulu 75'), Lacazette. Coach: B. Genesio.

Goals: For Bastia, Brandao (69').

Yellow cards: For Bastia, Kamano (27'), Ngando (67'), Brandao (75'). For OL, Tolisso (31'), Umtiti (90').

Red card: Bastia, Cioni (87').


...