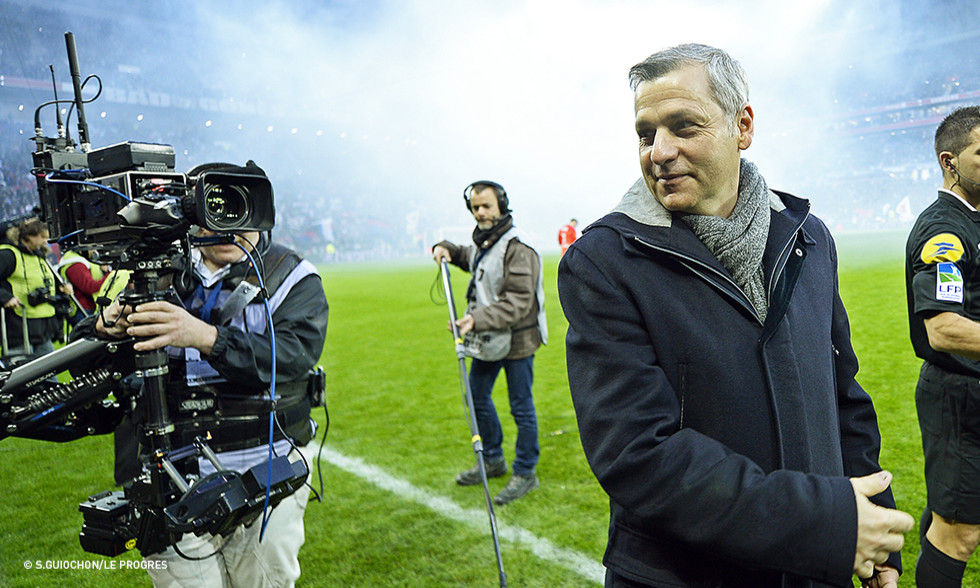 The OL coach was evidently talking about the upcoming clash with Bastia and OL's need to put a winning run together in order to climb the table…
Bruno, is OL in a points crisis?
"The closer we get to the end of the season, the more urgent things get. But we mustn't lose our heads and abandon our plans. But we're not feeling discouraged; that would be out of order with 16 matches left to play. The squad is united and convinced that we can get back into the race for a European place. We need to string together the positive results and number of victories. It will be very important to collect points, even as early as this week in Bastia. Do we have a points tally in mind? We've set objectives behind closed doors. Above all we have objectives for the end of the season. We'll need to win at least ten of our remaining 16 matches. But there are many parameters. Winning matches helps you to make progress. We need to hang onto what we've ben doing well and improve what hasn't been working. A win will turn things around.  Know that because of what I've seen in the matches against ASSE and OM and every day in training."
The trip to Bastia
"There are no good or bad places to collect points. We just have to impose our game if we can. Opposition fans, no matter how boisterous, have never scored a goal. We just need to concentrate on the match. Will they be suffering a psychological shock from the change of coach? I'll look after my team and countering the other team's game, and not what's happening at their club, especially as Bastia will have quite a few injury absences."
Are your objectives achievable?
"I'm convinced, as are the players and the club, that we can go after second place and reach our mark. We'll play Monaco and Paris at home… but first we'll need to make some progress up the table. That takes time. I remain confident as I can feel a dynamism building in the group, and that will pay dividends sooner or later. We're also counting on the support of our fans; it gives the team extra strength on both an individual and a collective level. They have a very important role to play."
A word on Alex Lacazette's performances?
"Alex's matches have ben satisfying. He has a positive attitude and he has made the effort. He just hasn't been rewarded so far. We expect a lot from him give n what he achieved last season. He will be rewarded… There is the goal-scoring but there's also what he dos off the ball. He provides a huge number of solutions for the team without always getting good service. It's not a tough time for him. He just needs more support from midfield. I find that what people have been saying about him is pretty harsh."
Are OL's box-to-box midfielders the weakness at the moment?
"It's an area where we're looking to make progress. We need to establish some precedents, and let's not forget that Clément Grenier has come back from a very long injury absence. I know we have the players to achieve what I'm expecting. It's an area where we have quite a few players and that generates a healthy competition. It offers me various possibilities."
Darder? Tolisso? Ferri?
"Corentin (Tolisso) reacted in the best possible way against OM. I have complete confidence in Jordan (Ferri). Sergi (Darder) has come in from another country and he's a young player. I find that he's making progress even though we expected more from him against OM. We have to be patient; he has a lot of potential. He just needs to adapt, and that's not so easy to do."
Will you change your formation?
"I'll stick with the 4-3-3, which corresponds the best with the players I have at my disposal. But byond the formation, there are many ways to play…"
Lindsay Rose's departure? The interest for Cabot?
"He's a young player who needs game time. For a number of reasons he wasn't able to impose himself here. Being loaned out to a Ligue 1 club is an effective plan. For me, having three central defenders is enough. We also have Jérémy Morel, who can play in the centre of defence, or we can drop a midfielder back."
Refereeing?
"I don't want to talk about it ahead of this match with Bastia. In general, it's better to help the referees than to accuse them of things. It's getting tougher and tougher to referee matches."
Injuries
"Henri Bedimo is operational… and I'll be counting on him as long as he's at the club. Bako Koné is out of action."