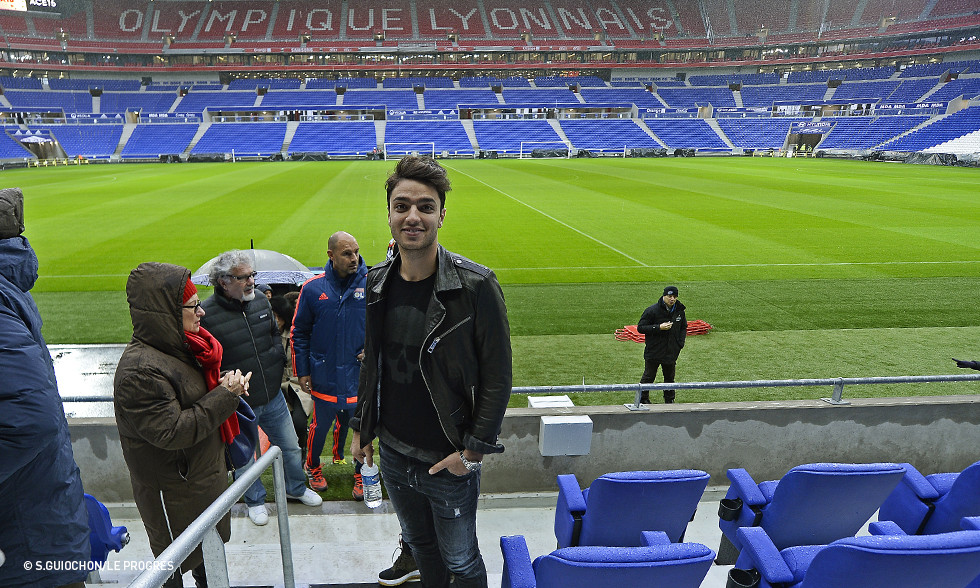 Clément Grenier returned to action on November 27 after almost 16 months out of the game… he has returned more ambitious than ever… and has shown that he can bring a lot to an OL squad he believes capable of much better than they have shown so far this season…
375 minutes in 2014-2015, and 397 since the beginning of this season - a mere shadow of his game time in the previous three seasons! The recurring pubalgia and then the total rupture of his left quadriceps explain his long absence. On November 27, against Montpellier HSC, he finally reappeared in an OL shirt. And since then, he has racked up the game time and shown consistent improvement in his performances. On January 7, Clément turned 25, but he has already played 130 matches for OL (17 goals, including six free-kicks and 22 assists) and earned five caps with the France national team.
Clément, what have you wished for in 2016?
"First of all, to rest easy about my health and fitness. I'd also wish the same to friends and family. After that, that everything goes well on the field and that I can find my feet quickly to help the team have an excellent second half of the season. I want to return to the France tem as quickly as possible."
Is the France team playing on your mind?
"Well of course I'm thinking about it. I think about it every day. It really motivates me and it's a real objective. I was ruled out just before the World Cup - only four days before we were set to fly to Brazil. That was the beginning of a chain of serious injuries. I work hard every day in training, and in matches with OL, so I can return to the France team. Especially as Euro 2016 is in France. I don't want to miss a second big competition. So I want to make the national team coach think seriously."
I want to give everything and to make the most of my opportunities. I'm back, I'm fresh and even more ambitious than I was in the past.
How do you feel about the injuries you had?
"It's part of being a high-level athlete. But what hurt the most was to hear and to read so many stupid things on the subject. It hurt even more to know that it was affecting the people around me. I'm a human being who received a good education and who lives his life as best he can. But I can't accept stupidity and rumours. As far as I know, I didn't ask for these injuries! I suffered them. Beforehand, I had a strong character and a tough mentality, and now I'm even stronger. It made me grow up, and now I'm back and looking to prove people wrong. I took it all and I'm still standing. I want to show that I'm in this for the long haul."
Did you ever doubt that you would be back?
"In the beginning, you can get nervous, that's normal. But now it's behind me. I already feel that I'm in pretty good shape physically. I prepared well before the winter break. I'm ready to play a lot of matches and to play well."

How do you see your role in the OL squad?
"First of all, I want to be useful to the team irrespective of whether I personally score or get an assist in a match. I want to play coherent, constructive football. Stats? I don't get obsessed about scoring goals or getting assists, as I know that if you're generous in your efforts, you'll be rewarded. I try to play to my strengths. Sometimes people say I'm too altruistic and not selfish enough. But that's how I prefer to be; it's in my character. I like to work hard for the team. I'm more of a box-to-box player who likes to play a passing game even though I can get around my man. The formation? I can adapt. Still, I think that I'm best suited to a central midfield role. How you play is always more important than the formation you play in. My training has permitted me to be versatile."

Are you a leader in the squad?
"It's tough to know how to answer that question. Suffice to say that I don't let myself be made a fool of on the field, that I don't like losing nor playing poorly. That's how I am. You really value being able to play once you're sidelined. I want to give everything and to make the most of my opportunities. I'm back, I'm fresh and even more ambitious than I was in the past."
What do you make of OL's first half of the season?
"It was a tough period during which we failed in terms of communication and effort… in every area really. So it was pretty average all round. We're where we deserve to be. Right now, we really want to get back on track by getting back to basics. If we want to end up in the top three, it's imperative that we lift our game. And I'm confident we can do it as we have huge potential."
The first match at the new stadium?
"We need to turn the page on Gerland even though it will be tough given what that stadium has come to mean to the club. Football is evolving and so is the club, so it's an important moment. We've waited patiently, and now we have a blank page on which to start writing history. We have to assume the responsibility of living up to our new home. We'll need to adapt quickly so we can start getting results straight away and have an excellent second half of the season. And of course that means winning this match against Troyes."