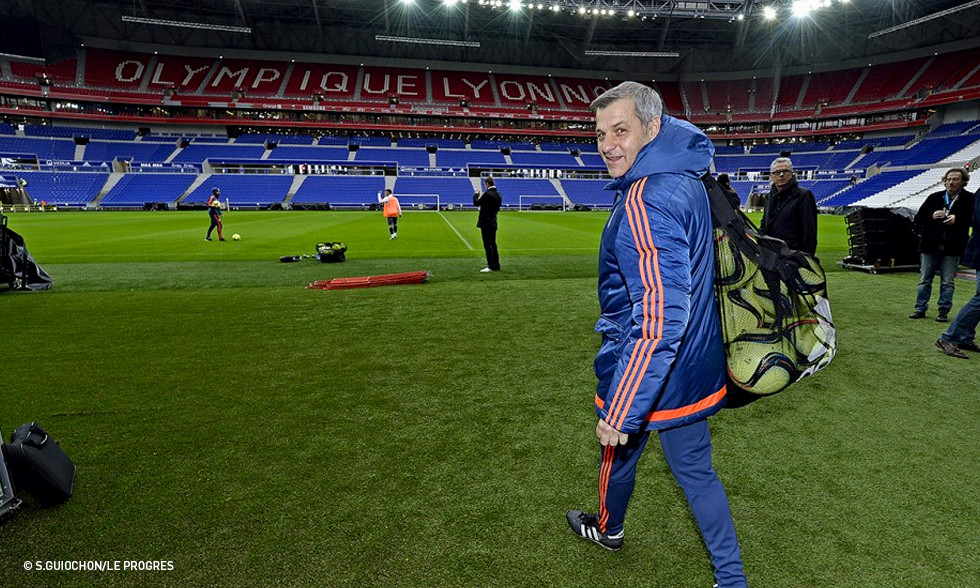 Bruno Genesio held his pre-match press conference… his first for a league match…
A word on your injured players?
"We won't take any risks with Maxwel Cornet. On Sunday he felt some muscle fatigue. Rafaël and Valbuena won't be operational; we don't yet have dates et for their return…"
Does the fact that this is the first match at Parc OL change the way you've prepared?
"No, there isn't much that changed. The most important thing is to prepare well to take all three points and get ourselves back on a positive dynamic in the league. We'll need to keep an eye on our emotions on Saturday; we need to maintain concentration and be vigilant. I will be insisting on that."
Do you feel that it's your first match as a coach on the OL bench?
"No, there was the Coupe de France match. Sure, it was against a CFA 2 (D5) side, but it was my first match in charge. So I won't be making my debut against Troyes."
Do you feel like the lads are looking to hit back?
"They have ben asking themselves some tough questions both individually and collectively. They had been criticised for good reason. Now they want to prove everyone wrong but above all, they're competitors. They want to achieve the objectives that have been put in place."
A word on this match against ESTAC?
"Troyes are still winless in the league. We are the favourites. It could seem like an easy match, but we have to be careful - they have gone three league matches without defeat and they won through to the last 32 in the Coupe de France. We have to respect this opponent. To validate our favourites tag, we have to make sure we don't slip on this banana skin; we have to stay focused, committed. We have put in a sold week's training. The lads were on the ball. Rigour on the field and in the functioning of the squad must be permanent. And the coaching staff need to stay vigilant to make sure that's how it stays."
Do you not find that your squad is too big?
"The ideal is to have between 22 and 24 players. For the moment, we have 29 - 30 if you include Nabil Fekir. Nonetheless, I have no intention of getting rid of players, but rather trying to keep everyone motivated despite the fact that there are choices to be made when it comes time to write the teamsheet. The transfer market? There is some imbalance in certain positions, but I don't want to streamline the squad. There are choices to be made as a function of form, our opponents and the stage of the cycle we find ourselves in. Everyone will have game time without our losing our balance. Do I already have a starting XI in mind for Saturday and Wednesday (against PSG in the Coupe de la Ligue)? Yes."
Grenier, Beauvue, Lacazette?
"Clément (Grenier) can do a lot better, but he needs some time. He's a plus for the team and he can bring a lot to the table. He can play box-to-box or other positions. Nothing is foxed as to our playing system. We saw one last Sunday, but there's nothing to say it will be the same on Saturday. Claudio (Beauvue)? As long as he's an OL player, I'll use him if he deserves it. Alex (Lacazette)? He;s ready but not yet 100%. I think he has about an hour in his legs. He's so talented that even that long would be a real plus for the team. I'm glad that he shut the door on the idea of leaving this winter."
Could you play with two left-footed central defenders?
"It's hard to imagine. And I want to give Mapou (Yanga-Mbiwa) some confidence. There's no reason to think that he lost the talent he showed at Montpellier and Roma overnight.
Do you feel that your squad has faith in you?
"Yes, I can feel that they have confidence in me; that's what convinced me to take the job. Without that, I wouldn't have done it. I think I've accrued enough experience to do this job and what's more I'm surrounded by a great coaching staff. Have I distanced myself from the players by taking on this role. There is distance in terms of taking decisions and the ideas I want to pass on in terms of how we play, but other than that I remain as close to the players as ever. I don't want that to change."
A word on the arrival Claudio Cacapa ?
"I wanted to have a former OL player join the coaching team, a player who had won titles with OL and who was a defender. I spoke to the president about it and we felt that Claudio best fitted the bill. He can bring a lot to the table with his interpersonal skills and his advice for defenders. I'm very happy he's here."