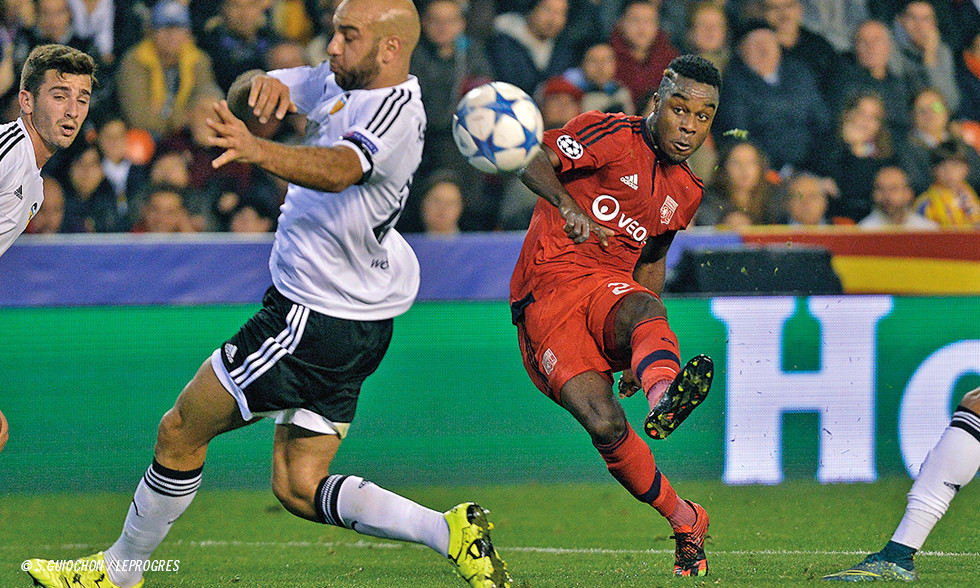 At last, OL were worthy of the occasion... Recording their first win in the group with a very encouraging team performance...
FIRST HALF
OL started with a 4-3-3 with Grenier on one flank. OL looked comfortable in possession in the early stages and compact in defence. Valencia were happy to sit back and observe... OL did likewise without the ball. Valencia had the first chance when a corner was headed against the post! Their second corner saw a goal ruled out by the referee... Cornet then saw his effort saved by the Spanish 'keeper. The gloves came off. Cancelo looked dangerous down his flank. Domenech saved twice from Darder and Tolisso. OL and their 4-4-3 was causing Valencia problems. Rafaël forced Domenech into another save. OL were right in the game... Lopes produced yet another miracle save from a header. Cornet curled home a magnificent left-footed shot to open the scoring! Superb and deserved! Valencia didn't make the most of a couple of good openings...  An excellent first period for OL.
SECOND HALF
OL continued to stand firm in every department. Negredo was introduced for Valencia as they went on the attack. Valencia were dominating, but OL defended intelligently. Valencia never really settled into an attacking rhythm. The second half was not as technical as the first. Darder failed to land the knockout... Valencia struggled... expect for their full-backs... Lacazette killed the game off on the counterattack. He was replaced, as was Darder. Koné and Beauvue came in. The final whistle confirmed the 2-0 win. OL were all smiles as they sent Valencia out of the competition and into the Europa League.
CONCLUSIONS
A new formation... but, above all, a new attitude... the team played with solidity and soul... looked enterprising with the ball and solid at the back when they needed to be. A very promising result... After so many disappointing results in the competition, OL showed its true colours and, with regret, can safely say they should have done better in the group stage...
...

Teamsheet

Stade Mestalla, Valencia, 35,000 spectators; Referee: Mr Jug (SLV). Valencia CF 0-2 OL (H-T: 0-1)

Valencia CF : Domenech – Cancelo, Mustafi, Abdennour, Gaya – Parejo (c), Perez (Fuego 23'), Danilo (Negredo 51') -  Santi Mina, Alcacer, De Paul (Piatti 75'). Coach: G. Neville.

OL: Lopes – Rafaël, Yanga-Mbiwa, Morel, Bedimo – Gonalons (c), Darder (Koné 77'), Tolisso, Grenier (Ghezzal 69') – Lacazette (Beauvue 76'), Cornet. Coach: Fournier.

Goals: Cornet 36', Lacazette 76'

Bookings: Abdennour (V) 23', Mustafi (V) 37', Mina (V) 43', Tolisso (L) 67'.

...