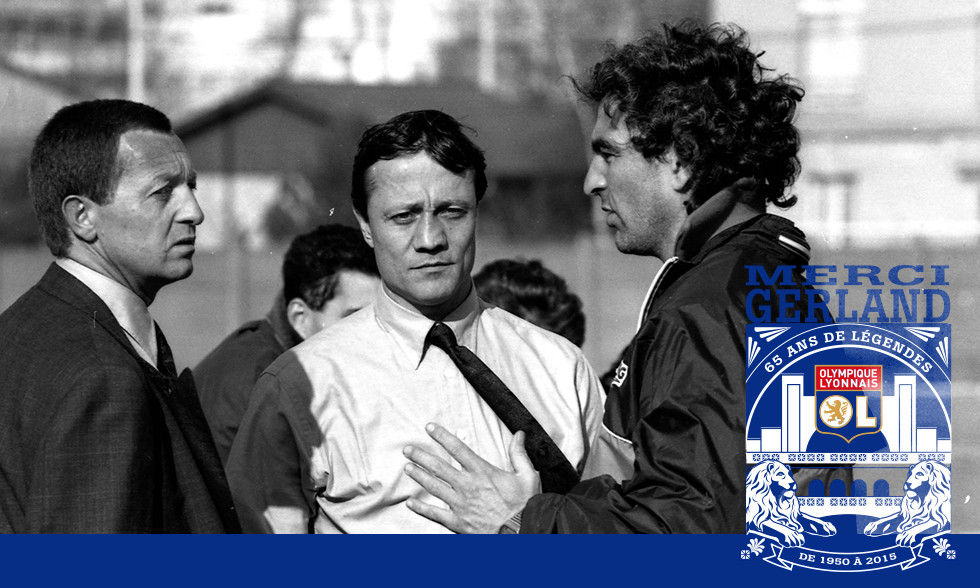 The decade started with a drop to D2… and ended with promotion to D1… Gerland experienced the highs and the lows, a renovation, the return of former players as coaches… and the first steps of new president Jean-Michel Aulas…
OL finished 19th in 1982-83 and was relegated. On 24 May 1983, the Stade de Gerland said goodbye to the L1 with a win over Sochaux and goodbye to Serge Chiesa. From 1983 to 1989, the Stade de Gerland played host to D2 matches, often with the hope of promotion. In 1986, '87 and '88, OL failed to get past the play-offs. Led by the youngsters out of the academy (Garde, Génésio, Fugier, Fréchet, Roche…) with the likes of Kabongo, Garcia… finally, with Raymond Domenech on the bench, OL were promoted in 1989. The side confirmed their place in the top flight with a scoress draw at Gerland on 22 April vs Alès in Week 32 of the season. OL has been presided over by Jean-Michel Aulas since June 1987.

Gerland in the 1980s saw the retirements of Serge Chiesa, Nikolic, Chauveau, Moizan, Tigana, Emon, Domergue… with Robert Herbin, Nouzaret, Papas, Le Borgne as coaches before the arrival of Raymond Domenech. The youngsters started emerging from the youth academy: Garde, Génésio, Fugier, Roche, Ngotty… Kabongo scored important goals in the promotion year; 65 in total for Olympique Lyonnais.
OL were back in D1; a return that started with the visit of Jean-Pierre Papin's OM on 21 July 1989 and a 4-1 loss in Week 1. 24,551 were at Gerland to witness it. Bruno Génésio scored OL's goal on the hour mark. OL finished the season eighth with 12 goals for Kabongo… 4 for Garde.

The Stade de Gerland underwent renovations from November 1982 ahead of EURO 84. The two sideline stands were worked on... the athletics track disappeared... the players race was given a face lift...

On Saturday, the likes of Bocchi, Billong, Bex, Breton, Cabanel, Fréchet, Spadiny, Zambelli, Guichard, Gauge will be there… Bruno Génésio will have a front row seat.
---
Get your tickets for the last ever match at the Stade de Gerland via the online ticket store