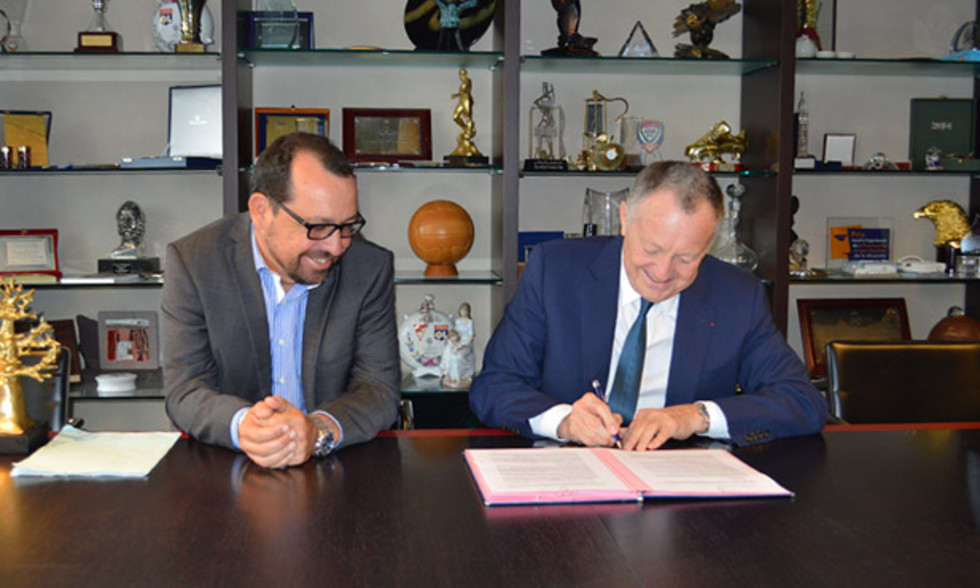 OL and DSC signed a partnership on Tuesday 17 November which will see a sharing of knowledge, values as well as sporting and human exchange...
When a big European club crosses paths with a young African club, it makes for a beautiful story, that was officially recognised on Tuesday morning. Jean-Michel Aulas and Matthieu Chupin, president of Sacré Cœur de Dakar. Alain Olio, the Club's sporting director, Sidney Govou, the patron and Stéphane Roche, director of the OL youth academy were also present.
After watching a film, retracing the history of the young Dakar Sacré Cœur club, Jean-Michel Aulas spoke of his delight at signing this partnership which corresponds perfectly with OL's development policies. "This club from Dakar presents exactly what we wanted to do. OL provides its knowledge and savoir-faire, financial support and a very specific program with the OL Foundation (social, educational...). This partnership will help train young African players and help them with the adaptation to life in Europe." The Lyon president reiterated that Olympique Lyonnais has an historic link with Senegal via the players that have worn the French club's colours. He also revealed the final decision was made after a long and exhaustive desire to link a sporting development plan with an environmental consideration.
SCD president, Matthieu Chupin, explained his pride at being in Lyon and signing the deal. "It's remarkable that OL has made such a commitment to football in Africa. I really believe in developing professional football on the continent. For our club to continue to progress, we need to associate ourselves with the best, and we have done that with OL. Our Club was founded in 2003 after a meeting with the brothers from Sacré Cœur, which is a congregation founded in Lyon. In 2006, work began on our infrastructures. We moved in in 2010 and the Club began in earnest. It represents a project above and beyond football, based on three important axis: professional football, amateur football and a socially implanted club. This partnership with OL works in both directions. It's synergy. This will permit SCD to step up and progress on a sporting level, in terms of its international recognition and in terms of our social and community development." Grow, develop young footballers, but also men who will be fulfilled and satisfied.
Alain Olio has already began his work as sporting director. "There is a huge sporting potential with all the work that has already been done. We need to keep working and developing to get the sporting results..."
Stephane Roche spoke of the partnership with Africa, the opening of new horizons that exist already with other countries and the exchanges to be established.
Sidney Govou, the patron of the partnership, is proud of the commitment: "I'm very proud to have been chosen to patron this partnership. I always said I would commit to a cause like this when I finished playing. Now it's done. There were several reasons why I accepted this role: I have African origins, the involvement of Fred Guerra (agent) and also Alain Olio who was a coach of mine."