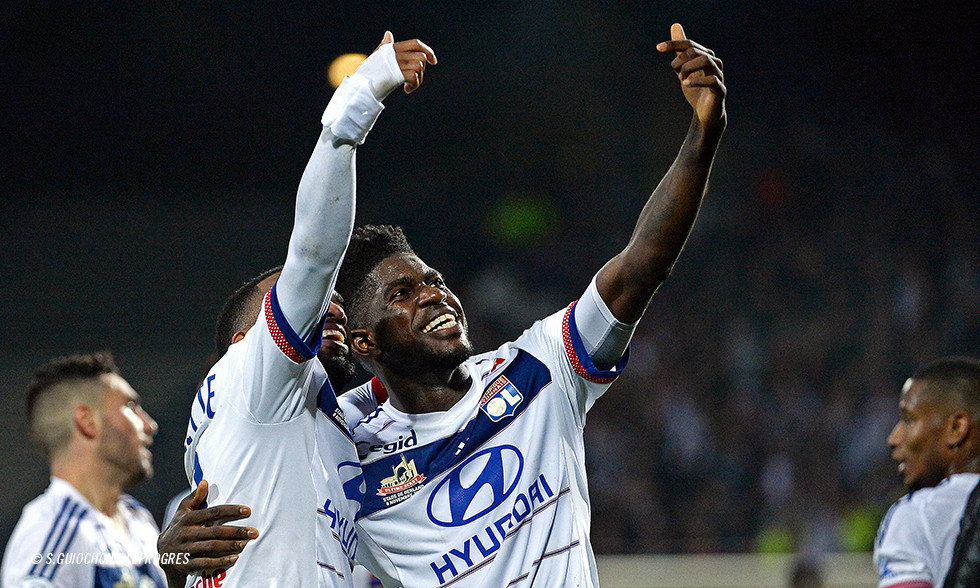 A night to remember! In a fantastic atmosphere, Olympique Lyonnais won the last ever derby at the Stade de Gerland thanks to an excellent team performance and a hat-trick from Alexandre Lacazette. An historic and precious victory, tarnished only by the injuries to Gonalons and Umtiti.
First half
Barely 30 seconds in and Pajot picked up the first booking of the match. It was no place for the faint-hearted and the terraces were boiling with passion, noise and colour. Four minutes in and Lemoine was booked for a rugged tackle. Intensity was sky high as Rafael fired the first shot in anger - saved in extremis by Ruffier. Beauvue was unable to finish from Morel's cross. Les Lyonnais were being denied by a solid Saint-Etienne defence. And then a first blow as Gonalons went off injured, replaced by Darder. Lemoine also made way for Eysseric. The two sides were cancelling each other out. Then in the 38th minute, Ruffier produced an exceptional double save to deny the ideally placed Ferri and Valbuena. However there was nothing the 'keeper could do to keep out Lacazette's delightful finish (40') that sent Gerland into rapture! Lyon were rewarded for their domination of the opening 45 minutes, but there was still everything left to play for...
Second half
Les Lyonnais looked to put their foot on the ball to take the sting out of an enterprising Saint-Etienne at the start of the second half… before the home side stepped on the accelerator. Lacazette broke through the middle and toe-poked just wide. A part from a few aerial claims, Lopes was yet to make a difficult save. At the end of a superb team move, Rafael's shot was palmed out by Ruffier, and Lacazette was on hand to net his, and his side's, second of the evening (59')! Les Verts threw everything into attack, but Lopes ruled supreme in his area. Then another shock as Umtiti was stretchered off. Bedimo came on and Morel moved into the middle. Tensions rose and the number of niggling fouls rose with it. Valbuena and then Ferri led Lyon on the counterattack. The latter set up Beauvue whose shot was saved by Ruffier.
With five minutes left, it was hard to see how the visitors would get back into the game, but OL looked increasingly menacing on the counter. Ferri released Lacazette, who rounded Ruffier and completed the scoring (90+2'). The stadium exploded in joy!
Conclusions
Les Lyonnais recorded a third successive league win and moved clear in second place on the ladder. To win this final derby at the Stade de Gerland, OL were too strong, both in attack and defence and Lacazette finished off the triumph with a hat-trick. An incredible night for Lyon!
...

Teamsheet

Olympique Lyonnais 3 – 0 Association Sportive de Saint-Etienne (H-T: 1 – 0)

Lyon, Stade de Gerland. 38,752 spectators.

Referee: M. Tony Chapron.

OL: Lopes, Rafael (Jallet 67'), Yanga-Mbiwa, Umtiti (Bedimo 72'), Morel, Gonalons (c) (Darder 31'), Ferri, Tolisso, Valbuena, Lacazette, Beauvue. Coach: H.Fournier.

ASSE: Ruffier, Assou (Monnet-Paquet 67'), Pogba (Polomat 54'), Perrin, Clerc, Clement, Pajot, Lemoine (Eysseric 31'), Hamouma, Beric, Roux. Coach: C.Galtier.

Goals: Lacazette (40', 59', 90+2').

Bookings: Pajot (SE) 1', Lemoine (SE) 4', Rafael (L) 32', Ferri (L) 78', Lopes (L) 81', Valbuena (L) 84', Clément (SE) 86'

...