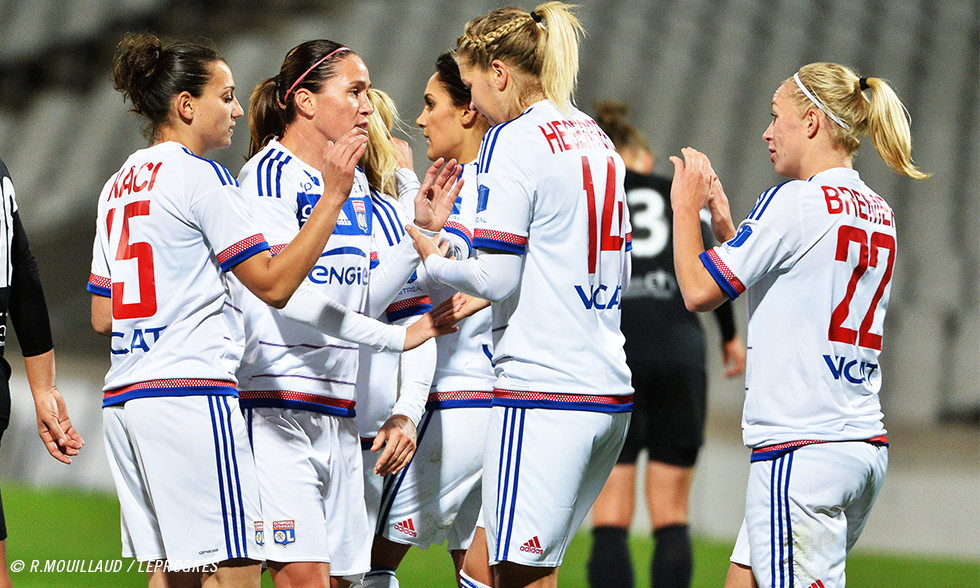 OL eased to a 3-0 victory over Medyk Konin, despite missing a host of scoring chances, to qualify for the last-16 of the Champions League...
- 88': Magnificent Hegerberg goals after good lead up play from Abily and Kumagai.
- 67': Hegerberg finally gets Lyon's second with a header after a deflected shot.
- Hegerberg replaced Schelin for the second half.
Lyon are just lacking a little precision in the finishing department... the home side have shot 17 times at goal, against none for the visitors and had seven unanswered corners...
- 2': Cascarino breaks free and crosses for Le Sommer to head home (1-0).
Following the 6-0 win in Poland, the qualification for the last-16 is not in question, but Les Lyonnaises still need to put in a quality performance to get the home win. Lyon made two changes from the side that triumphed in the first leg with Wang replacing Gérard in goal and Cascarino coming in for Hegerberg. OL played in a 4-3-3 formation.
...

Teamsheet

Lyon, Stade de Gerland, 4,000 spectators. Referee Ms Barbara Poxhofer (AUT). OL 3-0 Medyk Konin (H-T: 1-0).

OL: Wang - Bremer, Renard, M'Bock (Petit 72'), Majri - Kumagai, Necib, Abily - Le Sommer, Schelin (Hegerberg 46'), D. Cascarino (Kaci 63'). Coach: Prêcheur

Medyk Konin: Szymanska - Sikora, Grzywinska, Slavcheva, Grad, Ficzay, Chudzik, Daleszczyk, Balcerzak, Gawronska (cap) (Dudek 75'), Tarczynska. Coach: Jaszczak.

Goals: Le Sommer (2'), Hegerberg (68', 87')

Yellow Card: Majri (22')

...
Statistics
Shots: 35 shots for OL (Le Sommer 6, Hegerberg 7, Renard 4, Abily 4...); 2 for Medyk.
Corners: 12 for OL and 0 for Medyk.
3 saves by Wang.