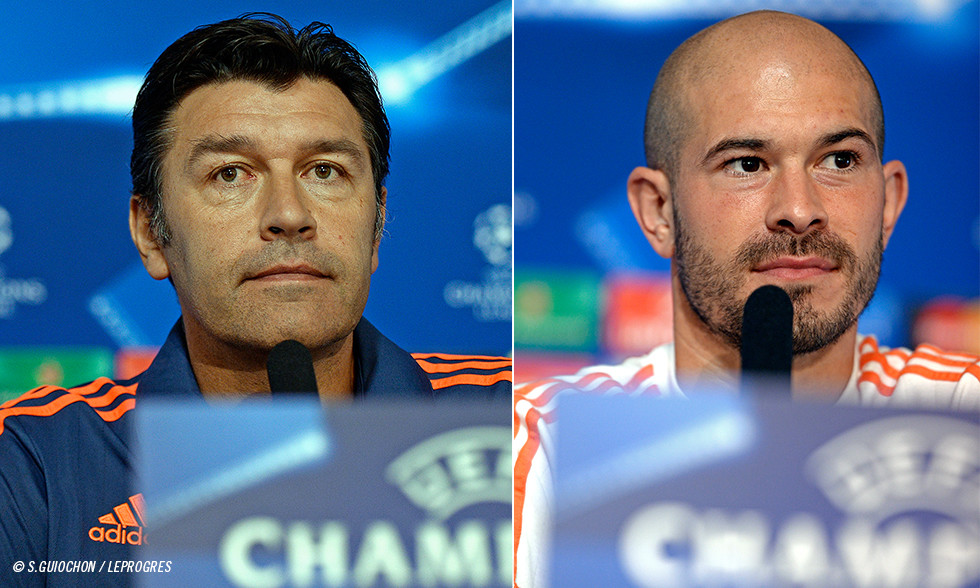 Hubert Fournier and Christophe Jallet answered questions fro mthe media a little more than 24 hours ahead of the visit of Valencia CF.
Hubert Fournier
The importance of this match
"It's a crunch match. And that goes for both sides, because Valencia lost at home. The matches will just get more and more important. If we can get a good result against Valencia, we'll put ourselves in a great position for what's to come. There is no special pressure. Every match brings its fair share of pressure."
The Valencia team
This side has quality and some of their players have experience. We saw that when they played Monaco and controlled the tie well. That's what we have to watch out for. I'm hoping my lads will surpass themselves, but we have a lot of respect for Valencia. But we also have our own qualities to show.
The state of the squad
Lacazette will start the match. We rested him against Bordeaux. There won't be anyone returning from injury. They'll come back after the international break. Mapou could be available for the match against Reims (Week 9), but we till need time before Grenier returns to action.
Alexandre Lacazette
I feel that he's improving every day. His last match, in Marseille, showed that. He was very influential in how our team played, and I think that he will become even more so. It's in matches like Tuesday's clash with Valencia that he really wants to shine… I'll be having a constructive talk with him.
Claudio Beauvue
I'm satisfied with his start to the season. He's a very effective forward - he already has three goals. He still has some things to work on in terms of reading and understating the way our team plays. We've been forced to change our attacking partnerships a lot this season. He has the potential to be even better.
Sergi Darder
I think he has the gas tank and the work rate to play the whole match. He has progressed enormously since he arrived. He really was behind the eight ball in terms of his physical condition but he's getting stronger. You can see that he's a canny and quick-witted player - it was clear when we played at the Vélodrome. He has been waiting for this match for some time. I have every reason to hope that he will rise to the occasion."
---
Christophe Jallet
The importance of this match against Valencia
"It's not necessarily a turning point for us but it is a very important match. We need to have a spotless home record in the group stage. It will be a very tough match. But if we want to go further, we have to win tomorrow… even had we won in Bordeaux, we would need to get the win on Tuesday. It's not the same competition. You have to have a completely different kind of intensity. We've been warned. We know what we have to do to get the win. We're holding all the cards we need for a good result.
The Valencia team
They have an impressive attack, notably featuring the very experienced Negredo. We know what not to do. We can't leave them space to work in. They also have Feghouli, who has improved in leaps and bounds since he went to Spain. We might as well try to beat them at their own game, by playing some good attacking football. We'll need to be very effective - in both penalty areas.
His role in the squad
I try to be an example on the pitch by giving my all. We fought hard last season so we could be a part of the Champions League this time around. I was lucky enough to play Champions League football at Paris. Now I'm here to give advice if people ask for it, but every one of us players has an important role to play. Everyone will need to concentrate and play his part if we're to have a hope of winning it. We'll have to be up for the fight.
Sergi Darder
He has been a great surprise. We didn't know of him before he arrived. He's a talented player with great vision and he can tear teams apart with his passing game. He arrived with a lot of work to do on his physical conditioning but he's getting some game time and getting into shape. He's showing that we can count on him. He's a great guy to have in the dressing room; he integrated very quickly. I hope he can help us make the difference tomorrow.
Alexandre Lacazette
He has had a tough start to the season. His off-season was pretty tough. Alex is a smart guy and he has his feet on the ground. All he needs to do is rediscover his confidence to get back to his excellent best. He had problems with his back but I hope the injury worries are behind him. Tomorrow's match comes at the perfect time for him. If he can be decisive, he will get his confidence back."