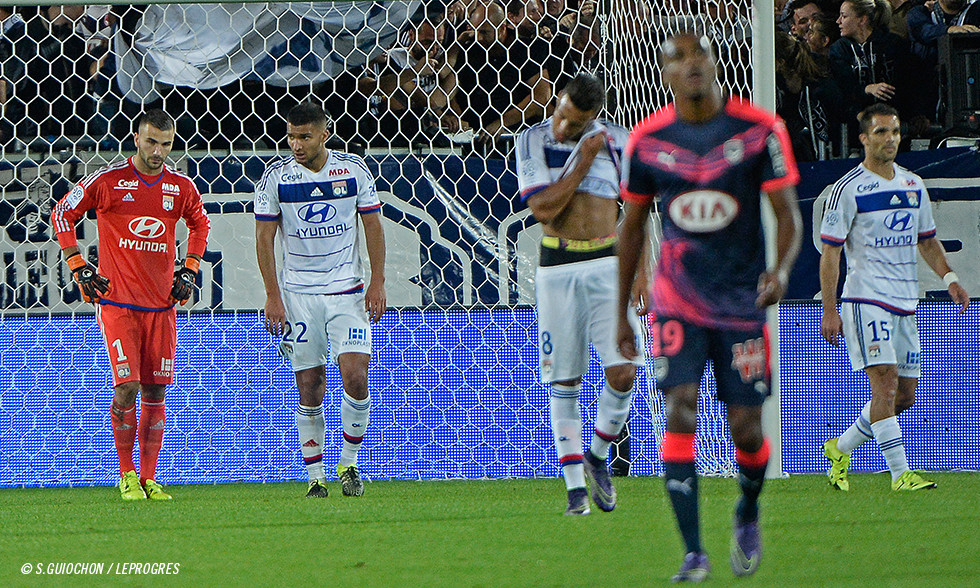 By conceding three goals in the first half with some very generous defending, OL made things very tough for themselves against the Girondins… it was OL's first away defeat and a heavy blow in the league just before the Champions League visit of Valencia CF next week…
FIRST HALF
A penetrating run from Jallet yielded OL's first scoring chance, and a dangerous Valbuena free-kick followed soon after. A promising start… OL looked solid despite several changes to the tarting line-up. But Bordeaux reacted well, notably by using the flanks. And Khazri, unmarked on the left, skinned his defenders and opened the scoring. OL pressed high, won a lot of possession and knitted together a good passing game. OL dominated and smothered their opponents. Tolisso went within inches of an equaliser after a Valbuena corner. But Bordeaux managed to double their lead as Plasil headed home a Khazri corner at the near post! OL were caught sleeping… The Girondins were really taking their chances in the first 45 minutes, with Pablo making it 3-0 as he turned a Khazri free-kick home. OL's defending allowed Bordeaux to run away with it as Khazri orchestrated OL's undoing.

SECOND HALF
Ferri fired off a missile to open hostilities in the second half. OL looked to hit back. Valbuena was replaced by Ghezzal before the hour-mark. As the minutes ticked by, the Girondins lifted their game. Rolan drew a strong save from Lopes after Plasil had played him in. Ghezzal called Carrasso into action, and Beauvue followed suit from a free-kick shortly afterwards. Tolisso made way for Malbranque. Hubert Fournier was evidently thinking about Tuesday night… the game began to fizzle out in terms of interest and quality. Beauvue brought some life back into it as he headed home a Ghezzal corner for his third of the season. Ghezzal was everywhere. Bordeaux sat back and waited; OL looked to up the pressure to try and trouble their hosts. In vain.
RESUME et PERSPECTIVES
In deciding to rotate his squad even when he had several key injury absences, Hubert Fournier was looking ahead to Tuesday's Champions League clash at home to Valencia CF. But the gamble didn't pay off against an opportunistic Bordeaux side, even though not everything was negative for OL. The defeat puts the brakes on OL's league form and shows that certain players are 'indispensable', especially when there are a lot of injuries - while the club is trying to be competitive in the league and in Europe.
...

Teamsheet

Bordeaux, Stade Matmut Atlantique; referee, Mr. Millot. ca. 30,000 spectators. Bordeaux 3 OL 1 (half-time: Bordeaux 3 OL 0)

Bordeaux: Carrasso – Gajic (Poko 31'), Pablo, Pallois, Poundjé – Saivet (cap), Chantôme – Plasil (Jussié 79'), Khazri (Kiese Thelin 62'), Maurice- Belay – Rolan. Coach: Sagnol.

OL: Lopes – Jallet, Rose, Umtiti (cap), Morel – Valbuena (Ghezzal 54'), Ferri, Tolisso (Malbranque 68'), Mvuemba – Beauvue, Cornet (Kalulu 79'). Coach: Fournier

Goals: for Bordeaux, Khazri (15'), Plasil (40'), Pablo (45'); for OL, Beauvue (79').

Yellow cards: pour Bordeaux, Chantôme (25'), Pablo (70')

...