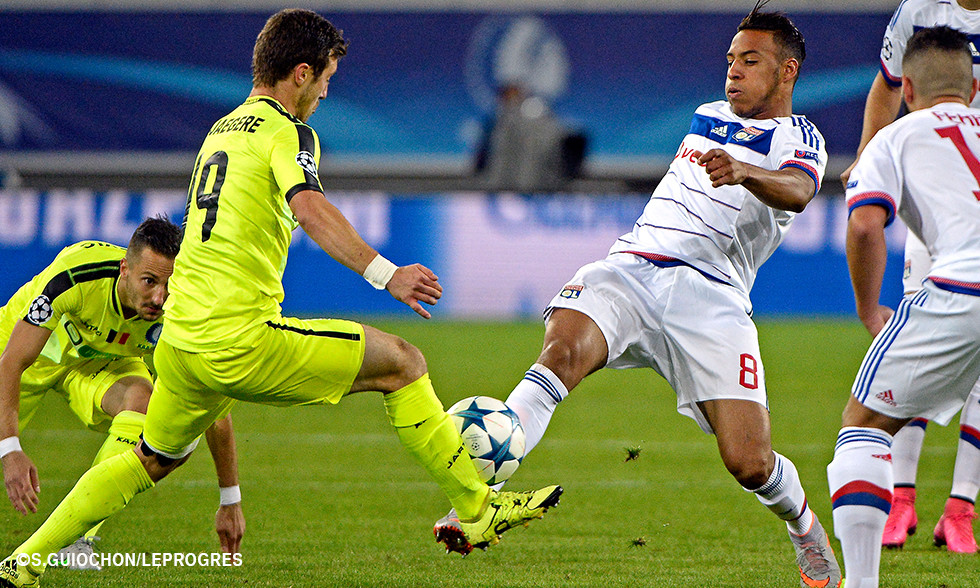 Pushed around in the first half, OL couldn't take advantage of being a man up in the second half and let two precious points slip… missing a penalty in the process…
FIRST HALF
The Belgian champions were everywhere at the beginning of the first half: physical intensity, solid organisation and no second-guessing, as Depoitre's superb chance - tipped onto the bar by Lopes - showed. OL suffered under pressure and struggled to implement their passing game, even though Alexandre Lacazette looked in fine fettle. The locals didn't give up, didn't tire and showed a lot of accomplishment in the initiatives, even though an off-side flag denied them a goal. Lopes had plenty of work to do. OL were somewhat at seas faced with the intense pressing of their hosts. Nonetheless, Lacazette conjured a solo run on the half-hour mark to carve out his side's best chance of the term… but the fluorescent yellow waves of Gent's attacks continued. OL changed formation to a 4-3-3 that left Kums and his teammates less space. Dejaegere copped a red card five minutes from half0time for a foul on Gonalons! But that didn't stop Renato from trying his luck on goal immediately afterwards. On the whole, OL made a meal of their first half but received a stroke of good fortune as their opponents were reduced to ten men.
SECOND HALF
OL needed to make the most of their numerical advantage. Jallet replaced Rafaël. Lacazette forced a fine save from Sels, then Tolisso fired wide… OL got off to a good start in the second half. KAA Gent remained n the lookout for the slightest chance despite their obvious difficulties being a man down. Then Jallet, with a header, opened the scoring from a Valbuena corner. A great coaching decision. The spaces opened up for OL, but poor choices abounded and ten minutes after the opener, Depoitre set up Milicevic to score the equaliser! Kalulu replaced Beauvue as the surprising Belgian side continued to go all-out. Valbuena went narrowly wide with a superb diving header. OL lacked precision. Malbranque replaced Ferri. OL pushed… and KAA Gent resisted. Kalulu won a penalty but Lacazette saw Sels stop his spot-kick with a firm hand! The Belgians went down to nine men after a second red card… Heroic! Kums and co. didn't deserve to lose a match that OL couldn't find a way to win.
SUMMARY
OL did take a point from their trip to Belgium but it wasn't really enough given what happened in the match. Overall, OL proved disappointing in their return to Champions League action, even though they were doubtless surprised by the quality of their opponents. How would it have turned out if Gent had finished the match with 11 men? With Zenith winning in Valencia, the next match at Gerland - when OL take on the Spanish side - has taken on another dimension in importance.
...

Teamsheet

Ghent, Ghelamco Arena; ca. 20,000 spectators; referee Mr Collum (SCO). KAA GENT 1 OL 1 (half-time: KAA Gent 0 OL 0).

KAA Gent: Sels – Nielsen, Mitrovic, Asare –  Kums (cap), Neto - Foket, Milicevic (Matton 81'),  Dejaeghere – Depoitre, Simon (Raman 69', Rafinha  90'). Coach: Vanhaezebrouck.

OL : Lopes – Rafaël (Jallet 46'), Yanga-Mbiwa, Umtiti, Morel – Gonalons (cap), Ferri (Malbranque 80'), Tolisso, Valbuena – Lacazette, Beauvue (Kalulu 69'). Coach: Fournier.

Goals: for OL, Jallet (58'); for KAA Gent, Milicevic (67').

Yelloow cards: for OL, Ferri (10'), Umtiti (69'), Malbranque (91'); for Gent, Depoitre (69')

Red cards: for KAA Gent, Dejaeghere (41'), Foket (87')

...