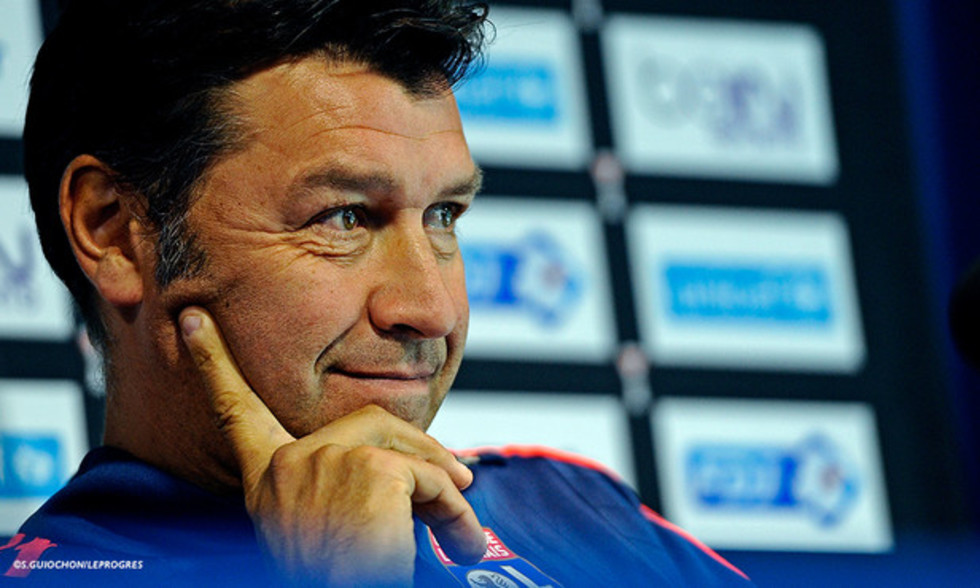 In his press conference, Hubert Fournier spoke about the importance of the block of seven matches that begins with the visit of Lille on Saturday… and which includes next week's Champions League trip to Gent…
Of course there were some questions about injured star Nabil Fekir. The OL coach had spoken about his young forward on Wednesday night on Culture Club. Suffice to say that he covered the importance Fekir has in his squad: "It's a handicap, we can't deny that. He's an important player. This injury is just one of those things that can happen in a season. We'll stick with him all the way. But still, we can't forget that we have some big matches on the horizon." Does this mean OL's play will change? "Our system could change in reference to certain parameters." And squad rotation? "We'll have to take Nabil's injury into account. It's just the beginning of the season for Claudio (Beauvue), who has already been asked to do a lot." And there's no question of the club's seeking special dispensation to sign another player to cover Fekir's injury absence. "We don't really have a choice here, there are certain administrative and financial constraints."


This injury to Nabil Fekir will likely leave Lacazette square in the limelight. "We've always relied very heavily on Alex. "If we want to have a good season, our key players, including Alex, will need to step up. He's not at 100 per cent yet, but he'll get there with a bit of time. His mental strength? I'm not worried about Lacazette. He's a big boy and he's beginning to understand what the demands of high-level football are like." The other ramification of Fekir's injury is the increased responsibility for Claudio Beauvue, something that the club had perhaps not planned on. "Claudio is living up to our expectations. He has settled in well at the club, which is nice, but I'm not really surprised. He will bring depth to our game; he gets into space, he holds the ball up, he has a great aerial game and he makes a lot of runs, which we should take more advantage of. There's no reason to be nervous about whether our attacking three (Mathieu Valbuena, Lacazette and Beauvue) can work well, even if they haven't played that much together at this point."
Then came questions on the cash at home to LOSC on Saturday, as well as the group of seven matches to be played in the space of 22 days. "This match is important. So far this season our two home performances have not been up to scratch. We need to make the most of the opportunity this match represents to get back to our confident best. We need to keep our motivation levels topped up. LOSC have a very solid defence but they haven't hit their straps in attack yet. Still, they're a dangerous side. It's a tough job ahead but my lads are forging a good understanding with each other. This group of seven matches is the first turning point of the season and will give us a strong indication of where we stand."
Busy schedules mean player rotation. "We have a medium- and long-term vision, but the most important thing is this match against LOSC. So we want to field the strongest possible side on Saturday while keeping an eye on the match against Gent, which will be a crucial match, as the first clash of the group stage always is." Could Sergi Darder get some game time? "He's doing well but physically he's not at 100%. He's a bit behind his squad-mates and he needs to work hard; his ore-season was cut short. We'll see whether he makes it into the squad or not." And what of Bakary Koné? "He has jus returned from a match with his national team and has some pain in his heel. He's getting treatment. He had aspirations of a move away over the summer and was disappointed that a move to Fulham fell apart at the last minute. But he'll get over it. He's a real professional. He's ambitious and I don't think he wants to go to any old club. He wants to remain at the highest level. Still, it's true that at OL right now we have a lot of central defenders."