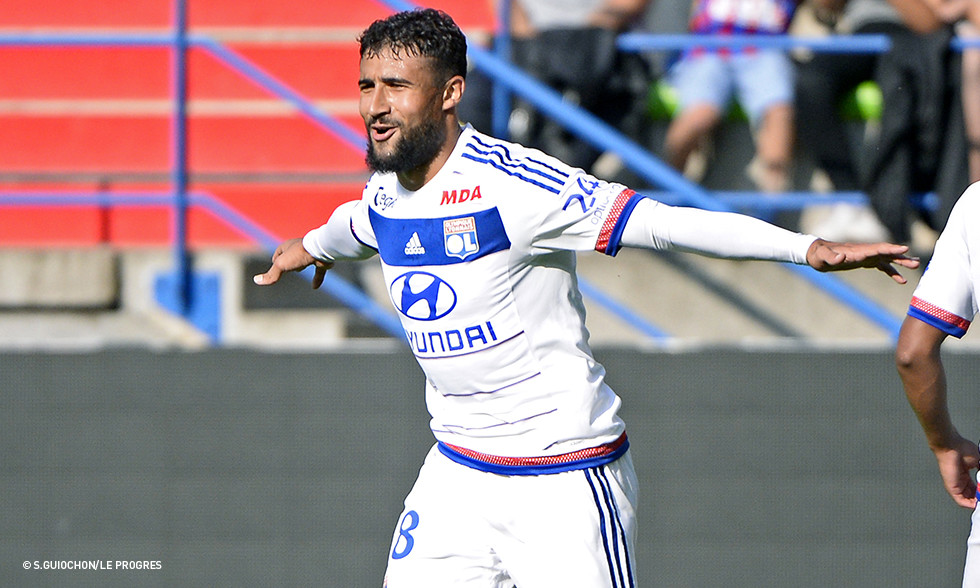 After scoring his first Ligue 1 hat-trick in Caen, the OL left-footer was voted as OL's Player of the Month by the reader of OLWeb.fr, ahead of Anthony Lopes and Claudio Beauvue…
Almost 6,000 votes were cast and it was an overwhelming win for Nabil Fekir, ahead of Anthony Lopes and Claudio Beauvue. It was 60%, 26% and 8% for the club's top three players in the month of August. A surprise? Not really. After being suspended for the Trophé des Champions, Nabil didn't really shine against Lorient nor Guingamp. But his famous left foot got back into action against Stade Rennais but his goal wasn't enough to clinch the win. But then in Caen, he pulled out all the stops! Three goals, including the final one that mixed technique, speed and precision in the most beautiful way. Three goals from three shots. One goal on the right, one on the left and one in the middle. He scored his first goals without the presence of Alexandre Lacazette on the pitch.
After four matches, Nabil Fekir is Ligue 1's top scorer with four strikes and boasts a career tally of 18 in France's top flight. He has scored 5 from the left, six from the right and 7 from a more central position. First-time shots, deft first touches, a quick dribble, a chip, a counter-attack, using his muscle, picking his spot, getting on the end of a cross… One goal with his right foot (FC Lorient) and a goal from outside the area (EA Guingamp). 18 Ligue 1 goals and two in the Coupe de France (Lens and Nantes). Twenty goals in 60 matches (4,728 minutes, or the duration of 52 full matches). 2014-15's Ligue 1 Young Player of the Year has also been capped four times, scoring one goal (Belgium). And Didier Deschamps has recalled him for the upcoming friendlies against Portugal and Serbia. In the middle of September, he'll take his first steps in the Champions League, a competition he has only had a glimpse of as Lyon fell to Real Sociedad in the play-offs at the beginning of season 2013-14. 348 minutes played, 4 goals from 16 shots.
And of course Anthony Lopes is in the top three. Where would OL be without him? He stopped the Trophée des Champions against PSG in Montreal from turning into a rout (three decisive saves), he kept a clean sheet in Guingamp (0-0) and then when OL were leading 1-0 in Caen, he pulled out three top-drawer saves in the space of 6 minutes to keep a lid on Caen before Fekir and Beauvue rounded out the 4-0 scoreline. In fact Beauvue's goal came from a Lopes clearance. Going against him is the way he was left stranded for Rennes' two goals, but in the end, he kept three clean sheets in five matches and played a key role in OL's two wins. His season is getting off to a great start. He's part of the Portugal national team set-up to take on France on Friday. Will he earn his second cap?
And in third place is one of OL's summer signings, Claudio Beauvue. Scorer of the winning goal in Guingamp and the author of an unbelievable strike in Caen. Claudio has started three of OL's five outings this season and has already proven that he is a plus for the team: he brings depth into the attack, he has a powerful aerial presence and he is selfless in his efforts (making runs, tracking back). His sense of goal is incredibly sharp and his ability to make an impact immediately after coming on as a substitute is impressive. 313 minutes played, to goals from 13 shots.