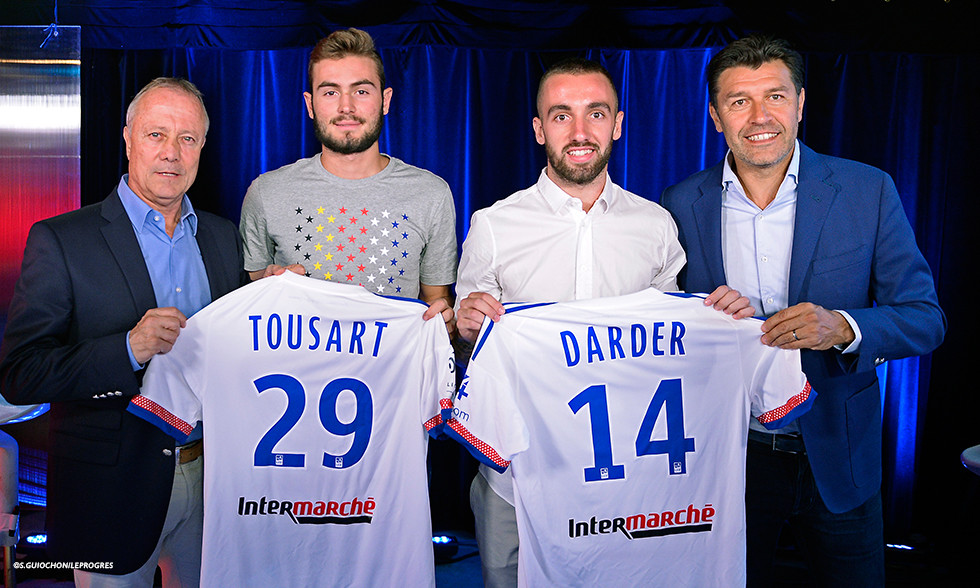 Olympique Lyonnais' two latest recruits were presented to the press late on Monday afternoon…
President Jean-Michel Aulas, coach Hubert Fournier and Bernard Lacombe were on hand to accompany the Spaniard and the young Frenchman who today both signed with OL for five seasons; a €12m move from Malaga for the former and a €2.5m deal for the latter, who arrives from VAFC. Two young players aged 21 and 18 respectively who have played 67 Liga matches (6 goals) and 18 Ligue 2 outings. Both players are midfielders; the former will wear the number 14 and the latter number 29.
JEAN-MICHEL AULAS
"The deal for Sergi was complicated and long, but we maintained hope in a tough situation. Sergi is already on the pre-selection list for the Spain squad. He's a big investment for us, but when you know what you want, you have to know how to close the deal. Spending a lot of money isn't something one just wants to do. What we wanted was to sign Sergi. For Lucas (Tousart), we also had to make an effort. We stuck to our guns. I'd like to thank the Valenciennes president. He's a player we want for the short, medium and long terms. He's a France U-19 international and recently played in a semi-final of the Euros for that age group. He was fantastic."
HUBERT FOURNIER
"We had to be persuasive to bring Sergi (Darder) here. We had studied his profile closely and we believe he will slot in perfectly in our squad. Of course it might take him a bit of time to adjust to moving to a new country. As for Lucas (Tousart), people at Valenciennes - a club where he was a big part of the plans - spoke incredibly highly of him. In coming to OL, he's entering a new dimension. He has a lot of potential; he just needs to settle in."
BERNARD LACOMBE
"Flo (Maurice) told me a lot of good things, as did Emilio Butragueno (the former Real Madrid centre-forward). Sergi will certainly become a huge player. As for Lucas (Tousart), he has a style not dissimilar to Maxime Gonalons and former Reims player Krychowiak.
SERGI DARDER
"I wanted to come to OL since the beginning. It was a long and tough negotiation. I was nervous and a bit worried. Now that it's done, I can't wait to get started. OL showed interest in me and I know they're a big European club. The ideal club for me to continue my progression. It's always great to know that you're wanted and that people expect things of you; I really want to respond to those expectations as soon as possible. My profile? I don't compare myself to other players. The essential thing is to work hard. I want to make my own path. I'd like to thank Malaga for the two seasons I spent there."
LUCAS TOUSART
"It was complicated. I was flattered by the interest OL showed in me. Today I'm a very happy man; this is a great opportunity for me. The sporting project here is wonderful and long-term. I'll leave myself a bit of time to adapt, but after that I'll just need to put my head down and do whatever it takes to win a place in the team."
---
Talk then turned to transfer window, which shuts on Monday night in France.
JEAN-MICHEL AULAS
ARRIVALS
"We're in discussions with one of Lucas Tousart's France team colleagues; his name is Olivier Komen and he plays for Newcastle. We're making offers, and it's possible that they will be accepted. Belhanda? That won't happen. It amost did, but not any more…"
DEPARTURES
"Yassine Benzia will likely sign for LOSC. His contract was going to be up in 12 months. Discussions are ongoing. As for Bakary Koné, there is a real bone of contention with Fulham. They're dragging out the process even though everything was agreed on before Bakary left for international duty. If we have to seek an administrative solution to close the affair, then we will. For mine, the contract is perfect. Lindsay Rose? He's still a Lyon player. As for Arnold Mvuemba, we told him who was coming in, but he said he didn't want to leave. Rachid Ghezzal? He wanted to leave but no offers came in."
ANTHONY MARTIAL
"Everyone knew that he was a rising stat and we maintained a sell-on interest when we sold him. What is happening now shows that Anthony, Monaco and OL have all done well. It's a great deal that should, in the short-term, bring us arounf €10m and perhaps more in the form of bonuses."
HUBERT FOURNIER AND THE TRASNFER MARKET
"I'm completely satisfied. All the players who have arrived had been targeted for a long time. The president was tenacious. Now we have our work cut out for us so that all the new lads can find their feet as quickly as possible."