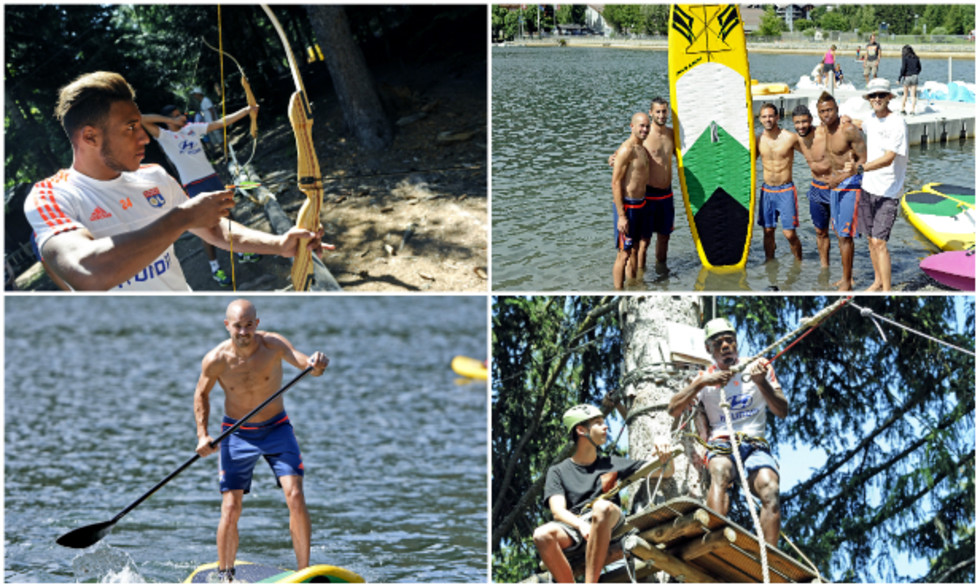 Day 7: Archery, cross-country running, paddling, tree-climbing... the OL internationals spent an afternoon at the Moubra Lake, relaxing, having fun, but also working hard...
Like the rest of the squad last week, the club's internationals also had a day of fun and games at the lake with the aim of having fun while still keeping fit.
Certain were most comfortable with their feet firmly on the ground... but not Christophe Jallet or Maxime Gonalons who happily attacked each activity with youthful exuberance.
However, Henri Bedimo needed all the support of his teammates to overcome his vertigo.
The principles of stand-up paddle is to remain upstanding on your two feet. Not easy and it took Yassine Benzia a while to get comfortable. While Nabil Fekir was a natural, he still ended up in the water... "I fell on purpose because it was so hot." He then showed off his diving technique from the jetty...
Corentin Tolisso also ended up in the drink. "It's your fault Alex (Lacazette). I tried to turn around when you called!" Alex went with a safe option: it wasn't stand-up, but more sit down paddle. Anthony Lopes finished a few moments earlier and grabbed the camera to take a few happy snaps... but above all, to rib his teammates still on the water...
---
And Anthony Lopes photo of Alex Lacazette? Well, here it is...