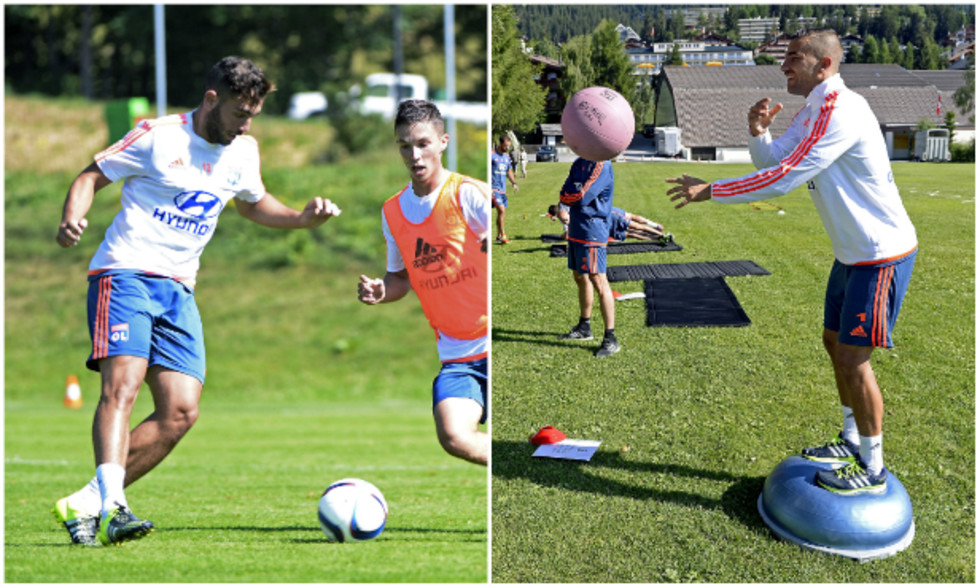 Day 5: The two squads are continuing to work hard. THe internationals returned to Lake Moubra to continue their fitness and strength work while the other players worked with the ball...
9:15. Each their own. The squad was again divided into two groups on Friday morning with the internationals on one side and the players that started preseason in late June on the other. The internationals returned to Lake Moubra to continue the fitness work they began on Wednesday. Fitness coaches Dimitri Farbos, Ange Costella and Alexandre Marles put the squad through their paces with a demanding session. The elastics, medicine balls, cones and mats were all out in force... Still all smiles, Maxime Gonalons and Co. once again gave it everything. Clinton Njie and Momo Yattara even set a new record for the head tennis drill...
The balls could be found a little further down the Crans-Montana valley. The players arrived early at the training pitch in Bluche, for their session based on ball work. Les Gones, divided into three groups, played a tournament to continue getting stronger ahead of tomorrow's friendly match against FC Sion. The matches were played on a half pitch with plenty of intensity and skill on show. And Bruno Génésio was pleased with what he saw.
---
"We have had a good week of preseason in ideal conditions. The players are putting a lot in and that's good to prepare for tomorrow's match. The game is just an extra preseason training session."
---