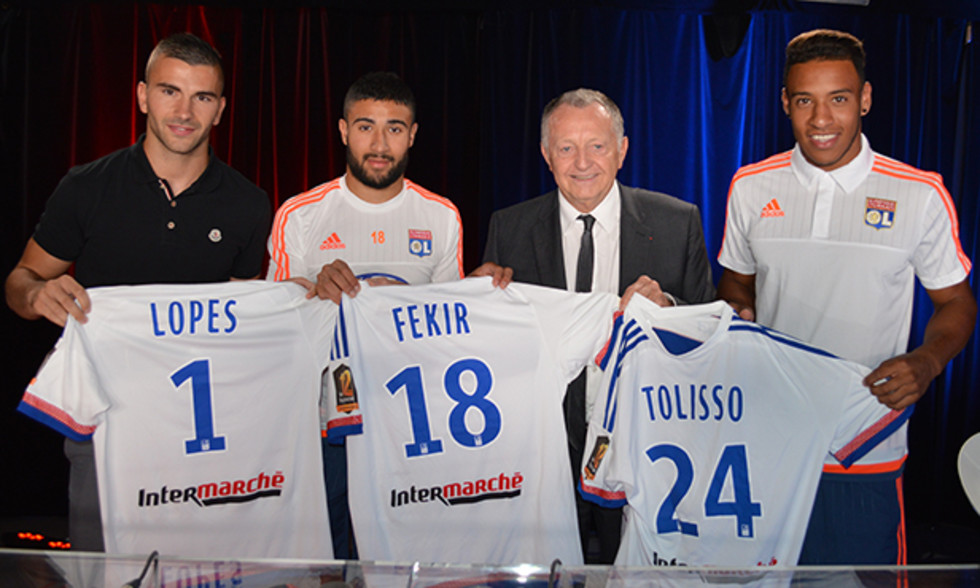 Three OL academy graduates and first-team stars, Nabil Fekir, Corentin Tolisso and Anthony Lopes have all agreed new contract extensions with Olympique Lyonnais and are now tied to the club until 2020.
At a press conference on Wednesday, president Jean-Michel Aulas announced that Nabil Fekir and Corentin Tolisso had signed new one-year contract extensions through until 2020, while Anthony Lopes signed a new four-year contract, also through to 2020:
Nabil Fekir
Jean-Michel Aulas: "He is not only one of the club's great prospects, but also of French football. Nabil has already come a long way and shown he knows how to deal with the stress and his new status. I want to congratulate him, and also thank him. He has been exemplary on and off the pitch. I have a feeling that Nabil is happy here... The negotiations were very professional. It's always nice to know that you are talking to a great player who has very good people around him. We are convinced that he is an investment for the future."
Nabil Fekir: "I would like to thank the president and my agent who did everything to make this happen. Everyone is happy with the outcome. Now I can concentrate on my football... It was an easy decision for me. This is my club and I want to help them go as high as possible. I didn't hesitate. I wanted to extend my contract here."
Corentin Tolisso
Jean-Michel Aulas: "We reached an agreement with Corentin Tolisso's representatives. He is now tied to the club for another year, until 2020 and I'm very happy."
Corentin Tolisso: "I am delighted to have extended my contract. It's an excellent step for both me and my family. I hope to help take the club to the next level and I want to play here for as long as possible. It will be a tough season for us and we'll have to get used to playing every three days."
Anthony Lopes
Jean-Michel Aulas: "Anthony Lopes is staying with OL and I'm very happy with that news!"
Anthony Lopes: "I am delighted to be able to put an end to all the rumours. I need to show what I can do on the pitch and try to do my best for the coming seasons... I never had any doubts. My aim was always to extend my contract with OL. A lot was said, but the truth was rarely mentioned. I was never worried."
Other news:
Jean-Michel Aulas: "I will meet with Alexandre Lacazette, Sam Umtiti and Jordan Ferri when they return from camp. We will look to confirm the same squad as last season, with a few new faces."