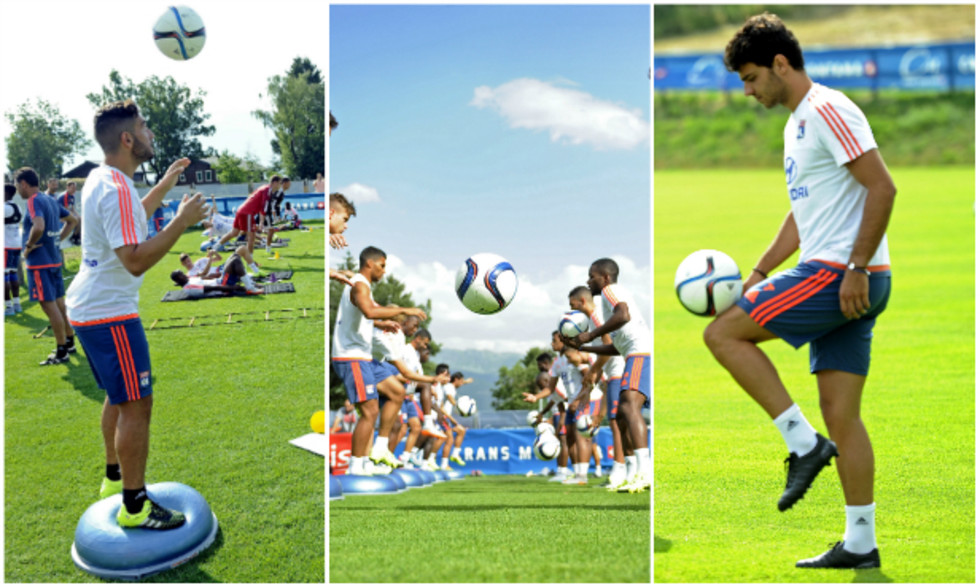 Day 2: There's no doubt, the intensity of preseason training is on the rise. Tuesday morning's session had all the signs of a classic preseason...
9:30. Les Lyonnais didn't hang about. After a very physical session on Monday afternoon, the players were straight back at it on Tuesday morning. The first official training session of the Swiss training camp was a gruelling affair for the players, and the weather didn't help... The burning heat and the altitude forced the players to dig deep...
The morning session started with an array of fitness and muscular tests: Abdos, adductors, hamstrings, quadriceps, calves...the legs were given a harsh workout. There were ten drills put in place for muscle strengthening and the squad was divided into three groups for the activity. Each team then spent 10 minutes on running, movement and passing with positioning. The last drill was very demanding: "The drill has a physical, but also a technical aim. Even if it's tough, the players have to be precise with their passing and crossing. It's like a match," explained Bruno Génésio.
Claudio Beauvue, who began preseason a little later than the other players worked individually with Alexandre Marles.
17:30. The ball came out for the afternoon session. After ten minutes of core strength gainage, the players were soon kicking the football around for the rest of the session. The players warmed up with some keepings off before a possession-based drill with three teams rotating. The session ended with a half-field game with various themes. The first team was free, the second had to string together eight passes before scoring. The session was a chance for the youngsters such as Ulrik Jenssen to show their wares on the left side of the defence, while Maxime D'Arpino showed off plenty of vision and technique. The session was played under threatening skies, and a little rain, while Steed Malbranque left training early after twisting his ankle early on.
Milan Bisevac continued his re-education with Dimitri Farbos. He didn't take part in the ball activities. Claudio Beauvue trained with the rest of the squad up until the final half-field match.