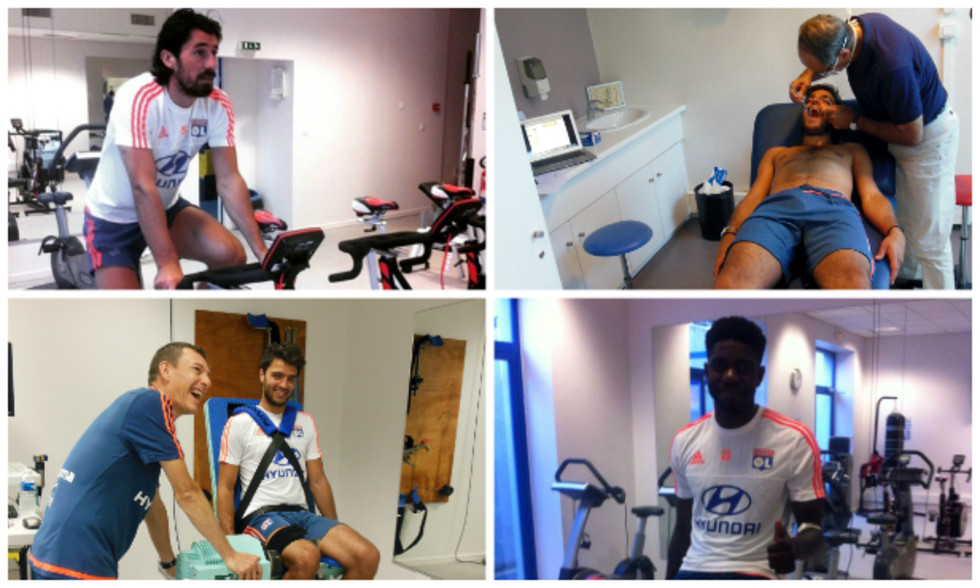 Medical and fitness tests were the order of the day for the 21 Olympique Lyonnais players present for the first day of pre-season training at Tola Vologe...
21 players were expected for the first day of training, but the balls stayed in the kit room, the boots remained in their bags and the pitches lay quiet... Medical and fitness tests were on the menu on this day to measure the players form. Every Lyon player visited the doctors and the fitness coaches. Dental check-up, weigh-in, muscle form, power, endurance... everything went under the microscope at Tola Vologe on this first morning of the season…
Hmmmmm the dentist for @clemgrenier, Gueïda #Fofana and @jmorel15... #teamOL pic.twitter.com/uLbHbUYxqT
— Olympique Lyonnais (@OL) 29 June 2015
It was a short first day in a Lyon shirt for Jérémy Morel. The former OM defender, who signed a three-year contract with OL, used the day to meet new people and get to know the training facilities. And also to get to know his new teammates of course! Alongside the 31-year-old defender were a lot of (very) young kids...
No less than 7 finalists from the Coupe Gambardella last May were invited to train with the first team. After a long season, the club's internationals will enjoy a few more days holiday and will join up with the rest of the squad in Crans-Montana in Switzerland on Wednesday 8 July. For the rest of the squad, they'll be back in training tomorrow!
Today was also a chance to catch up with Milan Bisevac, who is continuing to work his way back from a knee reconstruction.
The 21 Players: Bisevac, D'Arpino, Ferri, Fofana, Ghezzal, Gorgelin, Grenier, Jenssen, A.Kalulu, Labidi, Lebongo, Malbranque, Mboumbouni, Mocio, Morel, Moufi, Mvuemba, Pagliuca, Paye, Rose, Umtiti.
Isokinetic test for Mathieu Gorgelin. #teamOL https://t.co/lGnnMduDsG
— Olympique Lyonnais (@OL) 29 June 2015