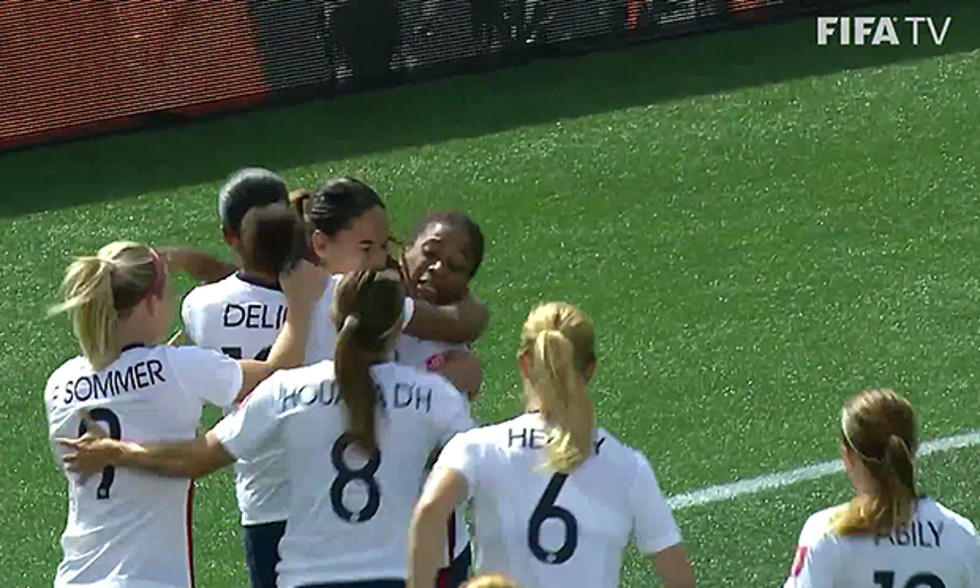 France never gave Mexico a chance in their third group match of the 2015 World Cup in Canada, running out 5-0 winners to finish top of the section and set up a Last-16 clash with Korea Republic...
The loss to Colombia was well and truly erased. Four goals in the first half including three in the opening 13 minutes and a fifth late on... 5-0 and top spot in Group F after England defeated Colombia 2-1. Le Sommer netted a brace and Henry scored the fifth goal of the evening. 7 Lyon players started the match (Bouhaddi, Renard, Majri, Henry, Abily, Thomis, Le Sommer); Bussaglia replaced Abily (70'). Le Sommer took her tally for the tournament to three goals, the same number as Hegerberg.
France will now meet the Korea Republic on 21 June at 16:00 in the last 16. The winner of that match will play the winner of the last-16 tie between Sweden and Germany.
Apart from Les Lyonnaises in the France squad, OL's Hegerberg (Norway), Schelin (Sweden), Bremer (Germany), Dickenmann (Switzerland) and Kumagai (Japan) are also qualified for the knockout stages of the competition.
The Groups:
Group A: Canada, China, New Zealand, Netherlands
Group B: Germany, Côte d'Ivoire, Norway, Thailand
Group C: Japan, Switzerland, Cameroon, Ecuador
Group D: USA, Australia, Sweden, Nigeria
Group E: Brazil, Korea, Spain, Costa Rica
Group F: France, England, Colombia, Mexico
...




...




...




PREMIER TOUR / J1
06/06 : CANADA – CHINE : 1-0
07/06 : NOUVELLE-ZÉLANDE – PAYS-BAS : 0-1

07/06 : NORVÈGE – THAÏLANDE : 4-0
07/06 : ALLEMAGNE – CÔTE D'IVOIRE : 10-0

08/06 : SUÈDE – NIGERIA : 3-3
09/06 : CAMEROUN – EQUATEUR : 6-0
09/06 : USA – AUSTRALIE : 3-1
09/06 : JAPON – SUISSE : 1-0

09/06 : FRANCE – ANGLETERRE : 1-0
09/06 : ESPAGNE – COSTA RICA : 1-1
09/06 : COLOMBIE – MEXIQUE : 1-1
10/06 : BRÉSIL – CORÉE DU SUD : 2-0

PREMIER TOUR / J2
11/06 : ALLEMAGNE – NORVÈGE : 1-1
11/06 : CHINE – PAYS-BAS : 1-0
12/06 : CÔTE D'IVOIRE – THAÏLANDE : 2-3
12/06 : CANADA – NOUVELLE-ZÉLANDE : 0-0

12/06 : AUSTRALIE – NIGERIA : 2-0
13/06 : SUISSE – EQUATEUR : 10-1
13/06 : USA – SUÈDE : 0-0
13/06 : JAPON – CAMEROUN : 2-1

13/06 : FRANCE – COLOMBIE : 0-2
13/06 : BRÉSIL – ESPAGNE : 1-0
13/06 : ANGLETERRE – MEXIQUE : 2-1
14/06 : CORÉE DU SUD – COSTA RICA : 2-2

 




PREMIER TOUR / J3
15/06 : THAÏLANDE – ALLEMAGNE 0-4
15/06 : CÔTE D'IVOIRE – NORVÈGE 1-3
16/06 : PAYS-BAS – CANADA 1-1
16/06 : CHINE – NOUVELLE-ZÉLANDE 2-2


16/06 : EQUATEUR – JAPON 0-1




16/06 : SUISSE – CAMEROUN 1-2




17/06 : NIGERIA – USA 0-1




17/06 : AUSTRALIE – SUÈDE 1-1





17/06 : MEXIQUE – FRANCE 0-5




17/06 : ANGLETERRE – COLOMBIE 2-1

18/06 : COSTA RICA – BRÉSIL 0-1
18/06 : CORÉE DU SUD – ESPAGNE 2-1



1/8 DE FINALE
20/06 : Chine - Cameroun (17h 30)
20/06 : Allemagne - Suède (16h)
21/06 : France - Corée du Sud (16h)
21/06 : Brésil - Australie (14h)
21/06 : Canada - Suisse (16h 30)
22/06 : Norvège - Angleterre (17h)
22/06 : USA - Colombie (18h)
23/06 : Japon - Pays Bas (19h)

1/4 DE FINALE
26/06 et 27/06

1/2 FINALES
30/06 ET 01/07

3ÈME PLACE
04/07

FINALE
05/07

 



---