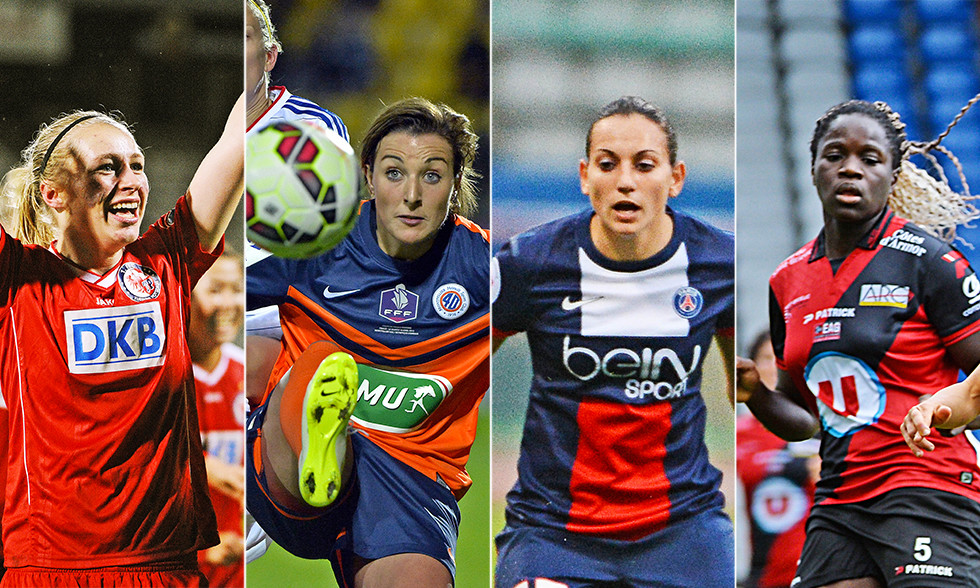 Olympique Lyonnais annouces the arrival of four new players, including three French internationals, Griedge Mbock, Claire Lavogez and Aurélie Kaci, and the German international Pauline Bremer.
Griedge Mbock is just 20 years of age and this season played for Guingamp. She has signed a four-year contract for O.L.. In 2012 Griedge Mbock won the U17 World Cup, before being named Player of the Tournament at the Euro U19 in 2013. Third in the U20 World Cup in 2014, she was named Second-best Player of the Tournament. A France international defender, she has been selected to play in the World Cup which starts on 6 June in Canada.

Claire Lavogez has played for Montpellier since 2011 and will turn 20 on 19 June and has signed for 3 seasons with O.L.. A European U19 champion in 2013, 3rd at the U20 World Cup in 2014, Claire Lavogez is a midfielder who earned her first France call up this season and will take part in the upcoming World Cup.

19-year-old attacker Pauline Bremer will also be taking part in the World Cup in Canada, with the German national team. A winner of the U17 Euro in 2012 and the U20 World Cup in 2014, where she finished second top scorer, Pauline Bremer played for Turbine Potsdam this season and has signed for the next 2 seasons with O.L.

An O.L. youth product, with who she won two Champions League crowns, 6 French first division titles and 1 Coupe de France, Aurélie Kaci, 25, returns to O.L. ona two-year deal after three seasons with P.S.G. Aurélie Kaci pulled out of the initial France World Cup squad with injury.

With the arrival of these 4 international recruits, including three just 20 years of age, and the promotion of young academy players who won a second U19 championship this season, Olympique Lyonnais confirms their sporting ambition, both in France and Europe as well as their confidence in young players.