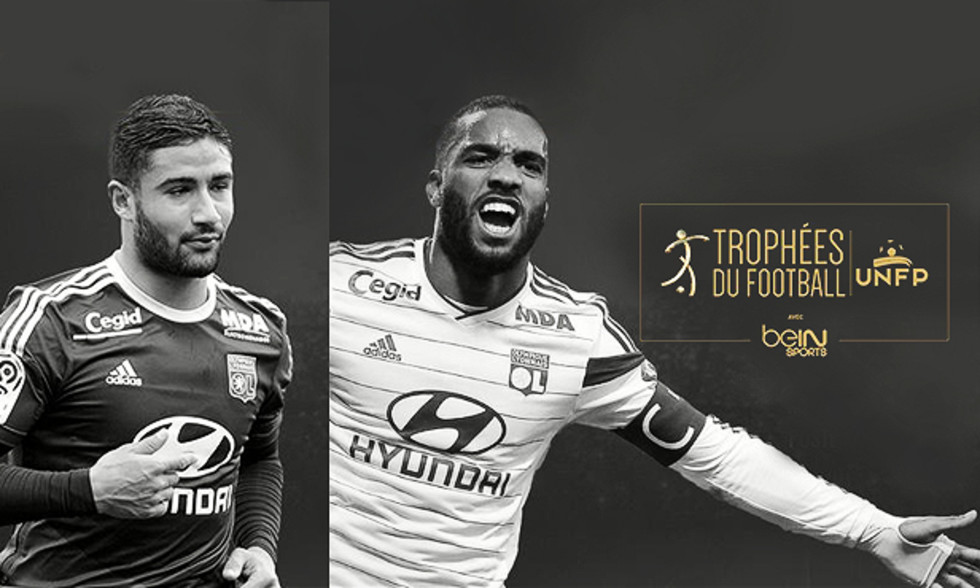 Best Player, Alex Lacazette... Best Young Player, Nabil Fekir… Best Female Player, Eugénie Le Sommer… all three were named the best in their category... And Christophe Jallet was also named in the Team of the Season...
The 24th edition of the Trophée UNFP was held on Sunday, 17 May, at the Pavillon Gabriel. Les Lyonnais were nominated in every category with Hubert Fournier up for coach of the season, Anthony Lopes nominated for best goalkeeper, Nabil Fekir, best young player and Alex Lacazette for best player. Without forgetting Eugénie Le Sommer from the Women's team. It was a celebration of French football along with some famous foreigners such as Carles Puyol and Patrick Kuivert... Individual performances were celebrated, but, as everyone was quick to point out, only thanks to the teams they represented. The ceremony was presided over by the immense Ruud Gullit.
BEST PLAYER
MarcoVerratti, Javier Pastore, Zlatan Ibrahimovic and Alex Lacazette were nominated. Alex Lacazette was rewarded and presented with his trophy by Patrick Kuivert and Ruud Gullit. "I'm very happy. It's been a dream of mine since I was little; to write my name into the history of French football. I'd like to thank my teammates, the coaching staff, my family and friends…" Hubert Fournier joined him on stage: "We are very proud, He deserves it. It's a reward for his teammates as well and it also puts the club's academy to the fore."
BEST YOUNG PLAYER
Nabil Fekir began the evening by taking out the trophy for Best Young Player. He won out over stiff competition from Samson, Martial and Marquinhos. "I'm very happy to have won this trophy. I thank my teammates, the coaching staff and my family who always believed in me."
BEST COACH
Hubert Fournier was up against Laurent Blanc, Jocelyn Gourvennec and Christophe Galtier. The award went to Laurent Blanc. "A personal reward that it also a reward for the team..." said Laurent Blanc. Judo champion Teddy Riner handed the Paris coach his prize.
BEST FEMALE PLAYER
Eugénie Le Sommer, Lotta Schelin, Shirley Cruz. The Lyonnaise Eugénie Le Sommer finished top of the podium. "It's a great honour to receive this trophy. I would like to thank my club and my family..." She received her trophy from the basketball star Nicolas Batum.
BEST GOALKEEPER
Anthony Lopes, Stéphane Ruffier, Steve Mandanda and Danjel Subasic were in the running and it was Steve Mandanda that received the award.
THE LIGUE 1 TEAM OF THE SEASON.
Mandanda – Jallet, Thiago Silva, David Luiz, Maxwell - Payet, Verratti, Pastore,- Fekir, Ibrahimovic, Lacazette. The trophies were handed out by Thierry Braillard and Sylvain Kastendeuch. "It's a great honour to receive this trophy. I have had a superb season with Lyon. Bravo to PSG for their title and to OL for their excellent campaign and qualification for the Champions League," said Christophe Jallet.
The Trophée d'Honneur went to former OL full-back Eric Abidal and was presented by Puyol. A trophy to honour his incredible career.
Karim Benzema was also honoured for his achievements via the Trophée Fondation.